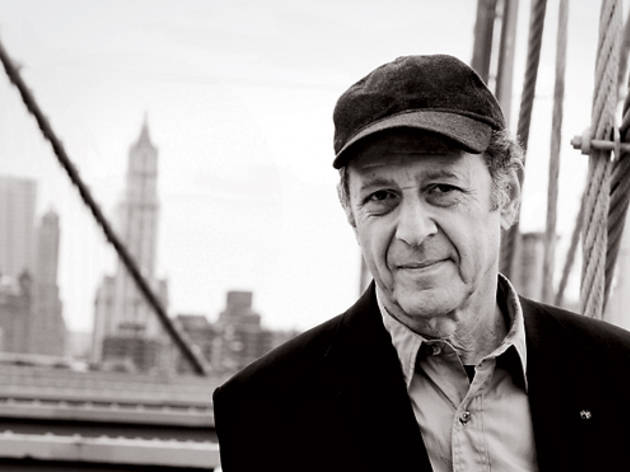 Steve Reich interview: "Who's the best do-it-yourselfer in history if not Johann Sebastian Bach?"
Ahead of BAM's Next Wave Festival, the minimalist composer talks about the early days—and his new collaboration with Radiohead guitarist Jonny Greenwood
The Brooklyn Academy of Music's season-spanning Next Wave Festival kicks off on September 9, with a series of gigs organized in honor of the 50th anniversary of Nonesuch Records. The first three nights will, for the first time in decades, bring minimalist composers Steve Reich and Philip Glass together on the same stage. Suffice to say, it's likely to sell out. During a recent phone call, we asked Reich about his early years with Glass, his long history with Nonesuch—and exactly what kind of influence he thinks he's had on today's music scene in New York.

Time Out New York: When did Nonesuch enter your life?
Steve Reich: When I was with ECM, [Nonesuch president] Bob Hurwitz was the American chief. So when I went down to talk about releasing Music for 18 Musicians, way back in 1976, it was Bob that I met. And he did a sensational job of sending it around to radio stations, and all kinds of things you don't expect for "classical releases." And as a result, [it] sold 100,000 copies the first year. So when he moved to Nonesuch, it was a natural switch.
Is it possible to estimate how much the label has influenced the course of contemporary music?
I don't think you can overestimate! It's no secret that the music business has collapsed, utterly and totally collapsed. So how does Noneusch keep going? They're still putting out plastic. Of course downloads are available on all the usual suspects—but they still make CDs. I think it's the combination of Bob working with [senior vice president] David Bither to bring in the pop side of things, and releasing [Radiohead guitarist] Jonny Greenwood's stuff—bringing them up to date. It all grows out of the honesty that Bob Hurwitz brings to his job. If you ask him, "Well, how do you decide what to record?" He says, "If I like it, I record it." That's a kind of guy you can trust.

And your relationship with BAM must follow a similar trajectory…
BAM goes way back—way back before people know! The world premiere of Drumming, in 1971, was done in three spaces, one of which was BAM! So that was my beginning of working with Harvey [Lichtenstein]. And then there was sort of a hiatus; we really started working when Next Wave wasn't even a festival. It was a prelude. I think in about 1981…it might have been Tehillim and Vermont Counterpoint. I'm guessing on that one. And then from that point on, which was about '83, we came into the real Next Wave Festival. There was just one thing after the other, and it was just an extremely positive artistic and personal working situation.

It's also impossible to underestimate the influence that [longtime BAM president] Harvey Lichtenstein had. I have great regard for Lincoln Center and I have great regard for Carnegie Hall. But in all honesty—and I'm sure they would admit this, too—I don't think you could imagine the Lincoln Center Festival without BAM's Next Wave Festival as a precursor. I don't think the phenomenon of Zankel Hall, which was a huge gift that Carnegie made to the musical life of New York City, [would have happened] without BAM in the background, to prove that this kind of programming works. It could have turned into a much more conservative aesthetic.

And do you think that's opened up some space for successive generations of composer-performers—people like Jonny Greenwood or the National's Bryce Dessner?
Oh, look: When I wrote 2x5, which is the rock [ensemble] piece, I had the problem of "Who's going to play it?"—I e-mailed Jonny Greenwood at the time, and it turned out, yeah he could read [music]. But he was the solo reading act in Radiohead. So I turned to Bang [on a Can], and one of the guitarists that they used when Mark Stewart wasn't available was Bryce Dessner. And the word on Bryce was that, yeah, he was with the National, which—this was a few years back—it was taking off but hadn't quite taken off yet. And while his twin brother could play by ear, Bryce had been through the Yale School of Music and could read anything you put in front of him.

Sure enough, I put 2x5 in front of him, and he just, you know, ate it for breakfast! And I really liked him, and we got to talking—and then suddenly he emerged as a really, really good composer. So you've got Jonny Greenwood writing orchestral music for films—like There Will Be Blood—and I know there's other stuff coming down the pike [for him]. Deutsche Grammophon just released a CD of Bryce and Jonny compositions. And they just released one by Richard Reed Parry, from Arcade Fire, Music for Heart and Breath. Which is somewhat indebted to Music for 18 Musicians. His pulse is not the pulse of a musical pulse, it's a pulse of a human heart heard through a stethoscope. But these rock-star composers are popping up like mushrooms—and that's definitely something new. And they are really taken seriously on both sides of the fence.

Meantime, your reimagination of a couple Radiohead songs comes later on in the BAM Next Wave festival, too.
I am fast considering Radio Rewrite one of the best pieces I've ever done. It'll be released by Nonesuch in September, along with a new recording of Electric Counterpoint, by Jonny Greenwood—and a recording of Piano Counterpoint, which is Six Pianos rearranged. And Vicky Chow will be playing that. Radio Rewrite will be played at BAM—right after me and Phil [Glass] do what we're doing—by Alarm Will Sound, who have just recorded it. So don't miss that! It's a really good piece! And I'm self-critical; I don't think everything I've done is the greatest. We won't get into the ones I don't like. [Laughs]

Do you feel like you and Glass are progenitors for various performance styles, in the way that Nonesuch and BAM have been, in terms of curating?
No, I don't think we're progenitors. I think the idea of "do it yourself" goes back to the Middle Ages. Who's the best do-it-yourselfer in history if not Johann Sebastian Bach? You know, he just had a gig, man! He had to have these pieces ready every Sunday! He was the violinist; he was the harpsichord player—the greatest harpsichord improviser of his day. And all the great composers that we know and love have been involved in performance—whether as conductors or pianists. Nowadays as drum-machine programmers or electric guitarists. But they've been involved, practically involved. And I think what Phil and I did is bring that back [with our ensembles]. And Terry Riley, too. I think we did bring attention back to that, within the "classical world," or as I like to say, the notated world. The non-notated world never left that.

There's a certain sort of back to normalcy, in that sense, with my ensemble, and with Terry and Phil. I think that has been in the air. And that's why the people we've been talking about are very much aware of what I've done and have been influenced by it… And I think that's wonderful. That's the way it's supposed to be.
Can you talk a little about meeting Riley, playing in his ensemble—and your famous addition of the constantly struck C-note to In C?
Well, I met Terry in San Francisco. The important thing with In C was, I certainly learned a lot about how to organize repeating patterns from playing in the piece. And Terry in turn got the pulse from me, which has now become part of the piece. So it was a very healthy exchange.

And what about Glass?
Phil and I worked together in the early days. We had met at Juilliard. We met in—probably that would have been '58 or '59. I remember we both had the same part time job to make money, which was running what was called an ozalid machine: It used ammonia and it had big rollers, where you rolled in these onion-skinned sheets atop a certain kind of paper. And then it would print. It was a kind of very high-level way of making scores in those days, long before there were computers and so on and so on.

We both did all kinds of things just to pay the rent. He was a plumber. I was a part-time social worker. We had the Chelsea Light Moving company, which failed miserably. [One time] the sort of "light moving" we got were these family couches on the fifth floor of a walk-up on the Lower East Side. We decided maybe we'd hang it up.

A lot of that history is going to be reflected in this festival. You're reuniting on a stage with Glass for the first time in decades. In between, there's been a lot of talk about a feud, and hurt feelings. Too much talk?
Well, look. This is Nonesuch's 50th birthday. Bob called me up and said, "I'd like you to come and have lunch with me and Phil Glass." And I said, "I'd love to!" And I'm sure he did the same with Phil. Actually, Phil and I had seen each other about a month before that, at a lunch—a kind of a homage to the Kronos Quartet, who had their 25th anniversary. People who had worked with them—both Phil and myself—were giving testimonials to how great they were. But the lunch, the idea, this whole [Nonesuch Records at BAM] project is Bob Hurwitz's idea. And it's a great one, and so here we are.

You're getting your old band back together, too.
"Steve Reich and Musicians" are in a sense coming out of retirement to do [Music for 18 Musicians]. You know, I've got arthritis in two thumbs. And having to play Phil's piece [Music in Similar Motion] and go back to Four Organs.… It's pathetic! Forty-five years ago I played Phil's piece, you know, I could just read it down and do it no sweat. Well, now it's big sweat! [Laughs] But it's Nonesuch's birthday—it's a worthy cause. So you put a little sweat on it.