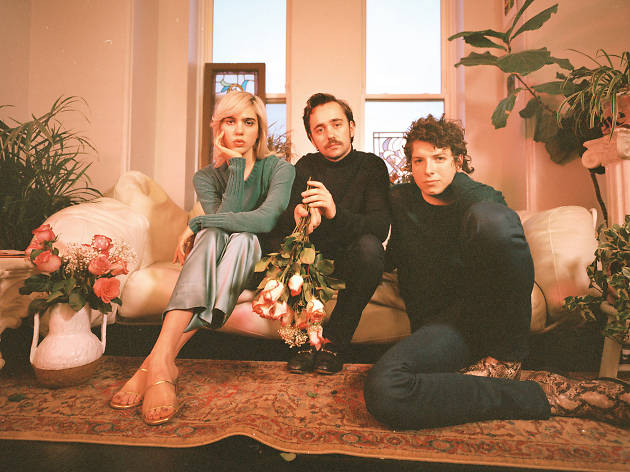 Sunflower Bean are ready for their close up
Indie-rock upstarts Sunflower Bean grapple with growing up, living in New York and avoiding the sophomore slump
"Hey, y'all look awesome. Why aren't y'all famous?" says a passing hobo to the rock trio Sunflower Bean outside a Los Feliz café on an early morning in L.A. He's not wrong. Julia Cumming, the bassist and lead singer of the buzzy NYC indie-rock band, already has blue eye shadow smudged on her cheek. Her bandmate Nick Kivlen has been trained to warn her when this type of cosmetic mishap happens. "This is the kind of bullshit they have to deal with," she says, pointing at Kivlen and drummer Jacob Faber. Sunflower Bean have had enough of bullshit. Twentytwo in Blue, their upcoming sophomore effort, is a reaction to the mess we're all living in. They'll all be 22 upon its release, and as Taylor Swift sang at that age, the feeling is miserable and magical.
"I'm constantly trying to understand how I'm supposed to act as an adult," says Cumming. "What does age mean to me as a young woman? You're trapped in your skin like you're trapped in your age. Who are you gonna be when you're 80? Who's are you gonna be when the door closes? What would happen if all this melted? What is that essence of you?" She mined answers to these questions on adulthood in Faber's mom's Long Island basement, where they returned to make the follow-up to their 2016 breakout debut, Human Ceremony. Co-produced by Unknown Mortal Orchestra's Jacob Portrait, the new album is a far-ranging, sonically far richer affair. Cumming is more front and center, too. "A big part of Sunflower Bean is this rejection of what's cool," explains Cumming. "In Brooklyn, when we started, everything was shoegaze, and we were doing guitar solos. I realize in retrospect that not only were we rejecting what was going on but I was rejecting part of myself. To be truly yourself takes courage that maybe I didn't have."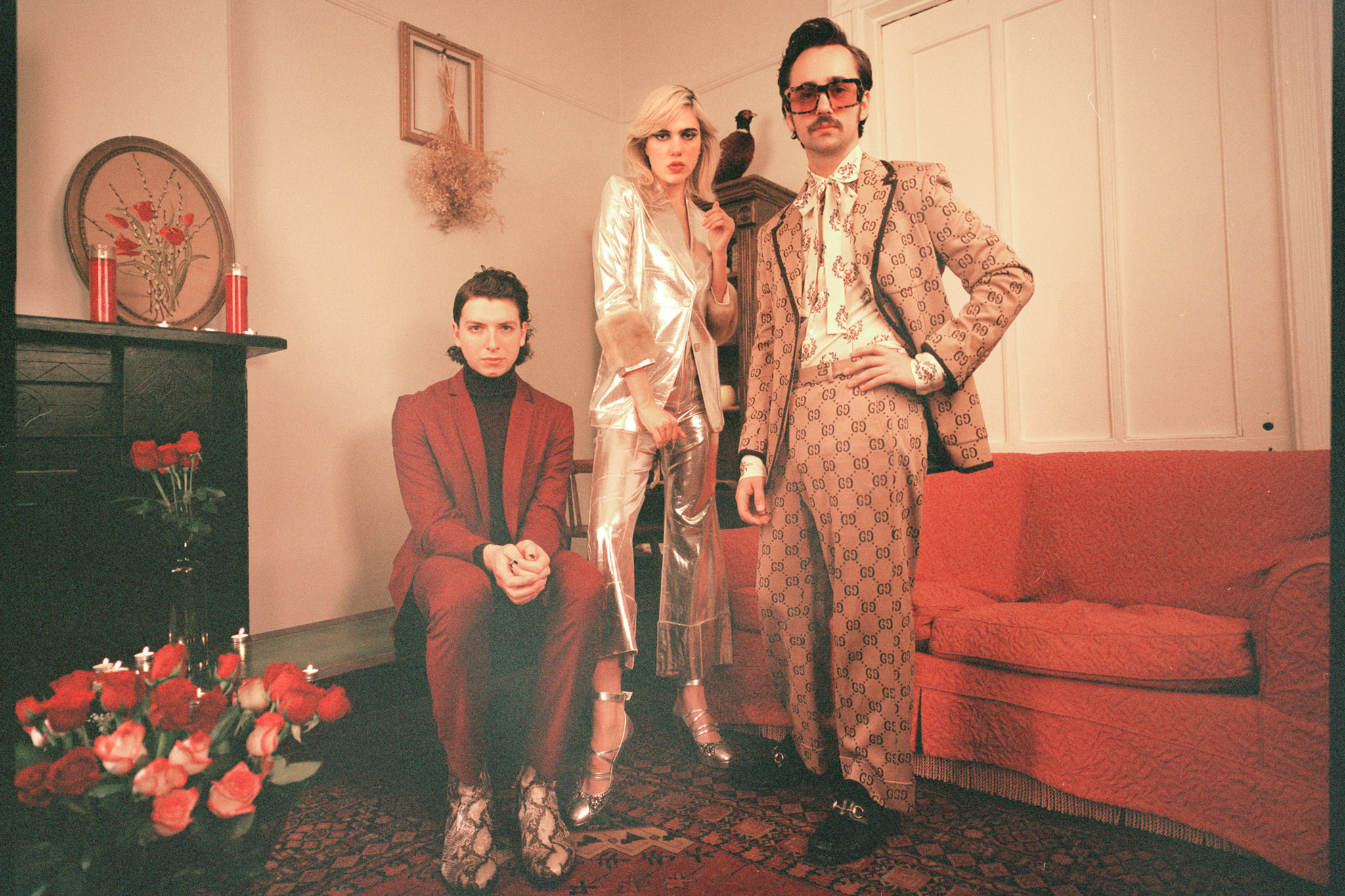 Photograph: Eva Zar

Twentytwo in Blue is a frantic quilt of classic songwriting that spans '90s dream pop ("Memoria"), glam rock ("Crisis Fest") and woozy '70s folk ("I Was a Fool"). "We were just really burnt out on what we'd been doing and the sounds of trendy indie rock," says Kivlen of the new aesthetic direction. "We're like, Jesus Christ, there's gotta be another way to make rock music forward-thinking," adds Faber. "If you do [rock] wrong," Cumming chimes in, "it sounds like your parents' shit. Our unspoken bond is that guitar is the heart of something. It's what we've loved since we were babies. There's a hope that if it meant enough to us, it can mean a lot to other people."
Opening with "Burn It," the record's themes take in the inevitability of change, especially in NYC. "I'm begging you to stay the same," sings Cumming. "The only constant is you're changing." Their relationship with the city is complex. "We wouldn't be who we are without New York," says Cumming. "Every time we drive in, I tear up seeing the skyline. I tear up seeing the trash!" Cumming says that Sunflower Bean played the most shows of any NYC band between 2014 and 2015. "We were basically the house band at Baby's All Right."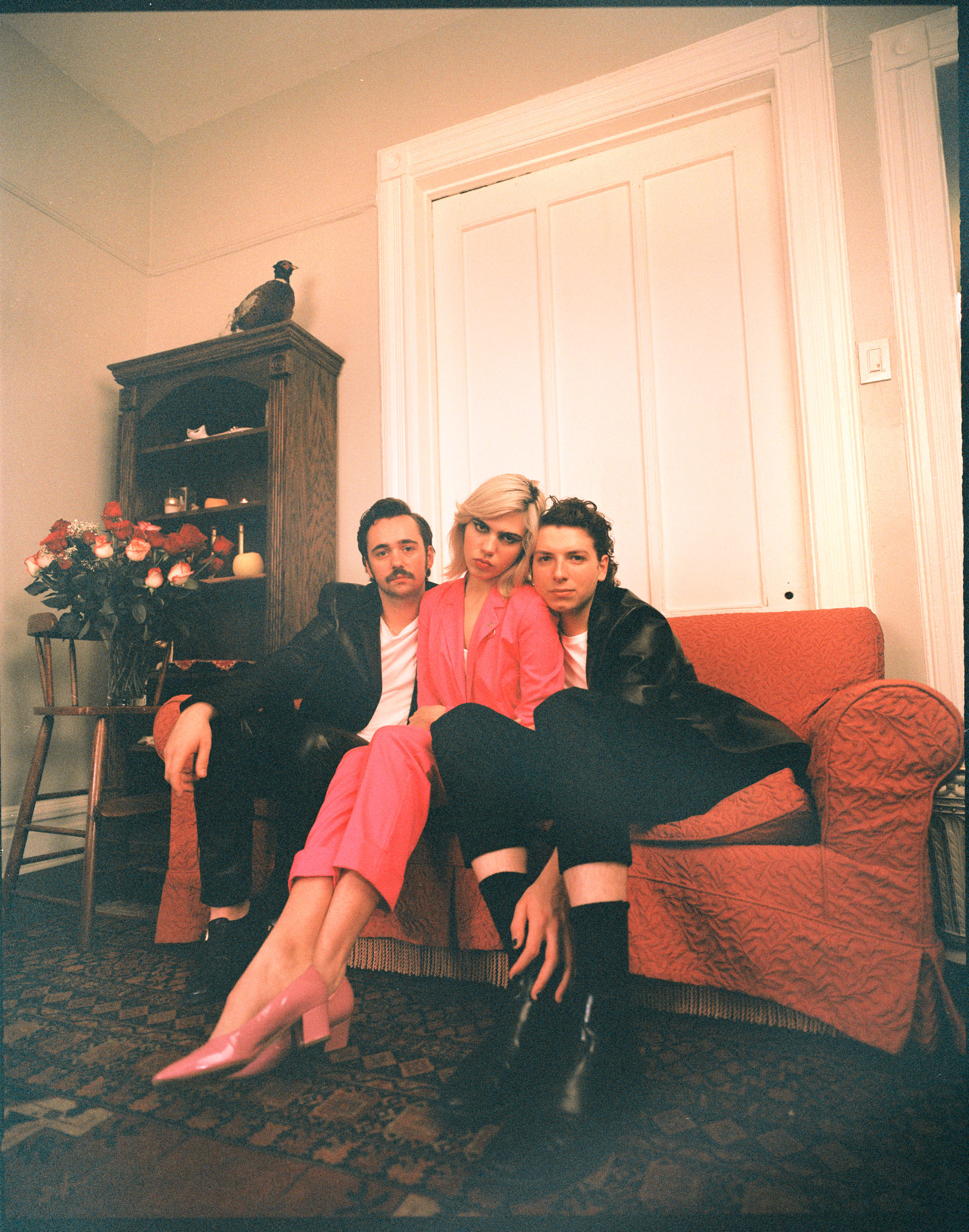 Photograph: Eva Zar
But dealing with some of that change is hard. While Cumming believes New York is "one of the greatest places in the world," she concedes that "New York hasn't done enough to protect artists. When you do that, you're tearing out the heart of a place." She still lives in the 14th Street and Avenue B apartment she grew up in, even as the East Village continues its steady march toward bland commercialism. "They're building a Target across from my house," she notes. "That's not what New York is for. If you want a fucking Target, move to Jersey."
Her spirit is extra pugnacious these days because she doesn't see any other choice in 2018. Beyond the more politically on-the-nose lyrics (see all of single "Crisis Fest" and particularly the Trump-targeted "we brought you into this place/you know we can take you out") of Twentytwo in Blue, she's becoming a more visible activist, like she was when she was younger and protested "all the time". Anger Can Be Power is an events-based community initiative she's building to bring similar young minds together.
"When I joined Bean I switched gears into focusing on bass. It was a lot easier to be complacent because I'm a white woman. You need to be aware of that. I want to create a space where people can meet, person to person," she says. "When you make something cool and exciting, there's a much better chance that activism will become a lasting part of our lives."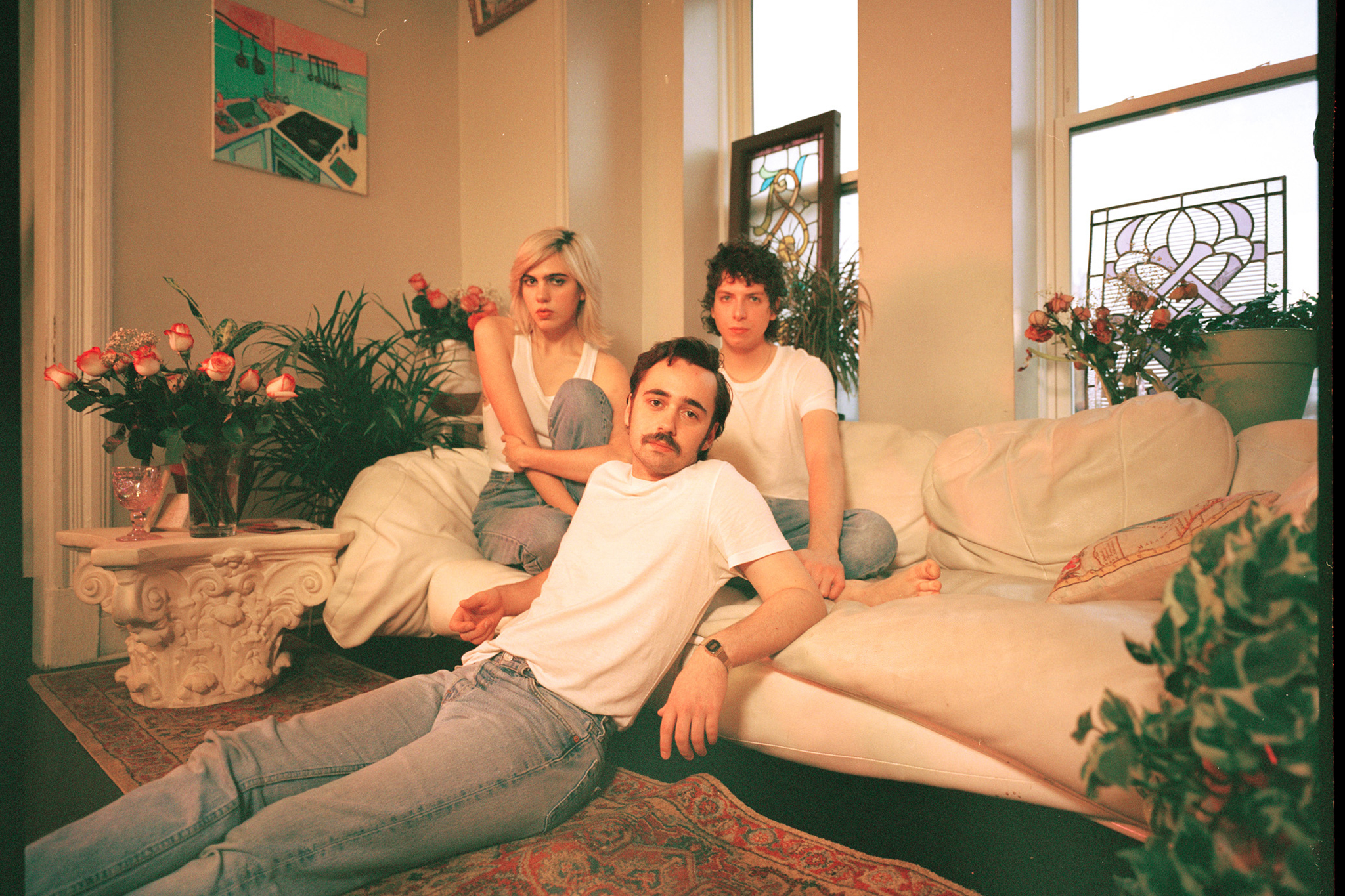 Photograph: Eva Zar
Once the interview is done, Cumming mentions that she got a text from Courtney Love the other day. It said: "You're not just one of those It girls." Love is right. On the outside, Sunflower Bean might look like a premature life crisis, smudged eye makeup and all, but on the inside, they're asking all the right questions.
Sunflower Bean plays Bowery Ballroom April 26. Buy tickets. Twentytwo in Blue is out now on Mom + Pop Records.
Styling: Amber Simiriglia
Hair: Chelsey Pickthorn | PICKTHORN
Makeup: Raoul Alejandre
Photo Assistant: Paul Scheufler