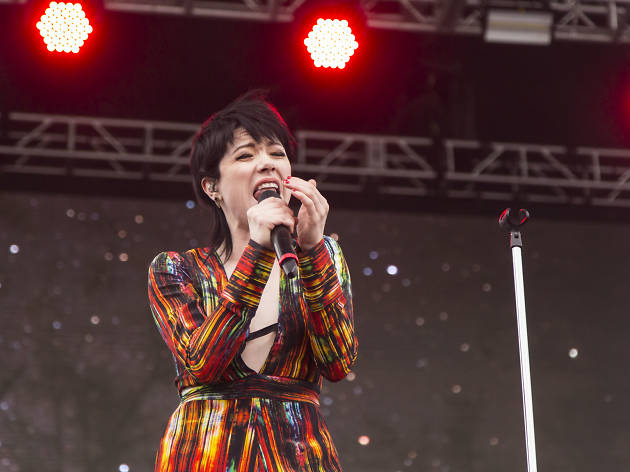 The best karaoke songs ever
Dial up one of the best karaoke songs next time you feel like grabbing a mic and soaking up the spotlight.
If you're brave enough to step up to the mic, you're already doing great, but picking the right karaoke song could make the night even more memorable. You don't need a great voice to knock it out of the park (though it helps), so try selecting something funny ("Love Shack"), romantic ("Let's Stay Together"), heart-warming ("Stand by Me"), epic, joyous or sentimental to sing—either by yourself or with a duet partner. We've assembled a list of the best karaoke songs ever, from raucous party songs you can sing while tipsy to tender love songs for serenading your boo. Find a karaoke bar, grab the mic, knock back your drink and prepare to belt out one of these surefire hits.
RECOMMENDED:
– The best '90s songs
– The best party songs ever made
– The best pop songs of all time
– The best classic rock songs
– The best summer songs
Best karaoke songs ever, ranked
Photograph: Courtesy CC/Wikipedia/Amazon
1. "Purple Rain" by Prince
Now that our patron saint of frilly-bloused, pan-erotic, disco-rock-sex-funk has sadly shuffled off this mortal coil, his signature slow jam can serve as much as tribute as a "let's-slow-things-down" showpiece in your karaoke rep. If it's not too lofty to put that pressure on what is—let's face it—a mostly frivolous activity, a karaoke run at "Purple Rain" might even lift some spirits. Sung in a gracious middle key (Eb, as the preview screen helpfully reminds you) rather than Prince's frequent falsetto squeal, it should allow you to bare your soul without any embarrassing high-register mishaps.—Bryan Kerwin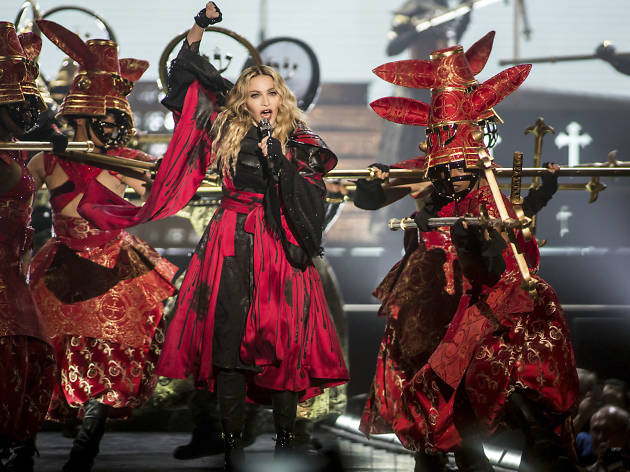 Photograph: Chris Sullivan
2. "Like a Prayer" by Madonna
Madonna takes sex to church in the title track of her 1988 album. Even stripped of its cross-burning video, the song is plenty inflammatory enough in its conflation of religious fervor and fellatio. ("When you call my name it's like a little prayer / I'm down on my knees, I wanna take you there.") Whatever mix of piety and lust you bring to your own version, the important thing is to get the whole room to sing and clap along as your choir at the end, as you preach the passion of Madge.—Adam Feldman

Photograph: Courtesy CC/Wikipedia/hallandoates.com
3. "Private Eyes" by Hall & Oates
While the Philadelphia duo has been retroactively, ironically embraced for their perceived cheesiness, the strength of Hall & Oates's diamond-sharp songwriting remains unassailable. The group's successful blend of R&B, soul and new wave, plus a knack for lithe, buoyant melodies led to massive commercial and critical success during the '70s and '80s. They racked up six number-one singles during their glory days, giving us a lot to choose from, but the insistent, bouncy groove, smooth-as-silk harmonies and indispensable hand claps make "Private Eyes" the clear favorite.—Bryan Kerwin
Photograph: Courtesy CC/Wikipedia/Tamla
4. "Let's Get It On" by Marvin Gaye
Nothing gets a room all worked up like Marvin Gaye's quintessential call to—and for—action. The arrangement throws some curve balls, eschewing a traditional verse-chorus structure in favor of a relaxed jam where Marvin can let loose with sultry riffs and primal howls, but a brave performer can use that to their advantage. Impress by inhabiting every provocative coo and rasp as they were recorded, or throw caution where your three sheets are and take off in your own direction. Either way your chances of leaving the bar alone just decreased 100%.—Bryan Kerwin
Photograph: Shutterstock
5. "Shallow" by Lady Gaga and Bradley Cooper
It's easy to see why this tune from the 2018 remake of A Star Is Born quickly became a karaoke staple. For one, it's a rare contemporary duet, allowing you and a friend (or lover) to channel your inner Bradley Cooper or Lady Gaga. The country-tinged ballad is also packed with enough romantic melodrama that you can perform it earnestly or ironically. Before you grab the mic, don't forget to turn to your partner and say, "All you gotta do is trust me."—Zach Long
Photograph: Courtesy CC/Wikipedia/Jive Records
6. "I Want It That Way" by the Backstreet Boys
Lurking behind the shimmery Nordic production of this megahit is a great soul ballad. The lyrics are famously nonsensical, owing to Swedish producer and songwriter Max Martin's tenuous grasp of English, but poetry's beside the point when you've got one of pop music's catchiest choruses. Kevin Richardson—BSB's "The Old One"—perceptively nailed the song's appeal with his assessment: "There are a lot of songs out there that don't make sense, but make you feel good when you sing along to them, and that's one of them." Couldn't think of a better karaoke endorsement than that.—Bryan Kerwin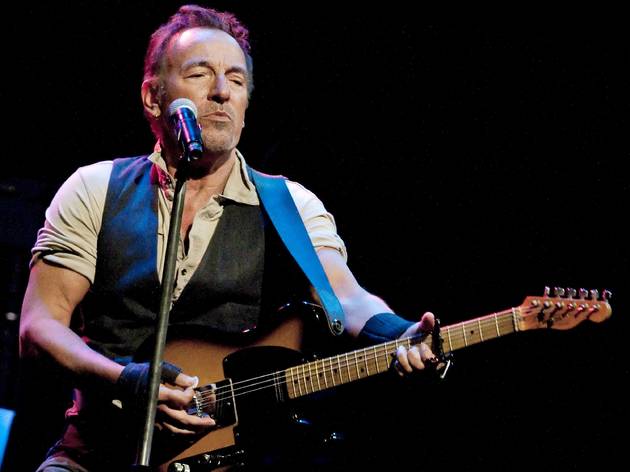 Photograph: Shutterstock
7. "Born to Run" by Bruce Springsteen
There's something about an Americana ode to blue-collar youth that makes for a surefire karaoke classic, and no one knows this better than the Boss. Released in 1975, this song was his first charting single, the one that laid the foundation for decades of battered blue jeans and working-class anthems. And all these years later, a well delivered "Tramps like us / Baby we were born to run" will still slay a crowd. —Gabrielle Bruney
Photograph: Courtesy CC/Wikipedia/Arista
8. "I Wanna Dance With Somebody" by Whitney Houston
Whitney's 1987 smash remains an invigorating blast of lovelorn pop glory, her powerful, agile voice soaring effortlessly over spritely synths and funk-syncopated guitar. The whole thing makes the achingly lonely search for a dance floor soulmate sound like the best Friday night ever. Of course, nobody's alone at karaoke. Especially if you nail that third-act key change.—Bryan Kerwin
Photograph: Courtesy CC/Wikipedia/Reprise
9. "Love Shack" by the B-52's
There is a great tradition in pop of pairing seductive female voices with weird dudes who just talk. It dates back to Nancy Sinatra and Lee Hazlewood, and Jane Birkin and Serge Gainsbourg, running to its acrobatic and strange extreme with the Sugarcubes. I suppose you could throw "Drunk in Love" in that category, too. The B-52s are the ultimate example of this. All those who can't carry a tune in a wheelbarrow, you should thank your drunky stars for the karaoke salvation of Fred Schneider's sprechstimme. You might need a couple ringers on stage to help with the Kate and Cindy parts of this 1989 chorus, but they'll never steal the spotlight from your sassy barking.—Brent DiCrescenzo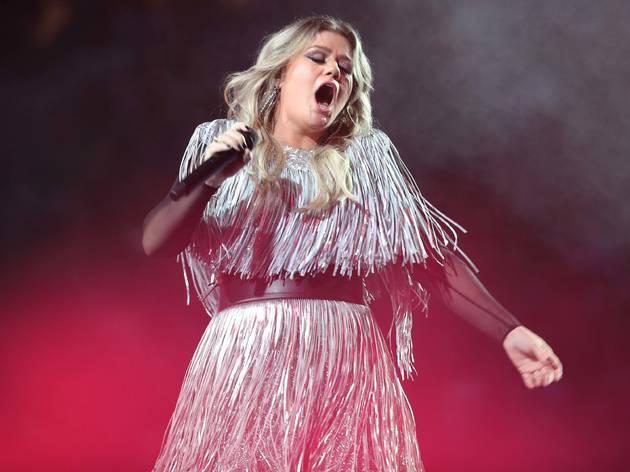 Photograph: Shutterstock
10. "Since U Been Gone" by Kelly Clarkson
The simple chord progression and the restrained vocals in the beginning of Clarkson's 2004 hit make for one of the greatest buildups to a powerhouse chorus is pop music. Sing this in front of a room full of strangers and the whole lot will be scream-belting, "But since you've been gone, I can breathe for the first time!" Don't worry though—you'll likely get your chance to shine solo again come the verses. —Tolly Wright
Photograph: Courtesy CC/Wikipedia/Atco Records / Atlantic Records
11. "Stand by Me" by Ben E. King
No karaoke outing is complete without a teary moment, and here's yours, courtesy of the 1961 classic "Stand by Me," which has been covered more than 400 times (no, we're not including your karaoke version in that count). Written by Ben E. King with song gods Leiber and Stoller, the song has its roots in a gospel standard called "Lord Stand by Me," and certainly its reach goes beyond regular pop romance—as evidenced by its inclusion in the 1986 right of passage movie Stand by Me. Watch, listen, sing, cry—oh, and enjoy.—Sophie Harris
Photograph: Courtesy CC/Wikipedia/Apple Records
12. "Hey Jude" by the Beatles
"Hey Jude" has all the factors that contribute to a song becoming a karaoke classic in spades: a limited vocal range, a catchy melody and easy to remember lyrics. If you're feeling a bit timid, invite the whole crowd to join in the chorus (don't worry, they know the words). Or, bring as much passion as you want to your shining solo performance—especially as you lose it Paul McCartney–style at the end with "na, na, na, na, na, na!"—Tolly Wright
Photograph: Courtesy CC/Wikipedia/Dell9300/Eurythmics
13. "Sweet Dreams (Are Made of This)" by Eurythmics
Who are we to disagree with the power of one of Annie Lennox's most prominent new wave anthems, written with musical partner Dave Stewart in the wake of the demise of their former band, The Tourists. There's a decent chance that you already know the repetitive lyrics to this '80s bop built around a pair of intersecting synthesizer riffs, so hold your head up and sing it loud.—Zach Long
Photograph: Courtesy CC/Wikipedia/EMI / Harvest
14. "Wuthering Heights" by Kate Bush
The hit that introduced Kate Bush to the world (at only 17 years old mind you!) is a perfect choice for when you're whiskey-deep enough to attempt her otherworldly dance moves that elevated the song to an international phenomenon. The song fluctuates from angelic, childlike crooning to demonic rumblings that will keep everyone on their toes, and makes for a great girl-guy duet (with the guy singing the angelic parts, obvi).—Taya Kenny
Photograph: Courtesy CC/Wikipedia/Ruff House
15. "Killing Me Softly With His Song" by The Fugees
A hip-hop-inflected cover of Roberta Flack's interpretation of a ballad by '70s singer-songwriter Lori Lieberman (inspired her experience at concert headlined by "American Pie" troubadour Don McLean), this hit by the Fugees works best if you've got a whole lot of confidence or a killer set of pipes. Backed only by a sparse drum beat, you'll be able to put your own spin on Lauryn Hill's silky vocal melodies— and don't be afraid to designate a hype man to take care of the "one time, two time" asides or to help belt out the chorus.—Zach Long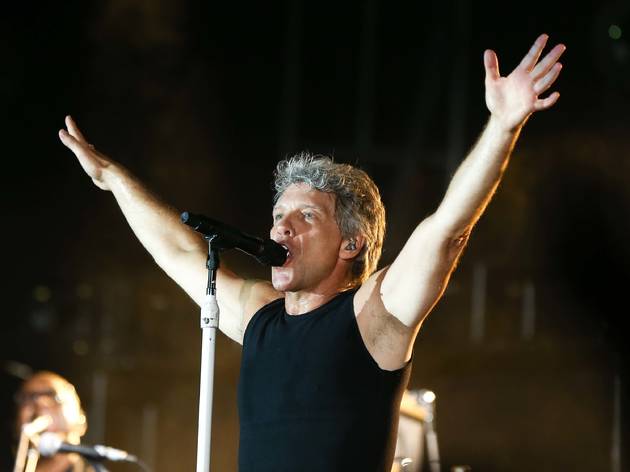 Photograph: Shutterstock
16. "Livin' on a Prayer" by Bon Jovi
"Don't Stop Believin'" has thankfully gone off to live at the retirement home for overplayed songs. But if you still want to belt an '80s arena-rock anthem about a couple of starry-eyed working-class kids just trying to get by, "Livin' on a Prayer" is exactly what you're looking for. Sure, your voice will crack after the key changes, but nobody will hear over the roar of the whole bar singing along.—Gabrielle Bruney
Photograph: Courtesy CC/Wikipedia/Polydor Records
17. "I Will Survive" by Gloria Gaynor
Sometimes you need to get in front of a group of strangers and make it clear that, no matter what challenges or misfortune the world throws in your path, you're going to persevere. In those situations, you can't go wrong with disco diva Gloria Gaynor's iconic breakup anthem, which brought empowerment to the dance floor when the track debuted in 1978. Settle for '90s alt-rockers Cake's cover of this tune if you must, but Gaynor's original version is infinitely more groovy.—Zach Long
Photograph: Courtesy CC/Wikipedia/Maverick Records
18. "You Oughta Know" by Alanis Morissette
We're not going to lie: No matter how much you like this song, this one should be reserved for those bar-goers who actually have the voice for it. But if you can imitate Alanis Morrisette's raw, almost-yodel on the chorus—or, if you're missing the vocal power but you really, truly are feeling the same bitter, jilted anger and you need everyone to know. It's bound to be a showstopper. —Tolly Wright
Photograph: Courtesy CC/Wikipedia/Queen Productions, Ltd
19. "Bohemian Rhapsody" by Queen
The high pomp of opera and the gutter circumstance of rock & roll tangle memorably in Queen's classic 1975 art-rock epic. No one can sing like Freddie Mercury, of course, but the motley nature of the song—which segues from plaintive ballad and quasiclassical choral harmonies to guitar-driven rebel yell—means that pretty much anything goes, from melodramatic group sing-along ("Bismillah! No, we will not let you go!" "Let him go!") to Wayne's World–style head-thrashing.—Adam Feldman

Photograph: Courtesy CC/Wikipedia/A&M Records
20. "Lean On Me" by Bill Withers
Sometimes you've got to try a little tenderness. After a night's worth of sloshed, screechy throat-clearing and failed attempts at long-forgotten rap verses, this huggy tribute to brotherly love will send your fellow humans out into the world with a warm and fuzzy feeling. The backing track is minimal, virtually a capella, so drop that mic and grab the shoulders of your closest compatriot. We'll all be united in the brief, shining moment before we have to wake up and reckon with which coworkers now possess incriminating photos of us.—Bryan Kerwin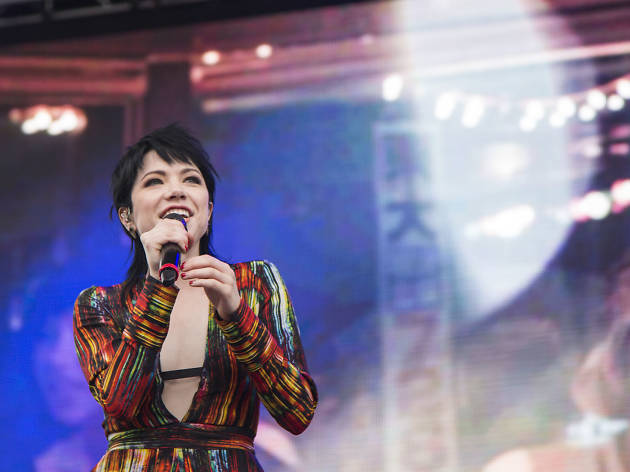 Photograph: Jaclyn Rivas
21. "Call Me Maybe" by Carley Rae Jepsen
The concept of giving your number to someone and having them actually call you was already extremely quaint when Canadian singer-songwriter Carley Rae Jepsen released this infectious single in 2011, but that didn't stop her rise to pop stardom. Assuming you can request this tune early enough in the evening (it's a pretty popular karaoke choice), you can remind folks that this song has a couple verses before they start screaming along to the refrain.—Zach Long
Photograph: Courtesy CC/Wikipedia/Sony / Epic / Cleveland International Records
22. "Paradise by the Dashboard Light" by Meatloaf
For the karaoke singer who wants to tell a full story through song—and whew, what a story—Meatloaf's epic eight-minute-plus send-up to early rock & roll is about as fun a choice you'll find. To do this song properly you're going to need some help: Not only will you need someone to perform as your duet partner, but also the baseball announcer to narrate your way around the bases. —Tolly Wright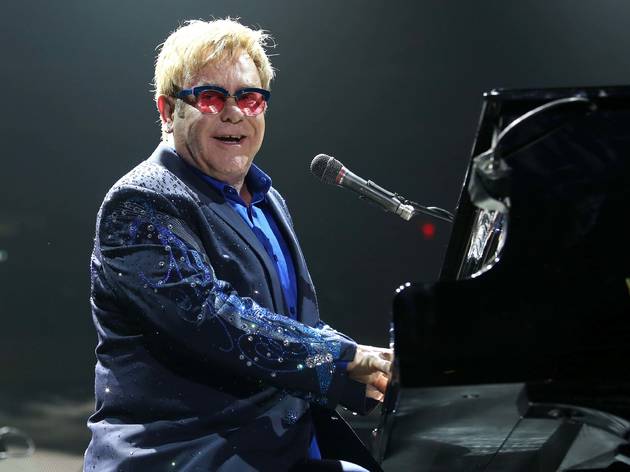 Photograph: Shutterstock
23. "Don't Go Breaking My Heart" by Elton John and Kiki Dee
Written as a homage to the great Motown duets of the '60s (think "Ain't No Mountain High Enough" or "It Takes Two"), this 1976 No. 1 hit is pure sunshine and rainbows. Even if the karaoke partners are not equally as familiar with the words, the easy call and response nature of the song make the lyrics intuitive: If he's feeling down, she's his clown; if he hears knocking on his door, she'll give him a key. No need for broken hearts here.—Tolly Wright
Photograph: Courtesy CC/Wikipedia/Columbia Records
24. "Faith" by George Michael
So things didn't work out with your last duet partner? Good riddance! Here you can sing in a slightly breathy, near-ecstatic voice about how you're "showing [them] the door." Feel free to shake your hips and snap along as you revel in the joy of being single, after all you, like George Michael, have faith that this is the best pop song for the occasion.—Tolly Wright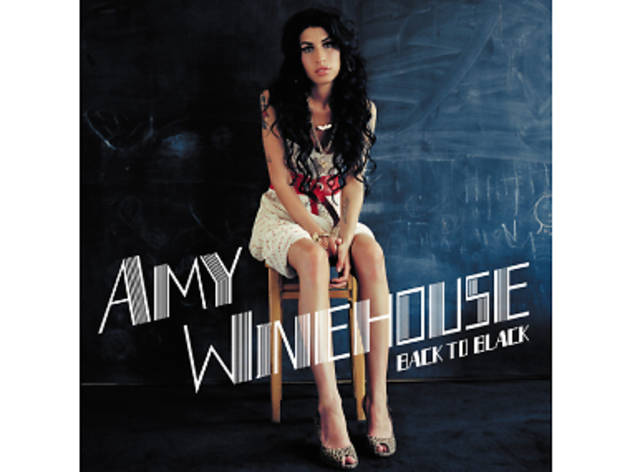 Photograph: Courtesy CC/Wikipedia/SnapSnap/Jack3mani.filed.wordpress.com
25. "Rehab" by Amy Winehouse
Right off the bat, you get the chorus: "They tried to make me go to rehab!" It's fantastic when pop songs do that, no dillydallying, no buildup. The audience will know immediately what you are singing, and they will respond, "No, no, no!" Of course, you must sing this completely blitzed out of your mind. Sobriety is to this tune what satanists are to gospel. If you don't fall off the stage by that final "I won't go," spilling into a cocktail table, ending the night in stains, you did it wrong.—Brent DiCrescenzo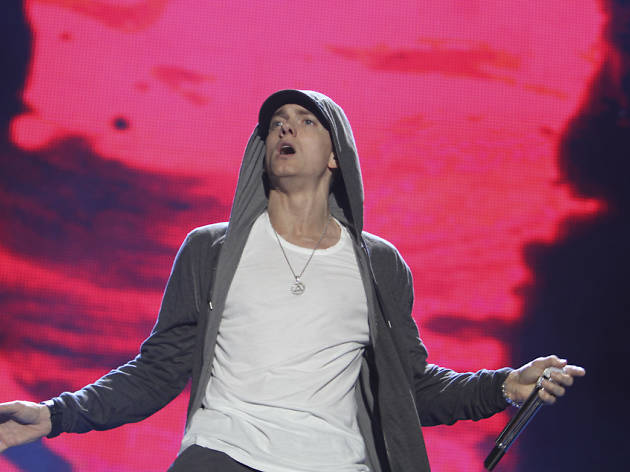 Photograph: Rory O'Connor
26. "The Real Slim Shady" by Eminem
Before Eminem was a fancy, Oscar-winning songwriter, he wrote this quick-witted 2000 fuck-you to the fame game. Though some of the references have staled—where are you now, Tom Green?—the song still sounds fresh. You may want to practice it at home before you try it, though, because there are a whole lot of words on that screen (not all of them accurate), and they go by super fast. For extra points, get everyone in the room to stand up at the end, Spartacus style.—Adam Feldman
Photograph: Courtesy CC/Wikipedia/MCA Records
27. "Sweet Home Alabama" by Lynyrd Skynyrd
Don't let your lack of Alabama roots stop you from tackling this 1974 rock anthem: When you air-guitar the song's two masterful solos, you'll be mimicking California-bred ax wielder Ed King. Accept no imitations (looking at you, Kid Rock's "All Summer Long"). That air-shred, by the way, is not optional.—Andrew Frisicano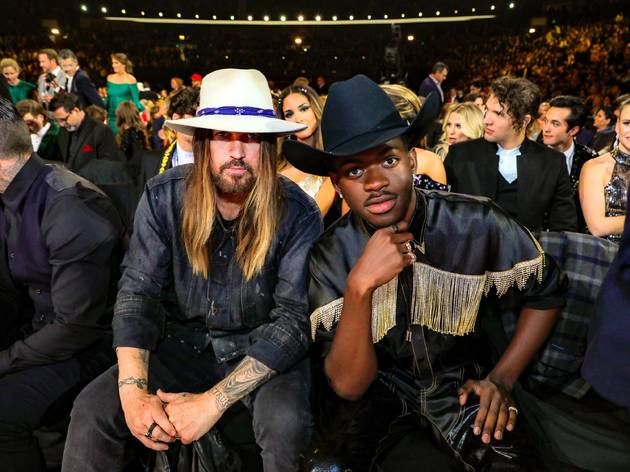 Photograph: Shutterstock
28. "Old Town Road" by Lil Nas X
A viral TikTok hit that turned into an inescapable pop juggernaut, there aren't many people who haven't heard Lil Nas X's infectious amalgamation of country tropes and hip-hop swagger. That makes "Old Town Road" an ideal karaoke tune for capturing the attention of the crowd, especially if you take the stage in a cowboy hat and Wranglers. Plus, there are so many different remixes of this track—featuring folks like Billy Ray Cyrus, Young Thug and members of South Korean boy band BTS—that you could probably sing multiple versions in a single night.—Zach Long
Photograph: Courtesy CC/Wikipedia/Philips Records
29. "Son of a Preacher Man" by Dusty Springfield
Whether you're channeling Dusty Springfield, who originally made the song a hit in 1969, or Aretha Franklin's pure-soul version created the following year, karaoke singers with some pipes are bound to get a few "hallelujahs" from the crowd. While certainly best performed by somebody who has the singing chops, we wouldn't stop the brave novice from giving it their all.—Tolly Wright
Photograph: Courtesy CC/Wikipedia/Hi Records/Isento
30. "Let's Stay Together" by Al Green
You're not just measuring up to Al Green's inimitable falsetto but this song's most famous adapter, Barack Obama. In 2012, the POTUS broke into "Let's Stay Together" during a fund-raiser at the Apollo Theater. The clip went viral, sending the 1971 single back up the charts. It's been all downhill from there for No. 44. The Memphis man's best single remains one of the greatest love songs, but there's something about his buttery and bittersweet plea that implies the relationship is lost. Or perhaps that just the lingering memory of first term.—Brent DiCrescenzo
Photograph: Courtesy CC/Wikipedia/Def Jam/Columbia/David Gamboli
31. "(You Gotta) Fight For Your Right (to Party)" by Beastie Boys
There are few requirements involved in performing the Beastie Boys' brazen ode to youthful rebellion. You must be awake. You must be able to read. The barrier to entry is low on this one, making it one of your easiest and best options for some sophomoric fun. It's also highly recommended to have a gaggle of friends on stage all yelling with you into one microphone. But really, in the spirit of the song, there are no rules. If someone tries to tell you otherwise, throw a pie in their face.—Bryan Kerwin
Photograph: Courtesy CC/Wikipedia/Atlantic Records / Columbia Records / Screen Gems
32. "(You Make Me Feel Like) A Natural Woman" by Aretha Franklin
Just the sound of those opening piano chords is enough to send anyone with ears into a swoon, such is the singular beauty of this 1967 Goffin and King classic. The question is, do you have the pipes—or the chutzpah—to take it on? Aretha's spine-tinglingly sung point here is that her man makes her feel like a red-blooded, musky, perfect-as-she-is woman, and she wants to bust open her heart to tell you this glorious truth. Sing it like a queen, or not at all.—Sophie Harris
Photograph: Courtesy CC/Wikipedia/Vlattenham/Jet Records
33. "Don't Bring Me Down" by Electric Light Orchestra
All of E.L.O.'s best songs lend themselves to jubilant group singalongs, so why not try out a rendition of one of the English rock outfit's most beloved cuts with the help of a room full of friends and strangers? Famously written by Jeff Lynne at the last minute to pad out the band's 1979 album Discovery with one more upbeat track, you can't help but smile while listening to the driving rhythms and falsetto-strewn chorus of this tune. Speaking of the chorus, remember: It's "don't bring me down, groos!," not "don't bring me down, Bruce!"—Zach Long
Photograph: Courtesy CC/Wikipedia/Dtobias/Tiffany
34. "I Think We're Alone Now" by Tiffany
While the song was originally released in 1967 by rock band Tommy James and the Shondells, it was Tiffany's cover 20 years later that became the number one hit, and it is her delightfully peppy dance track that most people sing today. With a manageable singing range and a good medium-length running time, this one is good for even inexperienced karaokers. Don't let the lyrics stop you from bringing up a pal (or two).—Tolly Wright
Photograph: Courtesy CC/Wikipedia/DatBot/Virgin Records
35. "Don't You Want Me" by the Human League
Commitment to this duet's awesome narrative (she was working as a waitress in a cocktail bar, etc.) is the key to karaoke success here—so don't you worry if your singing is a little wonky on this 1981 synth-pop standout. Just put yourselves in the singers' British shoes (and awesome '80s outfits), channel their plaintive longing, and you're golden.—Sophie Harris
Creator: Photograph: Courtesy CC/Wikipedia/Sammimack/Philips Records/Universal Music Group
36. "Space Oddity" by David Bowie
Bowie's existential drive to expand rock & roll consciousness collided with humankind's new found ability to explore its own physical limits in the late '60s, producing one of music's most fantastically idiosyncratic singles. Forget saccharine love ballads or weighty protest songs, here's a psychedelic blues-folk short story about an astronaut getting lost in space, released nine days before Neil Armstrong set foot on the moon, and sung by a red-coiffed waif who might have been born there. On a more basic level, it's simply a great tune. You can't hear that introductory countdown and not immediately launch into "This is ground control to Major Tom!"—Bryan Kerwin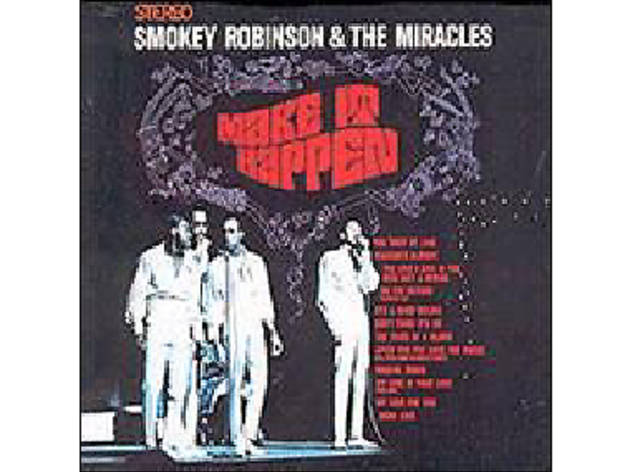 Photograph: Courtesy CC/Wikipedia/FuriousFreddy
37. "Tears of a Clown" by Smokey Robinson and the Miracles
When that opening calliope riff hits, everyone in the bar will know you've just cued up Smokey's timeless ode to weepy bedroom solitude. To sell it, you'll need to summon the gods of skyscraper-topping Motown vocals (the original was recorded at the famed label's studio A) so why not take a tip from the pros. Legendary Apollo Theater performers like Robinson would rub a lucky tree stump before heading out on the stage. Find the nearest arboreal equivalent (most likely some formica paneling) and go for it.—Andrew Frisicano
Photograph: Courtesy CC/Wikipedia/MCA
38. "Mary Jane's Last Dance" by Tom Petty
With one of the most distinctive and unconventional voices in rock and roll, Tom Petty embraced his nasal tone and Southern drawl. You, too, can lend your voice—no matter what it sounds like—to one of Petty's most beloved latter day hits by cueing up "Last Dance With Mary Jane." There's no shortage of harmonica and guitar solos throughout the tune, but you can use the downtime to ponder whether this is an ode to weed or a tragic love song.—Zach Long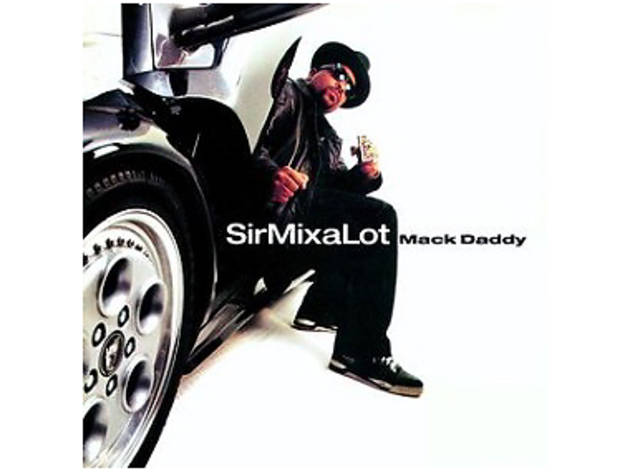 Photograph: Courtesy CC/Wikipedia/MindsEyeTHPS/American Recordings/Universal Music Group
39. "Baby Got Back" by Sir Mix-A-Lot
Like the Nostrodamus of butts, Sir Mix-a-Lot foresaw a future in which we'd all be as obsessed with ass as he is. Nicki Minaj sampled him heavily for "Anaconda," J. Lo and Iggy Azalea gifted the world with a track simply titled "Booty," and Kim Kardashian is a person who exists. No karaoke night is complete without a salute to the song that started it all.—Gabrielle Bruney
Photograph: Courtesy CC/Wikipedia/Adabow/Columbia Records
40. "Drunk in Love" by Jay-Z and Beyonce
Sure, it's a duet, but really you know who's wearing the pants (or at least, tiny underpants) here: This is Yoncé's joint, from its trap beats and shuddering subterranean bassline to the singer's febrile, sometimes cartoonish vocals ("grainin' on that wood"). Select this song for karaoke, and be prepared to go the distance with its delivery: not recommended for work parties.—Sophie Harris
Photograph: Courtesy CC/Wikipedia/Live and Die 4 Hip Hop/Cold Chillin' Records
41. "Just a Friend" by Biz Markie
On their album commentaries, the Beastie Boys love to tell tales of Biz Markie. The teddy-bear rapper would always need a "bag of candy" in the studio, or he would go out to buy said "bag of candy" and disappear for months. That's no surprise, as the MC is as irresistibly adorable as a dimpled kid dressed as Run-D.M.C. on your doorstep at Halloween. His dumb tunes are as sweet as Smarties. If the B-52s are salvation for those who can't sing, this old-school jam from '89, with its out of tune Freddie Scott hook, is a gift for those who can't sing or rap, whether by inebriation or genetics.—Brent DiCrescenzo
Photograph: Courtesy CC/Wikipedia/MatthewWaller
42. "Say My Name" Destiny's Child
For an R&B song boasting amazing female vocalists (including, you know, Beyoncé), "Say My Name" doesn't require all that big a singing range. What it does need, however, is some pretty fast talking. To impress the rest of the bar, make sure you got the lyrics on lock—or maybe the support of your personal Kelly Rowland, Letoya Luckett and LaTavia Robertson.—Tolly Wright
Photograph: Courtesy CC/Wikipedia/Livelikemusic/Atlantic Records
43. "That's What I Like" by Bruno Mars
Your local karaoke bar probably doesn't serve strawberry champagne on ice, but that shouldn't stop you from grabbing a glass of something bubbly, putting on a pair of shades and singing an ode to all the luxurious things you like (regardless of whether you can actually afford them). Don't be afraid to bust a few moves to this bouncy R&B anthem, and if you need a little inspiration, the track's official music video is a great place to start.—Zach Long
Photograph: Courtesy CC/Wikipedia/Theo's Little Bot/Capitol Records
44. "Bitch" Meredith Brooks
For anybody who uses a karaoke night as an occasion to let off some steam, this song is ideal for embracing—and then promptly shaking off—a particularly bad day. We all know nobody's perfect, but Brooks's '90s anthem welcomes you to not only admit you're a sinner, saint, bitch and lover and still shout, "I don't feel ashamed."—Tolly Wright
Photograph: Courtesy CC/Wikipedia/PhilipTerryGraham/Columbia Records
Let's face it: There's no way you can hit those high notes on the chorus, and no one—and we mean no one—has any idea what vocalist David Paich is carrying on about. ("Frightened of this thing that I've become," something about "[blessing] the rains," etc.) But man, is that fake-tribal verse smooth, and man, is that chorus melody sweet. This is one of those karaoke jams that gets the whole room singing along or at the very least trying its best.—Hank Shteamer
Photograph: Courtesy CC/Wikipedia/David Pro/Columbia
46. "Total Eclipse of the Heart" by Bonnie Tyler
There's a reason no karaoke night in the history of ever has passed without someone shredding their upper register on "Total Eclipse of the Heart": This Jim Steinman–penned 1983 Brit hit may be the greatest power ballad ever recorded, packed with so much camp and theatricality that it can make a showman out of the most timid performer. Fun fact: Tyler got her signature growl by singing against doctor's orders shortly after having surgery to remove nodules from her vocal cords. Maybe not the smartest move, but would the high-octane melodrama of her signature hit be the same without her raspy wail? We think not.—Gabrielle Bruney
Photograph: Courtesy CC/Wikipedia/DCEdwards1966/Interscope
47. "What's Up" by 4 Non Blondes
Linda Perry is best known today as a hit songwriter for artists like Christina Aguilera and Gwen Stefani, but back in 1992, she was the lead singer of 4 Non Blondes, the one-hit wonder behind this enduring favorite. Give yourself over to attitude as you belt out the confrontational lyrics. If you're a Method karaoke type, here a tip: Imagine the song as the vocal equivalent of doing shots of whiskey at a kickass lesbian biker bar, then buying a round for everyone.—Adam Feldman
Photograph: Courtesy CC/Wikipedia/Anetode/Elektra
48. "Just What I Needed" by The Cars
Ric Ocasek had an incredible ear for catchy power pop, and this track from The Cars' debut album is among his most memorable creations. If you're going to take this song on, make sure to channel the slightly sarcastic delivery of Cars vocalist Benjamin Orr, pump your fist in rhythm with the staccato riffs and encourage the rest of the bar to help you out with the call-and-response chorus.—Zach Long
Photograph: Courtesy CC/Wikipedia/Zrulli/Elektra Records
49. "Semi-Charmed Life" by Third Eye Blind
Somebody's got to make with the required '90s nostalgia, so dive in head first. Every part of this alt-radio-rock classic seems tailor-made for group sing-alongs: the rat-a-tat half-rapped verses, the high-flying melodramatic chorus, the wordless "doo-doo-doo" refrain. And while "Doing crystal meth will lift you up until you break" may not touch on humanity's shared experience (though it reads as factually accurate), it is super fun to belt out alongside a roomful of half/mostly sauced friends and strangers.—Bryan Kerwin
Photograph: Courtesy CC/Wikipedia/Diannaa/Electrola/Universal Music Group
50. "Tubthumping" by Chumbawamba
Sometimes, at karaoke, you want to sing the songs that remind you of the good times. Other times, you're more inclined to sing the tunes that remind you of the bad times. Sometimes you get knocked down, but in those moments, your true character is judged by whether you can get up again. Sometimes you take a whiskey drink. Other times a vodka drink. Other times a lager drink. Sometimes, a cider drink. Ok, now you literally have all the info you need to do this inescapably joyous crowd-pleasing anthem.—Taya Kenny
Photograph: Courtesy CC/Wikipedia/SnapSnap/Island Records/Universal Music Group
51. "When You Were Young" by The Killers
Let's face it: If the Killers frontman Brandon Flowers wasn't a world-famous rock star, he'd probably be singing Bruce Springsteen tunes on a late-night karaoke stage somewhere in Las Vegas. Instead, he wrote this Boss-indebted anthem, channeling the palpable sense of yearning and overwrought instrumentation of "Born to Run." Clench your fist and channel your lust for adventure into lyrics like "We're burning down the highway skyline / On the back of a hurricane that started turning."—Zach Long
Courtesy Paramount Pictures
52. "Summer Nights" by John Travolta and Olivia Newton-John
It's strange to consider this Grease earworm merely a duet, because the entire room is guaranteed to shout the "tell me more!" bits, right down the gender divide. "Summer Nights" turns your dingy bar into a Broadway (okay, well, high-school musical) chorus line. In fact, you Sandys and Dannys are going to need Sonnys and Rizzos, too. This is an all-hands-on-deck, full-cast number. That way the awkwardness of realizing how the tune is dated and mildly misogynistic is spread around evenly.—Brent DiCrescenzo
Photograph: Courtesy CC/Wikipedia/Theo's Little Bot/Atlantic Records
53. "I Believe in a Thing Called Love" by the Darkness
Few bands have mined the '80s hair metal aesthetic with as much cheeky sincerity as the Darkness. Their full embrace of this-goes-to-11 guitar riffs and Vince Neil sartorial choices comes slyly undercut by the knowingly goofy heart-on-sleeve songwriting. This one is solidly in the center of the karaoke Venn diagram. Technical prowess isn't really the play here, though you'll definitely garner respect for summiting all those falsetto peaks. Just plant one foot on top of the monitor cabinet, engage hip-shake and feel the love take hold.—Bryan Kerwin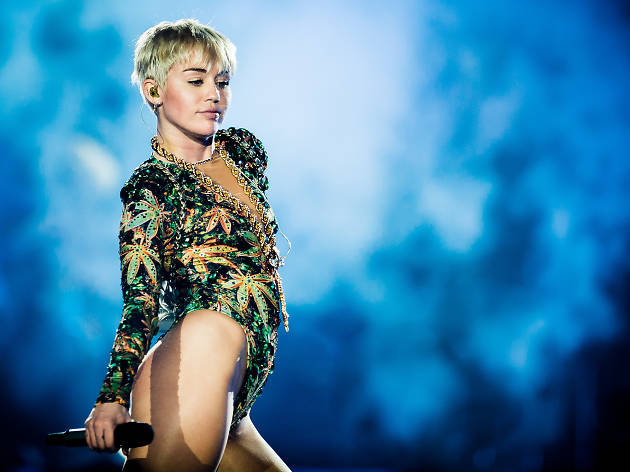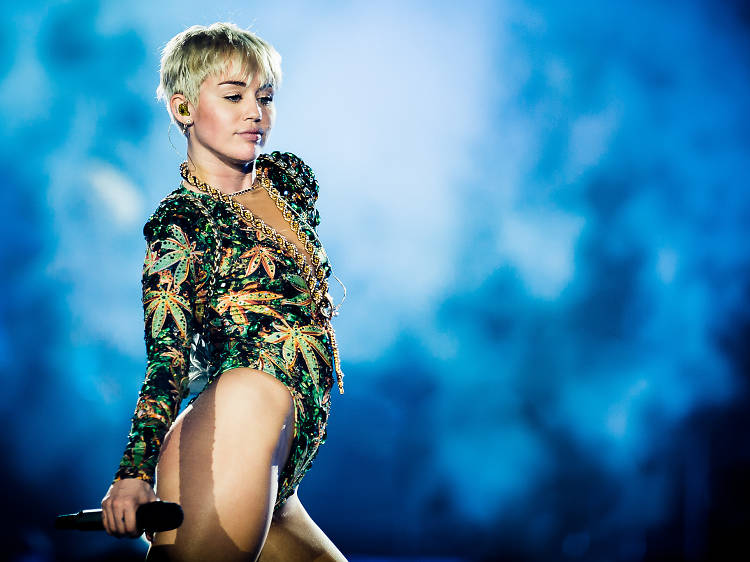 Photographer: cousindaniel.com
54. "Party in the U.S.A." by Miley Cyrus
Poke fun at her dorky Hannah Montana days or the infamous bedazzled weed leotard all you like—there's no denying that Miley Cyrus has given the world some bonafide karaoke classics (or Bangerz, if you will). Before you break into one of her most memorable tracks, you'll probably want to wait until everyone at the bar is at least a couple drinks in, just to ensure that everyone is movin' their hips and shakin' their heads (like, yeah) when you all start belting out the chorus.—Zach Long
Photograph: Courtesy CC/Wikipedia/Anetode/Epic Records
55. "Billie Jean" by Michael Jackson
You want to sing some Michael Jackson, of course, but which Michael Jackson? It has to be "Billie Jean." Watch your buddies' faces light up when that perfectly crisp, economical beat kicks in; relish every ounce of drama in the tortured vocal in the verses; and fully expect your audience to join in on the "heeeeeeeeee-eeeeeee"s that build up to the chorus. Exit the floor moonwalking, with your shiny jacket slung over one shoulder. Don't think twice.—Sophie Harris
Photograph: Courtesy Discogs.com
If singing isn't your strongest suit—but you're fantastic at jumping around and getting everybody pumped—then fire up this early aughts favorite. Better plan ahead though if you want to match the tune in your best André "Ice Cold" 3000 green get-up.—Tolly Wright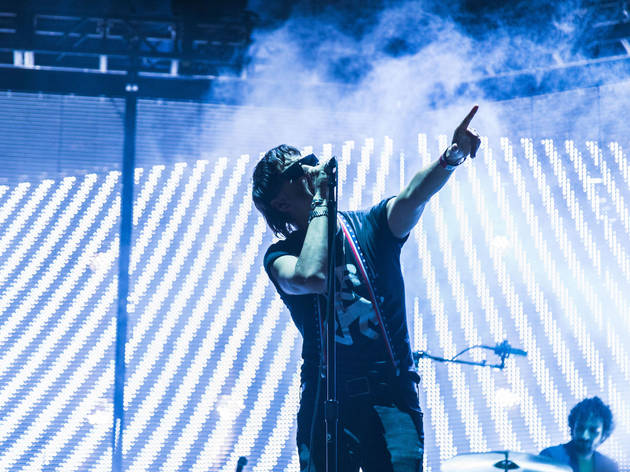 Photograph: Jaclyn Rivas
57. "Last Nite" by the Strokes
The Strokes are the greatest rock & roll band of the 21st century and perhaps, the way things are going, the last great rock & roll band. That being said, even as superfans, we have to admit Julian Casablancas's allure is that he is basically drunk-karaoke singing. The garage jangle of "Last Night" is as tightly composed and designed as Giorgio Moroder disco but deceptively dressed as a loose garage ramble, over which Casablancas mumble-howls. No need to even bother reading the lyrics. Swallow the microphone, "baby!"s and "last night!"s and you're golden.—Brent DiCrescenzo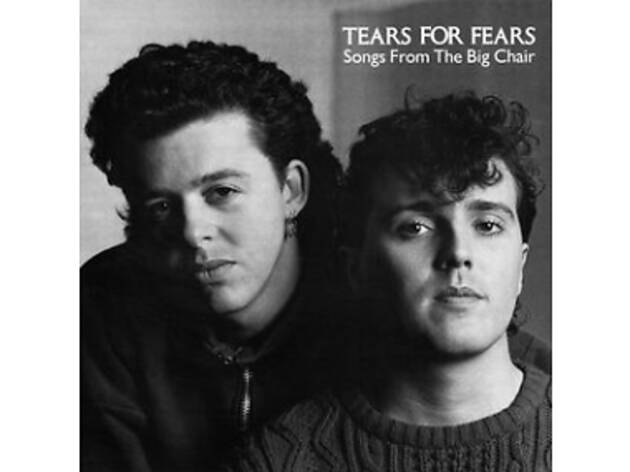 Photograph: Courtesy CC/Wikipedia/Nem18/Mercury Records
58. "Everybody Wants To Rule The World" by Tears For Fears
First time stepping up to the microphone? If you can't think of a song that you're comfortable singing, this new wave classic is simple enough that almost anyone can pull it off. The slow-moving tune about the corrupting allure of power sports a recurring vocal melody that doesn't require an professionally-trained voice—or a mullet and a single dangling earring.—Zach Long
Photograph: Courtesy CC/Wikipedia/Theo's Little Bot
59. "Beast of Burden" by Rolling Stones
In the past, Mick Jagger has referred to "Beast of Burden" as an "attitude song"—the lyrics don't matter as much as the melody and the feeling of it. After a few high-energy, dancey numbers, this song is the perfect, slow-downed palate cleanser. Jagger wasn't too worried about the words (he improvised most of them in the studio), so neither should you.—Tolly Wright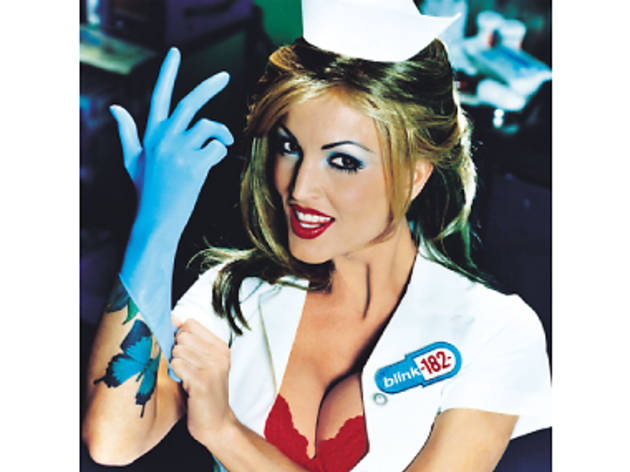 Photograph: Courtesy Universal Music Group
60. "What's My Age Again" by Blink 182
The late '90s saw the birth of a new anti-hero, the sophomoric mid-twenties jokester who found himself sandwiched in between the demands of adulthood and the comforts of being of a teenager, in the form of The Tom Green Show, skateboarding and prank calls. Sure, now it's called Peter Pan Syndrome and is largely frowned upon, but for a while this way of being had not only a celebratory moment, but an even more celebratory anthem. The lyrics demand a carefree, no-hold-barred attitude, and Tom's instantly recognizable guitar riff is sure to make the bar scream like it's everyone's 6th grade dance all over again. So throw off your adult responsibilities, sag your cargo pants and belt out this promise that even if you get older, you don't have to grow up until you're good and ready.—Taya Kenny
Photograph: Courtesy CC/Wikipedia/Daerl/OVO Sound
61. "Hotline Bling" by Drake
Are you in your feelings right now? There's no better time to launch into a rendition of Drake's R&B anthem that gave way to millions of memes, especially if you've recently been jilted by a lover. Yes, you're welcome to acknowledge that Drizzy's lyrics are more than a little problematic, but there's no denying the hypnotic power of the track's bouncy beat, even if you're not standing in front of a James Turell-inspired light sculpture.—Zach Long
Photograph: Courtesy Grandstand
62. "Say It Ain't So" by Weezer
Okay, so this song made its name on its monster guitar riff. But with its esoteric, affecting lyrics and Rivers Cuomo's bellowed "say it ain't so, whoa, whoa," it's also a tune made for karaoke. The only problem you'll have is figuring out where to stash the mike as you furiously air-guitar.—Gabrielle Bruney
Creator: Photograph: Courtesy CC/Wikipedia/Anetode/Boardwalk Records
63. "I Love Rock & Roll" by Joan Jett and the Blackhearts
Joan Jett's signature tune is one of those classics that should feel overplayed but just can't be resisted. Bold, brash and very limited in range, this track's perfect for the karaokegoer who has more swagger than actual vocal ability and will get the room singing along—'cause after all, everyone loves rock & roll.—Gabrielle Bruney
Photograph: Courtesy CC/Wikipedia/Theo's Little Bot/Pitbull
64. "Timber" by Pitbull ft. Kesha
Combining an EDM beat with harmonica riffs and country-inspired lyrics, "Timber" is a pop abomination that miraculously gels together and worms its way into your brain. This track is best approached as a duet, with one person taking Kesha's incessant chorus and the other tackling Pitbull's verses, which are filled with poignant observations like "Face down, booty up / That's the way we like the what."—Zach Long
Photograph: Courtesy CC/Wikipedia/Warner Music
65. "Fuck You" by CeeLo Green
You don't have to be reeling from a recent split in order to enjoy the most jubilant, most profane breakup song of all time. CeeLo's breezy neo-Motown rebuke of a money-crazed ex netted him and cowriter Bruno Mars a Grammy and much well-deserved critical praise. Their ditty sails easily over a sea of gleeful horns and doo-wop backing vocals, emphasizing CeeLo's quirky sense of humor and a clear, unabashed love of dropping those f-bombs. Heartbreak never sounded so carefree.—Bryan Kerwin