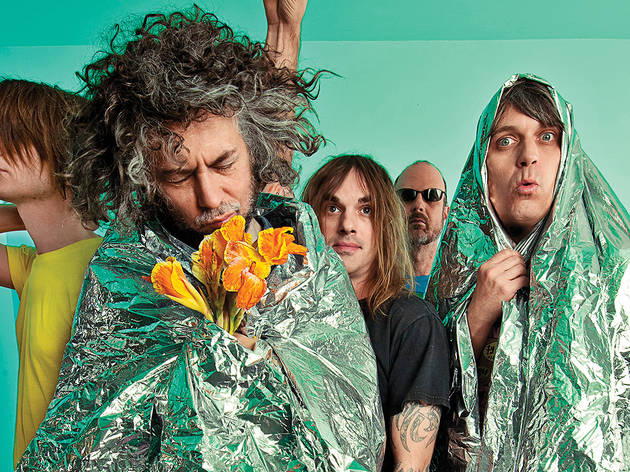 The Flaming Lips hit the road with Miley Cyrus & Her Dead Petz
Wayne Coyne explains how Miley Cyrus and the Flaming Lips teamed up for the year's most psychedelic tour
It's unclear whether Wayne Coyne has found a new muse in Miley Cyrus or vice versa. In August, Cyrus put out a free collaborative record with Coyne's band, the Flaming Lips, called Miley Cyrus & Her Dead Petz, melding the group's hook-heavy psychedelic rock with the pop star's emotional drawl and playful raunch. Their team-up continues with a tour that visits NYC this week.
The pairing might sound unlikely, but it's one that fits with the Flaming Lips' M.O. Since 2010, the group—which has explored the outer realms of weird space-rock for more than three decades—has worked heavily with other artists, like on the 2012 album The Flaming Lips and Heady Fwends, with contributions from Kesha, Tame Impala, Nick Cave and others. But its devotion to the Dead Petz project seems like something further. "It feels like this other version of the Flaming Lips in a way," admits Coyne. "I've always wanted to not just be the singer."
"[Cyrus's] range and emotion and style, that tone that she gets in her voice. It hits you on an emotional level," he says. "I'll compare it to Carly Simon or Gladys Knight. She is relentless. She's the hardest-working person I've ever run into."
The pair first worked together in Tulsa during one of Cyrus's days off from touring, near the Lips' home base of Oklahoma City, and immediately found chemistry. For this record, the music they made is trippy and at times extravagant but also emotionally touching and surprisingly refined for a 23-song freebie. The vibe veers from Bond-theme-in-space on "Cyrus Skies" to futuristic soul-pop on the Mike Will–produced "Bang Me Box," with experimental interludes peppering moments of brilliance. Jarring opener "Dooo It!"—with its tiring "Yeah, I smoke pot" refrain—segues into the Yoshimi-esque flower-power ballad "Karen Don't Be Sad." Flaming Lips fans will notice the acoustic guitar and trip-hop drums of that tune and others are closer to live staples from The Soft Bulletin or Clouds Taste Metallic (the latter of which the group reissues on Friday, November 27) than the band's recent somber sonic explorations on 2013's The Terror.
The album might be a surprisingly prescient indicator of the direction for the next Flaming Lips record, which is in the works. "A lot of the Miley Cyrus record did start out as just [me and bandmate Steven Drozd] making music," says Coyne. "Depending on how well people know the Miley Cyrus record, they might say about our next album, 'Hey that's that [Dead Petz] song, but you're doing this thing whereas she's doing that thing.' Don't tell anybody."
As far as the live show goes, Cyrus & Her Dead Petz have mentioned their desire to do a concert while fully nude—no word on whether that'll happen. But what they've confirmed and constantly teased via their respective Instagrams is LED-equipped set pieces and wild video projections. Coyne, whose past stage antics have included climbing into a giant human hamster ball, says keeping the live show fun is as much for the benefit of the band as it is for the audience. "If you miss that slight nuance of that 13th chord, it's not the end of the world, because there's a giant caterpillar dancing right next to you," says Coyne. "That's a great relief. We're not changing the world. These people want to party, so let's go out there and be part of it."
Miley Cyrus & Her Dead Petz plays Terminal 5 Saturday, November 28, at 8pm.