The Gaslight Anthem keeps things in perspective
As superstardom looms, this New Jersey rock band remembers what's important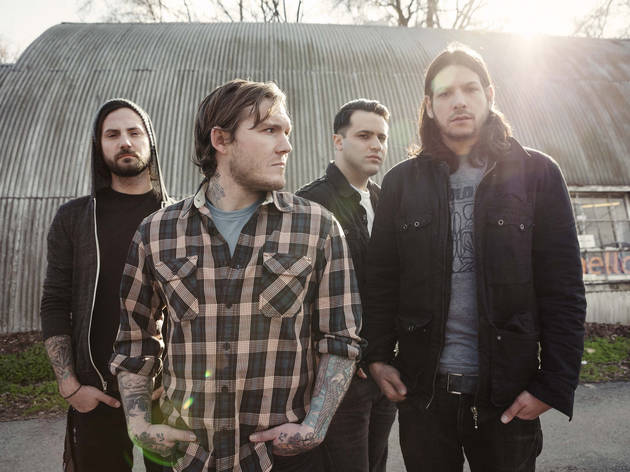 When Hurricane Sandy decimated parts of the East Coast on the evening of October 29, the Gaslight Anthem was thousands of miles away in Vienna. Midway through a European tour, the New Jersey band was separated from friends and family back home, able only to watch the ravaging effects of the storm on television and imagine the worst.
"When you see stuff on the news, it's not the same as when it actually happens to you in person," says Alex Rosamilia, the band's guitarist. "It just looked like it could have been anyone. I'm going to have a $2,000 phone bill from making sure my family's okay. But I was lucky: Where I'm at, there wasn't any flooding. We did lose power and my girlfriend had to stay with her parents for the week. It was really rough being away from the people you love, knowing that they had to go through it and you couldn't help at all."
Now safely back home, Rosamilia and the rest of the band—singer and guitarist Brian Fallon, bassist Alex Levine and drummer Benny Horowitz, as well as former guitar tech and touring member Ian Perkins—are preparing for three consecutive nights at New York's Terminal 5. They've played the cavernous venue once before, but three nights is a big deal.
"I have to be honest, it hasn't sunk in yet, we've been touring so much," says Rosamilia, chuckling. "It's probably going to sink in on the second day. I remember the first time we ever played New York City and thinking I'd made it. And this was playing to maybe 15 people, opening up for [Cave In singer] Stephen Brodsky. I thought it was the coolest show I'd ever play in my life."
Much has changed since then, obviously. In July, the Gaslight Anthem released its fourth album, Handwritten. A major-label debut, the LP keeps true to the classic rock & roll and punk sensibilities that have driven the group since it formed in 2006. But little by little, through dedication, hard work and an ever-increasing catalog of heartfelt, soulful songs, the band began to grow. After 2008's breakthrough second album, The '59 Sound, things really started to change. Venues got bigger. The band regularly toured abroad. It began playing the main stages at festivals. And in a big turning point, the Gaslight Anthem was joined onstage by fellow New Jerseyan Bruce Springsteen at 2009's Glastonbury Festival. More recently, Pearl Jam's Eddie Vedder sang with the group at DeLuna Fest in Florida.
So why isn't the Gaslight Anthem playing an arena this week? "We didn't want to play a larger place," explains Rosamilia. "What little intimacy a place like Terminal 5 has, it still has more than an arena. Obviously, I have no problem playing arenas, but I want to wait until there's no other option, instead of trying to see if we can do it."
That down-to-earth mentality is a fundamental part of the Gaslight Anthem. The same earnest, honest passion flows through the band's songs today as it did some six years ago, precisely because its members, despite the successes they've enjoyed, have maintained that outlook—something Rosamilia puts down to "low self-esteem and self-worth." His tongue might be slightly in his cheek, but he's adamant that the band's temperament won't change.
"When you practice rituals for so long, you can forget why you do them," he says. "I hate that this is the title of a Hatebreed album, but satisfaction is the death of desire. You need to keep wanting to do better." When a band is satisfied with its status, Rosamilia suggests, it has nowhere to go but down.
"It's the desire and hunger within the music itself that drives us, not the desire to play bigger shows," he insists. "It's channeling whatever it was when you wrote the song originally and harking back to that. You sit in a room when you're 15 and you write a song about how a girl doesn't like you so much, and it brings you to tears when you write it—you have to remember to do that, every time you play it after that."
The Gaslight Anthem plays Terminal 5 Wed 28–Nov 30.