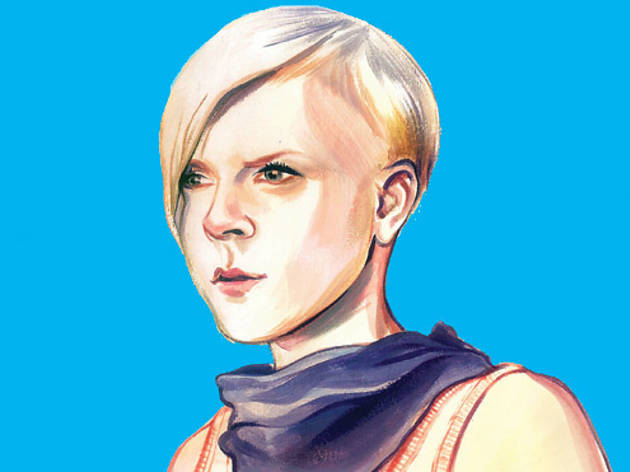 The Hot Seat: Robyn
The Swedish dance-pop sensation is here—and she brought her robot.
RECOMMENDED: Full list of Hot Seat interviews
You've been touring since you were 16. Are you a pro at checking out of hotels on time?
I am efficient when I get to it, but I end up being on the phone or googling something. So, usually I'm late even though I'm pretty good at actually getting done quickly.
It's snowing like crazy here, and it made me think of how you wrote "Dancing on my Own" about the very dark winters in Sweden. It's not just a desperate love song.
Yeah, I wrote it in the middle of the winter. I was clubbing a lot and I was in that kind of mood. Most of the songs I write that are sad love stories are usually about something else.
Do you have any tips for getting through the winter blues?
I like work! That's what happens when it's dark and cold; it's so horrible to be outside, so you end up staying in and you can get quite bored. I think work is the best medication for that.
I guess for you work is more fun than a lot of people's day jobs right?
Right! I guess. I mean, if you don't have a job you like, then maybe a hobby... [Laughs]
You have a very loyal audience in New York.
It's the girls that know me from ten to 15 years ago, and then there's a huge gay audience, and then there's some hipsters and some nerdy gothy kids, and there's the girls from the hood. All kinds of people, actually.
Why do you think you have such a big gay following?
I don't know, I think it's up to other people to analyze what that is, but I hope it's because they like my music. I think I always connected to and was inspired by outside culture myself, and the gay community has always embraced that.
What have your biggest pop moments been in your life?
The Thriller album was the probably the first album that I got into as a kid where I was really obsessed for years and years—and the Dirty Mind album that Prince made at the beginning of his career. And Big Science, an album that Laurie Anderson made in '82. Yup!
Laurie Anderson talks a lot about her fascination with technology. What draws you to the world of bleeps?
What I like about it is that it's an extension of us now. It's not for just a few people now, it's for everyone—it's in our daily lives now and it's something that we take for granted. It's almost like we're already cyborgs because we're on our computers so much. I like when technology and humans start mixing. [Laughs]
It doesn't have to be physically, it could be emotionally or on a theoretical level as well. Everyone's gone crazy about Facebook and Twitter now, and I understand that—when I made this album it was very much about that, about how I was communicating with my surroundings. It's like it's become our new feathers or face paint; it's still very primal but the technology is pushing it forward.
How good is your robot dance move?
It's okay! [Laughs] I mean, I love robots. I don't like romanticizing about the future, and I don't like being romantic about the past, either. I think that the present time is what's most interesting. I'd like to be able to stay in it as much as I can. I am a sci-fi nerd—but when I talk about robots it's more as a metaphor for human things.
You're opening for Katy Perry this summer—how did that happen?
I was asked by her to do it and thought it was a good way of getting to know her audience. It's bigger than mine. [Laughs]
And are you a fan of hers?
You know what? I have to go now. [Giggles]
Really?
Yeah! I do. But it's nice to talk to you.
Robyn plays Radio City Music Hall Sat 5.
You might also like
See more Hot Seat
See more in Music