TV on the Radio interview: 'It requires a lot of delusion to fall in love'
The Brooklyn art-rockers make sense of the modern age.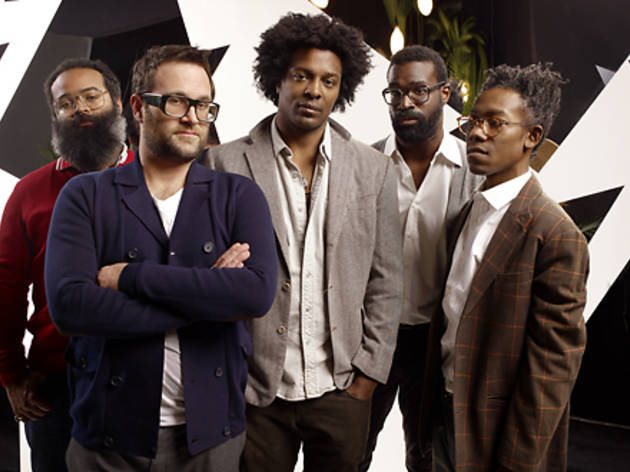 The day after TV on the Radio gives an intoxicating, thunderous performance at the SXSW music festival, celebrity blogger Perez Hilton addresses the Austin Convention Center with a talk titled "What Would Gaga Do?," asking how musicians can best exploit modern technologies. He suggests that the way for new artists to get championed by big platforms like Vevo is to put themselves out there by any means available. Where does this leave shy musicians, Time Out asks. Hilton frowns, then giggles, saying, "Well, Susan Boyle made it!" It's hard not to leave the discussion thinking that quieter creative types are basically screwed.
Two weeks later, in a Williamsburg coffeeshop, jocular TV on the Radio frontmen Kyp Malone and Tunde Adebimpe have reached a similar conclusion. Malone says his friend, local musician Sharon Van Etten, was giving a guitar lesson to a little girl who said she wanted to make a record someday but wasn't sure she could: "What if I don't win on American Idol?"
Singer Adebimpe, whom you may recognize as the groom in Jonathan Demme's Rachel Getting Married, laughs and sighs. "I feel lucky to have grown up at a time where I got sent a tape from Seattle recorded on a 4-track that sounded a bit like I could've made it," he says, remembering his own DIY past. "You didn't have to have a TV studio or a contest to be popular. It's a strange way to get into any creative field."
The TVOTR story is now pretty much Brooklyn lore: The band's emergence in the early 2000s is the reason aspiring artists still spill out of the L train. The group didn't have to work on its "web presence" to achieve early success, which grew instead from its brand of odd, groovy art rock, running from its 2003 debut, Desperate Youth, Blood Thirsty Babes, to its new fourth album, Nine Types of Light.
There's always been a romantic streak to TVOTR's songwriting, and this latest disc is full of love songs and dreamy arrangements. (The album will be released with a download of short films to accompany each song.) But this time around there's realism to the romanticism; consider the refrain, "You're the only one I've ever loved," on "You," which Adebimpe deems the kind of beautiful-sounding lie you resort to when trying to express how much you care. "It requires a lot of delusion to fall in love," he says. "I think about people that I would've thrown myself off a cliff for, and when I think back on it, 80 percent of what was cool about them, I made up [Laughs]."
The album's tender tone is also a little surprising given the band's base while recording in Los Angeles: down the street from Rodeo Drive, in what Malone cheerfully describes as "the most soul-sucking, sad, douchebaggy corner in hell." "Where there are two reality shows being shot in the same caf," Adebimpe adds, grimacing.
So what keeps the band grounded while on the road? "The time you get to actually play music, which is the point of being on the road, becomes the time of sanity," Malone says. "Every town you get to, it's like: bookstore, coffeeshop, comic store, art store," Adebimpe adds. "I'm working on my collection of 9,052 Magic Markers [Laughs]." The group's members also busy themselves with solo projects: Malone helms Rain Machine; Adebimpe acts and directs; producer Dave Sitek delivered his starry Maximum Balloon project last year; drummer Jaleel Bunton plays with Reverend Vince Anderson; and bassist Gerard Smith (now undergoing treatment for lung cancer) recently composed music for a public-education documentary.
Clearly, a lot of water has passed under the Williamsburg Bridge since TVOTR started out. As if to emphasize the point, three acquaintances trail into the coffeeshop in succession this afternoon with babies, strollers and papooses—delighted to see their old buddies back in the 'hood. Besides fuller beards, success doesn't seem to have had the least effect on the band. "Popularity is relative," Adebimpe says. "I've definitely got into situations where I think someone recognizes me, and it's just that I have some crap on my face." If anything has changed in the past decade, it's the machinations of the music industry. But perhaps one redeeming factor about its current, rather ugly incarnation is that it makes one hell of a foil for TV on the Radio's defiantly human way of working.
TV on the Radio plays Music Hall of Williamsburg Tue 12 and Radio City Music Hall Wed 13. Read the full, uncut Q&A here

More TV on the Radio:
TV on the Radio uncut Q&A: The band talks love, death and witchcraft
TV on the Radio's little-known side-projects
Buy music by TV on the Radio on iTunes