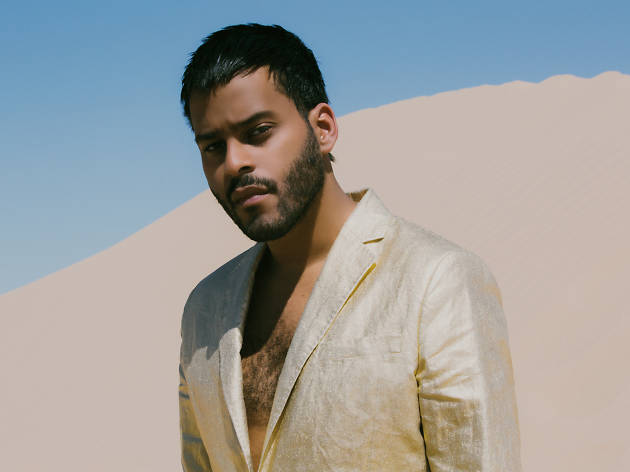 Twin Shadow talks about recording in a cemetery and joining the mainstream
Indie-pop auteur Twin Shadow busts out of his niche on his new record, Eclipse
Twin Shadow's George Lewis Jr. has always projected an outsize persona: that of a roguish, leather-jacket-wearing, motorcycle-riding heartbreaker. Similarly, he's loaded his music with well-worn signifiers: reverb-soaked synths and production indebted to '80s songs. Eclipse, his third record and first for Warner Bros., strips away that artifice, imbuing his heavy love songs with stadium-huge hooks and putting his vocals at the forefront. We spoke with Lewis in advance of two sold-out shows at Music Hall of Williamsburg.

You recorded part of the album in a chapel at L.A.'s Hollywood Forever Cemetery. What's the vibe there?
It's really open and full of life. They have movies and events, and it just kind of spreads that energy—you really feel it.

Do you think any of that rubbed off on the record?
When I told people that I was doing it there, they said it would be really grim. And there were moments when it was late at night and I was driving out of the cemetery on my motorcycle, and things got very creepy. But for the most part, whenever I was stuck on something, being able to take a walk along the gravestones and sit across from Joey Ramone's grave, which is kind of the nicest area of the cemetery, gave a breath of fresh air to everything I was doing.

Do you see yourself as more of a singer than before? The record really spotlights your voice in a new way.
The most challenging thing to deal with is your voice. It's the scariest and wildest instrument. It has physical limitations, but in reality it has less limitations than almost anything else. All that possibility is a very scary thing to be faced with. A lot of people have a real problem approaching it. I do; I'm afraid of my own voice. So that's a constant with me, pushing toward that becoming the most important thing.

You've said that part of the reason you switched labels was that you'd need help realizing your vision for Eclipse. What was that vision?
This time, I didn't want the record to feel like a bedroom record or self-produced, even though it was. I wanted to defy what people think of as self-produced. I made this record still under 4AD's umbrella, and at some point, the switch just made sense. I'm hesitant to use the word mainstream, but that word also doesn't scare me. I'm tired of a niche audience. I'm interested in getting this music out to people who don't share my way of life or thinking.

A lot of the time when you post tracks, you'll include a personal note, about your relationship between you and your mother, for example. Why is that important for you? I think it's cool that you let people into your life.
That's funny because I just had a conversation about that, about how I'm getting weary of my own personal messages, so I'm glad that you think it's a nice touch. I've been feeling the opposite, like it can get a little overly sentimental. I'm being 100 percent sincere but whenever you put sincerity up on the chopping block constantly, I think it's easy for people to be like, "Here he comes again with a heartfelt letter to us all." I think it's dangerous, so I've started to question it. I think when I get interviewed, I really tell people what's on my mind, but to a certain extent I'd like to let my music be what communicates those things.

I guess that's the risk when you start going down that road.
People can become critical, like, "Here's Twin Shadow with another album of love songs." It kind of drives me crazy because who doesn't write love songs, and what songs that are important in history aren't love songs? Isn't everything a love song in the end in some way?

You've talked about getting sick of seeing yourself on the cover of your records, and you started using silhouettes in press images. But I was happy to see a picture on your Tumblr of you on a beach with a giant sword.
We took a bunch of photos for this record, and there's just these little artifacts that we aren't going to use officially. What's amazing about being around right now is you don't have to filter yourself completely—you can share your afterthoughts and outtakes. So I share those things when I feel the need to. It's funny, on my Instagram the other day—I hadn't posted a picture of myself in forever, just 'cause I don't think about it—I saw this person who was really upset, like, why are you posting all this random shit? Why don't you post more selfies, please? In those cases, I'm here to appease fans. I'm here to entertain and to be Twin Shadow, so I took three selfies and put them up. I think sometimes you have to be present and sometimes you can intentionally not be present. If someone wants to see my face, why not? Why not give that to them? But if I'm trying to make a point with an image and a sound and I don't want to show my face, that's really important in that moment, too.