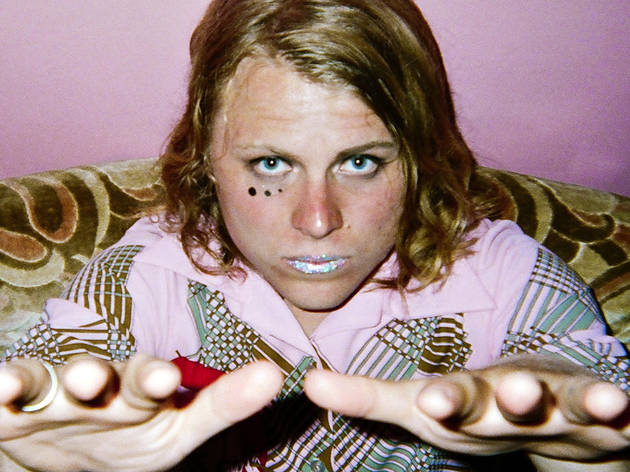 Ty Segall interview: 'Putting on makeup is being manipulative'
The prolific West Coast garage-rocker trades grit for glitz on his new double LP
Fast Times at Ridgemont High
enthusiast, it's hard not to think of iconic slacker Jeff Spicoli when interviewing Ty Segall. Even over the phone from his Left Coast home, the blond-mopped songwriter—known for his fried, fuzz-drenched stoner anthems, delivered in a wasteoid whine-sing—projects mellow vibes, accentuating his spaced-out musings with a super-chill "man."
But a glimpse at his insanely prolific 2012–'13 release schedule reveals distinctly unslacker workaholic tendencies. With a
five-album stretch
that included
Hair
(his pairing with Tim Presley, a.k.a. White Fence), a trio of grungy psych rawk and weirdo-folk freakouts (
Slaughterhouse
,
Twins
and
Sleeper
) and the self-titled debut of Fuzz, in which he plays drums, Segall positioned himself at the forefront of the junk-fi garage-rock movement, alongside Bay Area buds Thee Oh Sees, Sic Alps and Mikal Cronin.
After bolstering the San Francisco punk scene with that spurt, Segall traded in his Bay Area digs for L.A. and promptly retreated into the studio for 14 months. Last month, he emerged with
Manipulator
, a sprawling double-LP love letter to druggy, lipstick-smeared glam rock and '60s British Invasion pop. "Tony Visconti, who did all the Bowie glam records and T. Rex, and Mick Ronson–produced stuff like
Transformer
by Lou Reed—that's the kind of production I wanted to go for," Segall explains.
Unlike previous slabs that found him attacking the recording process with abandon and going straight to the next project, Segall exhaustively fine-tuned
Manipulator
. "It was an intentional decision, and definitely what I wanted to do is work on it that long," he says. Segall multitasked as coproducer and multi-instrumentalist, serving up nearly every sound (aside from some strings and drums) and layering guitar overdubs galore, and that meticulous attention to detail is evident on
Manipulator's
17 majestic, glitter-sprinkled should-be-hits, which recall period touchstones like
Ziggy Stardust
,
Raw Power
and T. Rex's
Electric Warrior
. Built on sublimely thick strumming and chugging pop melodies, and heightened by Segall's faux-Brit accent and six-string soloing histrionics, the set confirms its maker's effortless transition from garage to glam.
Much as Bowie's glam-rock masterpiece centered on an invented persona, Segall devised his own for
Manipulator
. "My reference points are the music world and the media world, and I wrote from that point of view," he explains. "The archetypal manipulative characters, like the creepy guy, the ladder climber, the fan and the music lover. It's not necessarily negative but it's manipulative—everybody is manipulating their environments." He also admits to his own role in the charade. "I have even manipulated things myself," he says. "Putting on makeup and going out dressed like that [when I play live and pose for pictures] is being manipulative. It's all relative."
With
Manipulator
comes a reinvention for Segall. He's traded in the noise-encrusted jams featured on prior releases for a uniquely infectious sonic din. Its heft will be hard to top, but Segall is already pondering the feat. "I'd like to do something totally different for the next one," he says. "I don't know [what] but something different."
Ty Segall plays Webster Hall Wed 17 and Sept 18.