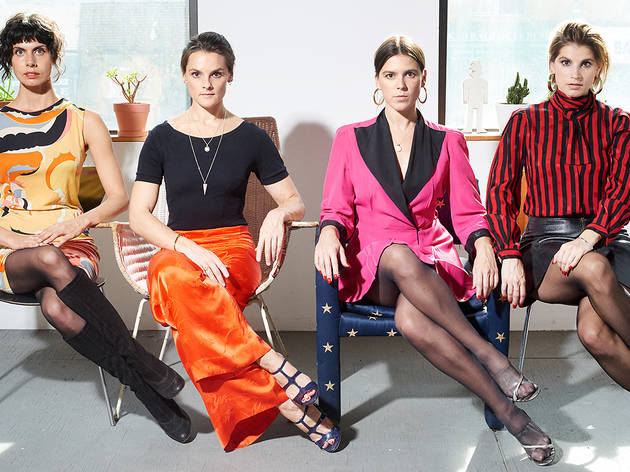 Why TEEN is New York's best about-to-break band
Meet the rising Brooklyn psychedelic-pop quartet behind Love Yes, one of this year's best albums so far
Brooklyn is a breeding ground for next-big-thing acts, but our money's on TEEN. The project started in earnest in 2010 when Teeny Lieberson left Here We Go Magic to focus on writing her own songs. What kicked off with lo-fi, one-woman bedroom demos bloomed to full-band psych pop after Teeny's sisters Katherine and Lizzie and bassist Boshra AlSaadi joined, and the group released its debut full-length, produced by legendary Spacemen 3 cofounder Peter "Sonic Boom" Kember. TEEN's music synthesizes new wave and indie rock of the past—Talking Heads and Dirty Projectors spring to mind—without sounding anything like those staples. And its new record, Love Yes, superbly demonstrates a current mastery of tunes that are layered and complex yet packed with grooves. We sat down with the quartet over cocktails and left with four essential—okay, mostly silly—takeaways.

1. They're film buffs.
"[We're inspired by] films from Kenneth Anger, Hayao Miyazaki and especially Pedro Almodóvar," says Teeny. "His films are usually about women, and they're so colorful and ridiculous but then deeply serious. Which is perfect for me because I'm emotionally flippant." The inspiration rings true; for all the synthy fun that's on Love Yes, it has some deep thoughts about the big L word.

2. They all get Naked and Afraid together.
While one might assume this is some saucy game to pass the time on tour, it's actually a reality show on Discovery in which "a naked man and woman get dropped in some horrible place for three weeks and have to survive," explains Katherine. AlSaadi continues, "We all love it, probably because we see ourselves as naked and afraid in the uninhabited world of the music industry, so we're actually rooting for ourselves as a band." Lizzie chimes in, "While none of our shows are actually naked, I'd say half of them are afraid!"

3. They know a foolproof method to determine your "digital sexuality."
"We heard this theory that if your ring finger is larger than your index finger, supposedly you're gay," Teeny tells me. According to this incredibly scientific method, half the band is straight and half is bisexual.

4. Three sisters on the road together can get pretty crazy.
"I barfed out the window of our van once!" says Katherine. Lizzie remembers it well. "I was sleeping but heard it, woke up and saw it fly by me out the window." And the nuttiness only continues when they land at a hotel. Teeny describes one off night: "We stayed at this place in Oregon that was straight out of a horror movie, with an infested pool. There were crazy animals everywhere, a burnt-up house behind us and a basinet with a doll in it in the room."

TEEN plays Baby's All Right Friday, April 8, at 8pm. Love Yes is out now on Carpark Records.
Listen to "Free Time"