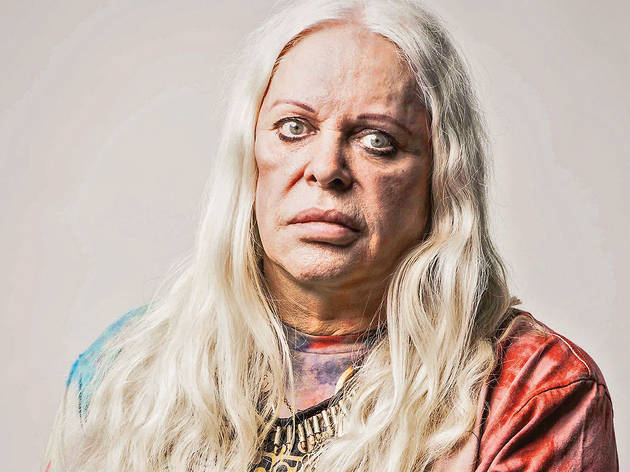 Worship at the altar of Genesis P-Orridge
The cultural trailblazer talks everything from psychic energy transference to h/er new Rubin exhibit
Capitalist ideology, divine energy exchange, black magic and the occult—conversations with Genesis Breyer P-Orridge chart as erratic a path as the musical trailblazer's life trajectory. In 1976, P-Orridge (who uses alternating she and he third-person pronouns and plural first-person pronouns) effectively founded industrial music as part of insurrectionary group Throbbing Gristle. S/he then spent years exploring the intersections of gender and mysticism with h/er late partner Lady Jaye through their Pandrogyne Project—a fusion of the duo's souls by means of body modifications into (as s/he terms it) a "divine hermaphroditic figure." Recently P-Orridge has been prolific as ever. After performing at Trans-Pecos with h/er postpunk outfit Psychic TV last month and setting up a new visual art show at the Rubin, "Try to Altar Everything," P-Orridge deejays this week as part of the Queens Museum/Trans-Pecos concerts in NYC Becoming New Objects. In advance of the show, we discussed everything from the artistic polymath's travels to Kathmandu, Nepal, to '70s deep psychedelic music.

You've said you intend for your audiences to experience "cosmosis"—what is that?
Cosmosis is the exchange of positive energy from one person to another, and we believe that the point of the live event is to create a moment of unity for the proliferation of that process between everyone present. The concert is set up to be a pre-autonomous zone and say, "This is a safe space." We say, "Hug the person behind you, and don't be afraid!"

Is this a shift from Throbbing Gristle?
Oh, yes, TG was more about being enraged at the inequity and the hypocrisy of the world. But then we said, "What now?" and realized we needed unity. That's when we started Psychic TV. We started healing and loving in face of all the anger. We learned the need to share our resources, material and mental.

How does that sharing come across in your work?
With the Rubin exhibit, people bring mundane objects with them, which together take on new complex, sacred meanings as they collect in the space. And in exchange, they get brass psychic crosses made in Kathmandu by Tibetan refugees. It's an exchange. Everything interfaces; everything leaks into something else.

Exchange and continuity seem important to you.
A long time ago, a shaman told us that he doesn't talk about death, only about "separation." If you put concrete down on the soil, it's a form of death. The fragmentation and pigeonholing of life is a form of death—a process from which springs control.

That's how you describe the passing of Lady Jaye?
Yes, exactly. That was a profound lesson we learned when Lady Jaye dropped h/er body. There's a great deal of attachment to how the relationship was before, but one has to let go of that. Rather than say, "Now s/he's gone," you say, "Now s/he's elsewhere." It changes how you look.

What will you be playing at this upcoming Trans-Pecos show?
The next show is me and Edley [ODowd] deejaying. Mainly bizarre, obscure music from the late '60s, early '70s—"deep psychedelic," we call it.

Genesis Breyer P-Orridge plays Trans-Pecos Friday, April 22 at 7pm.
See the exhibition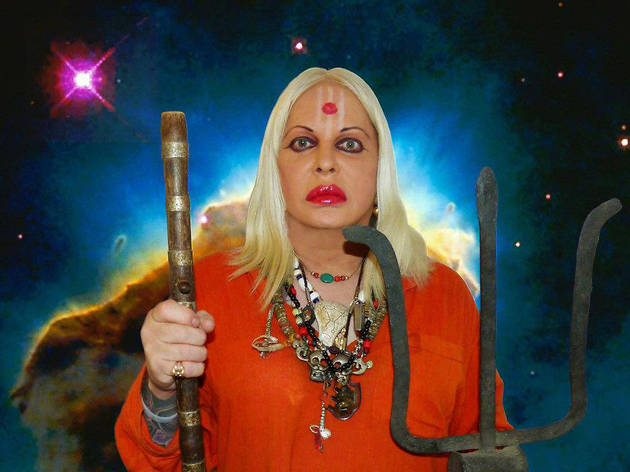 The 66-year old artist, poet, musician and occultist is known for dealing with the fluidity of gender and identity, undergoing surgery, for example, to transform into someone existing somewhere between male and female. This show of paintings, sculptures and installations explores the lesser-known impact of Nepal's Kathmandu Valley and Hindu mythology on P-Orridg's work.