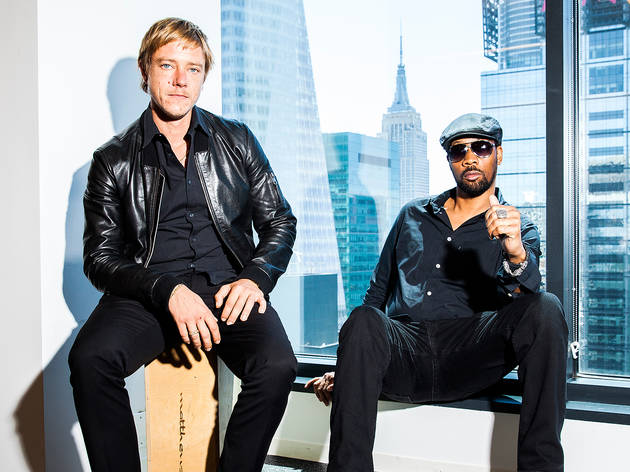 Wu-Tang's RZA and Interpol's Paul Banks interview each other
RZA and Paul Banks talk their new collaboration Banks & Steelz, their first guitars and turntables, chess and NYC grit
Forty-two stories above Times Square, RZA and Paul Banks look down in awe on the city they've both represented in two very different musical worlds: Brownsville native RZA as the spiritual leader of the Wu-Tang Clan, one of the key influences on New York's hip-hop identity in the '90s, and the British-born Banks as the frontman for Interpol, an It indie-rock band that encapsulated that downtown-cool rock sound of the early aughts.
But the pair share more than just an admiration for the view from Time Out HQ: all-black wardrobes, the intense vibes of avid chess players and a sense of daring in how they run their careers that's led to their unexpected creative partnership Banks & Steelz. In the lead-up to the release of their album Anything But Words (out August 26), which features guest spots from everyone from Florence Welch to Ghostface Killah, we got them together to break down what it is that makes the seemingly unlikely match click.
Paul Banks: RZA, how do you remember our first encounter?
RZA: I remember us meeting up at a tequila bar. [Manager] Tyler Childs mentioned, "My man Paul Banks from Interpol is in town and do you want to meet him? He digs your music." For me it was just the idea of breaking bread with a fellow New Yorker and a fellow musician. I had time off and I was chilling in the city, so why not go hang out with some good people? New York's that kind of town, kid.
Banks: Yeah, man. Just because I had cited you as an influence in an interview isn't to say that I wanted to meet RZA so we could make a record together. It was more, Fuck yeah I'll get a drink with RZA. I think fortunately from there, we had the chess thing. I guess the next time we hung out was to play some chess.
RZA: Especially down near MacDougal and 3rd or 4th you've got a chess club there. I frequent those areas. So when you told me that you played chess that was like another cool thing to hook up and do. That's kinda New York too. When you think about chess, and the generation of Bobby Fischer in the early '70s, mid '70s, it had such a big impact on the world of sports and the world of New York. I think that kind of put this chess energy into our city.
Banks: I would say that one way chess applies to me [creatively] is that it'll show you that if you keep doing the same thing you're gonna get the same result. I've also learned that you can't go too quickly for something you want. You're not gonna get the results you want unless you plan and strategize at least a little bit.
RZA: For me, chess has been actually my mental blackout, you know what I mean? It's like I go to the chessboard to disconnect and to cleanse my palate, shall we say. Sometimes making music or being a producer-slash-entrepreneur is a stressful occupation. So chess was that for me. The cool thing with us though, during the process of recording our album we didn't play a lot of chess, which means I wasn't under a lot of stress.
Banks: Did I ever tell you, GZA and I were not getting an opportunity to connect, right? And then finally after being around a lot with he and I never talking, he finally asked me for a game of chess. And that was the day that Ghost was there and Ghost was tracking and I was like...
RZA: [Laughs] "Damn, I'm working!"
Banks: It did kind of feel like that was it. That this ship had sailed. GZA probably was gonna make one effort, he made it and....
RZA: And that's it!
RZA: What do you think is the general New York musical vibe? How would you define the New York vibe of music?
Banks: If I look at California I'm gonna think, Okay, there's sort of a sunny, Beach Boys, Mamas and the Papas sort of [mood]. When I think of New York music, there's a grit and a realness. Out west you feel like there's a spirituality and a joy, and New York City is necessity and survival and this sort of immediate, gritty element.
RZA: [Like a] concrete cave, in a way. New York for me has always inspired an aggression, but it also inspired...and this may be egotistical, but I think New York inspired like an edge on knowing things. I always thought that New York was ahead of things.
Banks: Any people who I've met that grew up born and raised in the city are very worldly, very self-confident people.
RZA: And when you look at the music, especially from hip-hop, all having a braggadocious confidence. You know, Phife from Tribe Called Quest, he be like five-foot-five but still "I'm the man," you know what I mean? I think that leaks over the Jersey. I think Springsteen gives you a few spoonfuls of that, that, "We're cool. We're tough. We got it."
Banks: You know that my entrance into hip-hop, which precedes my interest in rock, was with N.W.A., because you've heard me talk about that a bunch. Do you know what song made me pick up guitar?
RZA: What song made you pick up the guitar?
Banks: "Dream On" by Aerosmith. I got so obsessed with that song that I wouldn't get off the school bus until it finished playing on the third time that day on the ride to school. I think I was 12. I decided to be a rocker when I was 15, when Nirvana came around.
RZA: How did you get the guitar?
Banks: My dad, when he was a kid, was in what's called a skiffle band. That's in England, it's like the genre of music that preceded the Beatles, I guess. And so my dad can play pretty mean fingerpicking guitar. Some shit that I can't play. He has a huge collection of acoustic guitars, so we had a number of them lying around the house.
RZA: For me and music, it was the turntable, you know? I think I was probably seven and a half years old and hanging out with my cousin the GZA and he takes me to a block party. And at that block party the DJ had the two turntables and he was spinning the record back and forth and the guy was on the mic rapping and some kids was doing a early version of breakdancing on the floor. It was the greatest night of my life. I didn't know you had to have certain turntables to do this. I remember the old turntable my mother had was a turntable that was connected to the radio. We would take that and try to find another one and cut it and make our own two turntables, not knowing that you needed a mixer. ODB's brother got a turntable set and mixer for Christmas, and when I seen it, me and my brother decided that's what we were gonna do, we were gonna get some turntables. So I sold newspapers. Sadly, when the street business came, [laughs] you get money quicker. I definitely made two albums in my house with a four-track. Me and Ol' Dirty and GZA would always make tapes and put them out through the neighborhood. That was the start of my recording career.
Banks: Wow. What were you, like 15?
RZA: Yeah, from 14 up until 16. New York from my childhood to now is a totally different city. It was gritty. Dangerously gritty. I remember people pulling out guns while I walked my dog. I miss J&R Music World, Tower Records, you know what I mean? You remember the Wiz?
Banks: I remember the Wiz, man. I probably bought my first Tascam...no that was in another discontinued music store in midtown.
RZA: On 48th Street there was a whole strip of musical gear that you could guarantee go there and find something you wanted and needed.
Banks: It was that whole city block!
RZA: The city now though is safer. I think it's even more culturally diverse. I'm a vegetarian, vegan, and there was a restaurant called Vegetarian Heaven on 58th and Columbus Circle. There was Zen Palate, which was nasty. But those were the two places that you could eat. Now we got vegetarians, vegans on corners. My favorite place right now is a place called Red Bamboo. I know you eat meat, but if you get a lady friend that wants to have a vegan meal you take her down there.
Banks: Yesterday you were commenting that we haven't really gotten angry at each other. I think we haven't, but I felt like there was one time where I let you down and you weren't a dick about it, but you did give me a look that I hadn't seen. I was doing a playback of "Ana Electronic" and I had rejiggered some stuff and it didn't sound right.
RZA: [Laughs] Okay!
Banks: My intentions were good and I kinda cut up some of your shit and put it as a [background vocal] and at the playback everybody in the room was like [makes a sour face]. I felt like, Ah, you fucked up, kid.
RZA: You showed a great deal of patience with me, especially in the Malibu part of the recording. I was drinking more, smoking more, I was kinda in the party mode and shit, and I respected that. I come with an entourage, you know what I mean? I think it was in Malibu, my brother was there...I got a brother who if he comes right now the interview will turn into his interview. That's his personality. But you did mention it one day, though. You said something to me like, "Your brother's here, and this is where I lay my head. I live here. This is my home." Because that's what it was! I understand. I got a lot of brothers, I come from a big family. But [I said], "Paul, this is our home."
Banks & Steelz play Bowery Ballroom September 1.
Watch our Facebook live video with RZA and Paul Banks
Listen to "Love + War" by Banks & Steelz