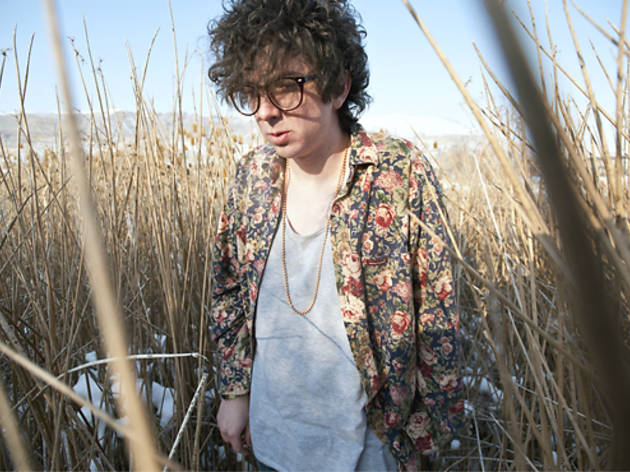 Youth Lagoon delves into the risks of the Internet age
Indie-pop auteur Trevor Powers of Youth Lagoon muses on isolation, time management and the origin of artificial raspberry flavoring
As we ring up Trevor Powers, the 24-year-old auteur behind Boise, Idaho, psych-pop act Youth Lagoon, we're bracing ourselves for an aloof mope, in keeping with the theme of mortality that dominates his new, devastatingly honest record, Wondrous Bughouse. Instead, we reach a loquacious, self-amused guy "sitting in the grass in a modest two-piece." During a lengthy conversation ahead of his NYC show at Webster Hall on Monday 29, Powers touches on art in the digital age and the provenance of artificial raspberry flavoring.
A lot has been made of how you tend to write in isolation. How true is that narrative?
There's this circle of friends I trust, where I'll have them come over and play them ideas, because I know [they] won't go anywhere. But I do have this paranoia—it's actually just straight being paranoid. There was this time around 2010 when I could not find a job, so what I started doing is playing guitar on the street to try to make money and just pay my bills. And even during that time, playing guitar on the street, I had this paranoia of somebody hearing something, and taking it and running with it.
It makes sense to be possessive of something you've worked on, that's really close to you.
There's a lot of artists that are able to express ideas much more rapidly. For me, I take so long on ideas. Say it's like one song, one idea that I'm working on: I get really, really obsessed with that one idea. It's like, This might be the last idea I create before I die; I want to say something so if this is the last thing I say, what do I want it to be? That's the way I see music. Because I base what I create musically around that idea, there will be certain song ideas that I spend four or five or six months on.
I've read in quite a few interviews that you have an OCD-like fascination with death.
Yeah, I guess I do. I don't do interviews very often anymore, just because so much of it is just bullshit. There's a stranger calling you and you have 20 minutes to talk to them, and in that 20 minutes they are going to take what you say, give you a semiprofessional evaluation of it to tell the world—this is who this person is. It's just so insane that that's the way the world functions.
I think it depends on the story and the journalist and so many factors…
Oh, completely. I feel like that's another problem with the world, everything is so categorized. It's so not fair, because there's people out there who are actually earnestly interested in what someone's doing. That's what I get excited about, the people that are actually really, really into it, rather than just out to cause drama.
Have you had experiences with people trying to cause drama?
All the time. When I'm in writing periods, my whole thing is eliminating things in my life that I find distracting, and sometimes that can even mean cutting certain people. You've known this person for five years and you have this obligation to still talk to them, and it's like, no—you don't! They're a leech. They'll suck your blood, and your skin will slowly wrinkle up because your blood's getting sucked out, and you're just gonna be this pile of skin and bones, and you're no good to anyone. It's about getting away from everything that drains you, physically and mentally.
What else drains you, apart from people?
I would actually say this whole digital world has been draining. I feel like the Internet is turning into a meaningless, barren wasteland, and it looks pretty, so it's hard to look away. There's no risk in art anymore. I feel like art should make people feel uncomfortable.
What are your weaknesses on the Internet? Getting lost in stuff and then discovering that five hours have gone by?
I learn too much on the Internet. On Wikipedia, you're just searching things and finding out topics on, like, artificial raspberry flavoring—where does that come from? It comes from a beaver's anus.
Youth Lagoon plays Webster Hall Mon 29.
Follow Marley Lynch on Twitter: @marleyasinbob
Buy Wondrous Bughouse on iTunes