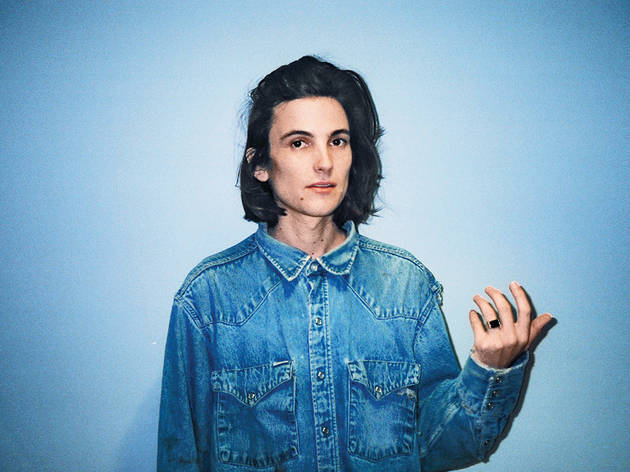 Zachary Cole Smith on the story behind DIIV's new record
Indie-rock frontperson Zachary Cole Smith talks about fashion, gender and his band's new sophomore record
At first listen, DIIV's 2012 debut was nothing revolutionary: a record of muddy vocals, postpunk beats and liquidy guitar lines, landing among a host of bands peddling the same. But the uniquely dusky undercurrents in frontperson and songwriter Zachary Cole Smith's songcraft made the album's traditional approach sink in as more iconic than derivative. Back then when we talked about DIIV, we talked about a band, but in the four years since, Smith's turbulent public trajectory—an intense relationship with indie popper Sky Ferreira, drug charges, a short stint in rehab—thrust him front and center.

The self-destructive image recalls archetypal rock mythology, but Smith rejects the grandiose comparisons—and DIIV's new double-album follow-up, Is the Is Are, modestly hinges on forthright honesty as a means of processing painful events. Accordingly, while the record plies the same dreamy guitar-rock textures as the band's first, it reels back the reverb to center on Smith's pointedly personal lyrics, creating a redemption narrative of sorts as Smith steps into the spotlight. We sat down with Smith in advance of the group's three-night run at Market Hotel.

You've said you intentionally gave the album an obtuse title to parallel feelings of being misunderstood. How have you felt misunderstood?
People tend to have bizarre notions of me. I often get accused of being a Kurt Cobain wannabe because people say I talk about him all the time, but I mean, every interviewer asks me about him! There are just so many media constructs that produce their own backlash. So the album title was inspired by those misunderstandings of my image. In the end, being forthcoming and honest is the only direction I wanted to go with this record.

That reminds me of how much more prominent the vocals are now compared to DIIV's past songs.
Your ear instantly goes to the human voice, so I used to obscure my vocals to turn them into an instrument. But this time, I had to clear up the vocals, because I had so much I needed to say.

Speaking of the lyrics, does performing songs about rehab and the arrests get exhausting?
In the end, the music is still just about the music. But the narrative behind it does create weird situations where I talk to journalists like they're my therapists. Sometimes I feel like I'm in college majoring in myself—like I have to present a book report on my own life to others.

Feminine clothing is a key part of your fashion. What's your relationship to masculinity?
I've always been really uncomfortable with masculinity, and I've never felt comfortable identifying as a man. I feel like a boy, I guess. I was raised by all women, and I've never really had any male role models ever. In terms of gender, I feel kind of outside of it, like some other thing.

What influences your fashion choices?
It mostly just stems from my own weird insecurities and body issues, more than anything else. I've just been weirdly particular ever since I was a kid.

Not to talk too much about Kurt Cobain, but you've described him as a "spiritual guide" inspiring you as you wrote the album—have you had any others?
Arthur Russell and Elliott Smith are big ones. Elliott Smith has such a thin, fragile voice that it needed to be stacked on top of itself to be effective. I took those techniques—mixing, tracking and stereo-panning my vocals—straight out of records like XO. The song "Healthy Moon" is as close to an Elliott Smith song as I could write.

Are you excited to play Market Hotel?
Our bassist Devin [Ruben Perez] used to live in Market Hotel, and we used to practice there before it initially closed. This is the DIY scene we came out of—we played the last night of 285 Kent, the last day of Death by Audio. So it's a perfect homecoming residency for us, playing three nights of intimate shows at a reopening, instead of a closing. It's bringing it full circle.

DIIV plays Market Hotel Thursday, March 3–Saturday, March 5 at 8pm.