The best Airbnb Hamptons rentals
From sprawling country estates to cozy beachfront bungalows, these Airbnb Hamptons rentals make for an idyllic getaway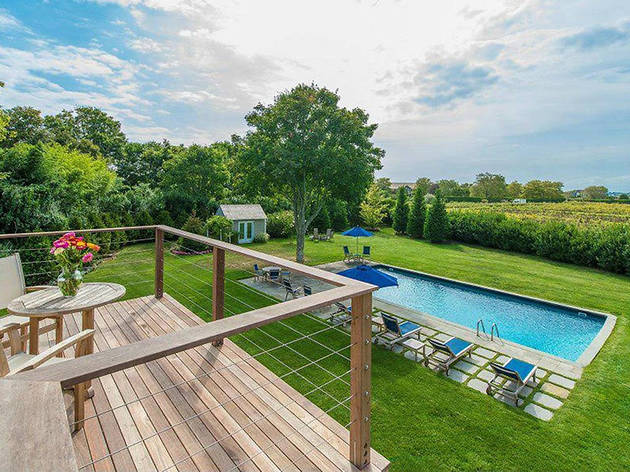 For summer getaway inspiration, look no further than these gorgeous Airbnb Hamptons rentals. There's no shortage of fun things to do in the Hamptons, from soaking up the sun on some of the best beaches near NYC to dining at world-class Hamptons restaurants. The one downside? Finding a place to stay can be downright impossible: Your options are limited, so most of the best properties book up months in advance and prices soar sky-high. With a little advance planning, though, you can snag a stunning rental through Airbnb. Let these lavish mansions, cute cottages and peaceful retreats serve as your motivation to get a group together this summer.
RECOMMENDED: Full guide to weekend getaways from NYC
Best Airbnb Hamptons rentals
1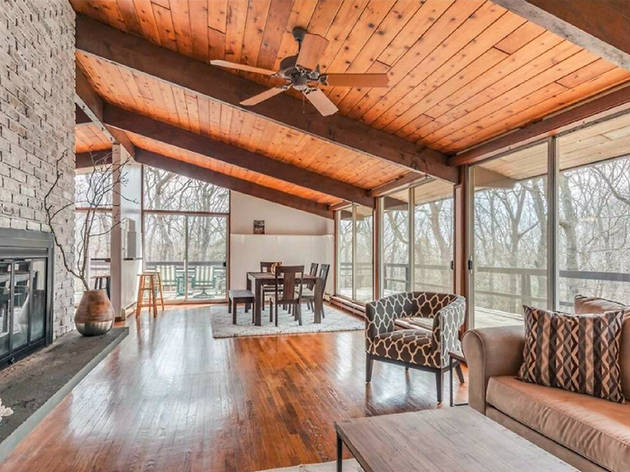 Photograph: Courtesy Airbnb
Idyllic Montauk Beach House With Beach Rights in Montauk
Vaulted cedar plank ceilings, a brick fireplace and modern furnishings give this secluded three-bedroom house plenty of appeal. Take the footpath down to the private beach or just enjoy the calming sound of the waves from the wraparound deck. From $525 per night
2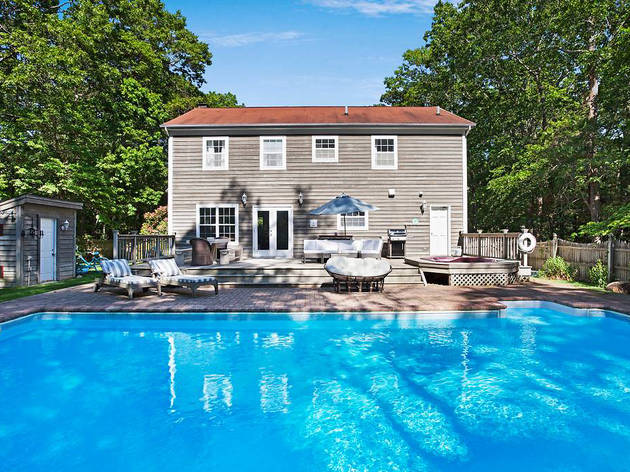 Photograph: Courtesy Airbnb
Casual Chic: Wellness-Minded Retreat Home in East Hampton
If you can't bear the idea of sleeping on anything other than organic cotton, rent this East Hampton home that caters to the health-conscious. The gorgeous design wasn't just planned for looks, but also for optimal feng shui. Guests can take a dip in the saltwater pool, sweat in the infrared sauna or hike through the nearby nature preserve. We're feeling more zen already. From $995 per night
3
Photograph: Courtesy Airbnb
Bright and Cheerful Modern Home in the Woods in East Hampton
This three-bedroom home might not have a pool, but you'll be so busy taking advantage of all the other outdoor activities that you might not even notice. Guests can borrow bikes, paddleboards, kayaks, chairs and umbrellas for beach trips, then rinse off the sand in the outdoor shower. The backyard deck also boasts a grill and hot tub—the perfect combination for cool summer evenings. From $354 per night
4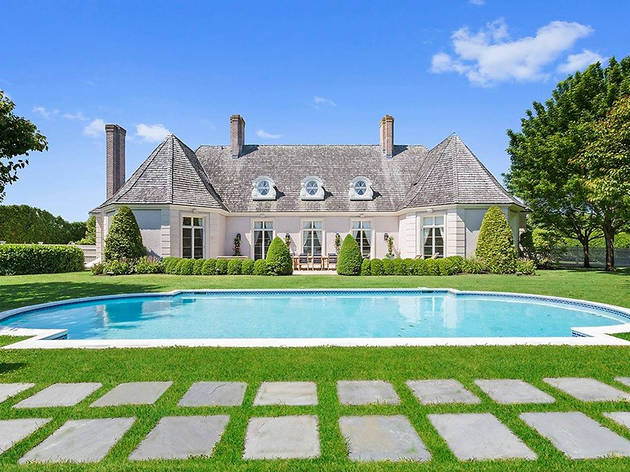 Photograph: Courtesy Airbnb
Bridgehampton South Grand Estate in Bridgehampton
Set on 1.5 acres of manicured lawns and hedges, this 6,200-square-foot mansion is the antithesis of your cramped New York City apartment. The list of amenities seems never ending: There's a heated saltwater pool, private movie theater, game room with a pool table and spacious living room with a fireplace. The owner will even hire a private chef for an additional fee. From $1250 per night
5
Photograph: Courtesy Airbnb
Charming Hamptons Retreat in Southampton
Between this home's red barn doors and asymmetric silhouette, it's clear that the style will be a little more eccentric than the typical Hamptons property. Bold patterns, accent walls and modern art bring just enough funk to the interiors. Outside, a massive wraparound deck and enormous saltwater pool offer plenty of room for entertaining. From $650 per night
6
Photograph: Courtesy Airbnb
Brand-New Modern Home in Montauk
Since as many as 10 people can sleep in this five-bedroom, four-and-a-half-bath house, it would be a perfect choice for a big group of friends. Every bedroom has a view of either the ocean or a nearby pond, so you won't have to fight over rooms. If the group wants to go out for the night, you're only a short walk from town, and if you'd rather stay home, the heated pool, porch swing and sleek soaking tub offer plenty of opportunities for relaxation. From $2,500 per night
7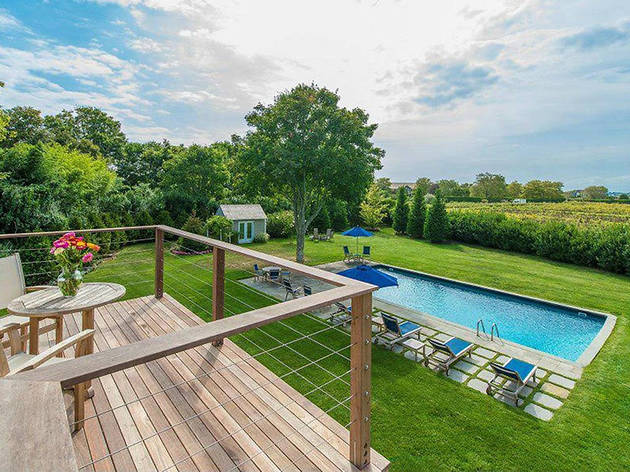 Photograph: Courtesy Airbnb
Humble House in Water Mill
If you'd rather chill out than party hop, this peaceful home tucked behind a green field offers an ideal escape. Tan by the backyard pool, roast marshmallows at the fire pit, sip a glass of wine on the outdoor deck or run a bath in the freestanding tub. From $2,500 per night
8
Photograph: Courtesy Airbnb
Light-Filled Home Near Bay and Ocean in East Hampton
Rustic wood paneling gives this modern home a beachy vibe that's only enhanced by the backyard pool and fire pit. Inside, it's all about bright white walls, pale hardwood floors and a few well-placed pops of color. From $200 per night
9
Photograph: Courtesy Airbnb
Two-Bedroom Bungalow Between Surf Lodge and Beach in Montauk
This historic fisherman's cottage has been updated with a glam global design aesthetic featuring vibrant prints, African baskets and thriving succulents. And since it's walking distance to Surf Lodge, you can get your fill of the see-and-be-seen hotspot without dropping major cash on cab fare. From $300 per night
10
Photograph: Courtesy Airbnb
Shinnecock Hills in Southampton
Yes, this home has its own name. And if you think it sounds a little extra, you're not wrong. Instead of a traditional lawn, the backyard landscaping features a koi pond, waterfall, gazebo, footbridge and pool. The decor is equally luxe, albeit a little old-fashioned. From $650 per night
Show more
Looking for more getaway ideas?
After just a few hours of driving, you could be snuggling in a chalet in the Pocono Mountains or relaxing in a geodesic dome in upstate New York