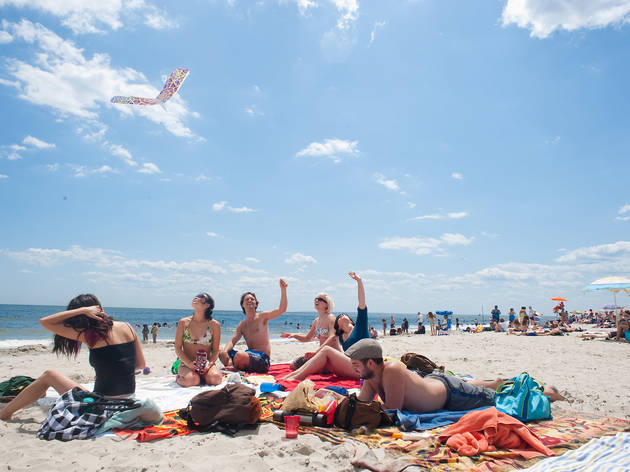 The best beaches in NYC
Some of the best beaches in NYC are a few hours away, others even closer. Either way, grab your sunnies and a cool one.
Get ready for another summer of fun in the sun!
Mayor de Blasio announced in April that NYC's pools and beaches would once again be open this summer after 2020's partial and delayed reopening. New York City beaches will be open for swimming and sunbathing beginning Memorial Day, with a number of safety protocols in place including face masks and social distancing.
A visit to one—if not all—of the best beaches NYC has to offer is needed when temperatures become hot and sticky. Whether you're planning weekend getaways, a camping trip or just looking for ways to cool off or with friends, these beaches in New York are a quick subway, ferry or bus trip away.
If you have a car and want to venture further out, we've also included off-the-beaten-track sandy shores that are less than two hours away. In regular times, the city-run, NYC beaches are open for swimming starting Memorial Day weekend through early September.
RECOMMENDED: Full guide to things to do outside in NYC
Best beaches in NYC
NYC's best-kept secret and lifeguard-free three-mile stretch of clean sand, trees and grassy dunes is so isolated that even on a summer weekend you'll get a good 50 yards of beach to yourself. Since Fort Tilden Beach is nearly inaccessible via subway or car (unless you have a fancy fishing license), we suggest biking there.
After years of being eclipsed by popular-kid neighbor Rockaway Beach, this expanse is enjoying a renaissance. Riis boasts a markedly wider beach than nearby Fort Tilden and Rockaway and its eastern edge is popular hangout spot for LGBTQ+ crowds. And here's a history lesson: notorious city planner Robert Moses, who developed a lot of ocean coasts in and around NYC, dubbed it "the people's beach" because of its access to public transit.
Go big or go home! This massive six-mile expanse on Long Island is a well-manicured sandy oasis ideal for families—there's minigolf, ball courts, shuffleboard and even a swimming pool—and music fiends: Nikon at Jones Beach Theater sees big names like Gwen Stefani and Dave Matthews every summer. (2021 tickets are now on sale.) The park has some architectural twists, too. The bathhouses are Art Deco–inspired, and the large water tower at the park's entrance was created to resemble the campanile of St. Mark's Basilica in Venice. Just like being in Italy, right?
Since the '60s, New York's gay and lesbian crowd has ridden the ferry to cool off at this serene hamlet, which is only accessible by wooden walkways (no paved roads here). Though all of Fire Island's spots technically share the same beachfront, this area is a bit more laid-back and affordable than the more popular Pines, but there are still plenty of clubs, bars and restaurants tucked among the cottages where you can shoot the breeze and dance. In the idyllic town, murals and mosaics cover the walls, reflecting the skills of artsy regulars.
One of Long Beach's biggest allures is what a breeze it is to get there. Hop on the LIRR from Penn Station, and you'll have your toes in the sand, literally, within an hour. Superstorm Sandy pummeled the seaside town in 2012, but the city rallied with a cool $42 million, and now its boardwalk boasts more than two miles of walking and biking bliss that's better than it was back in the day. The sandy grounds—which require a $15 entrance fee—are debris-free and barefoot-friendly, and don't just take our word for it: the National Resources Defense Council ranked Long Beach among the cleanest beaches in the U.S. (and the spiffiest in New York.)
The Bronx's only public beach, spanning 1.1 miles and 115 acres, is notable for its unique crescent shape and stunning views of City Island. The shore was created by Robert Moses in the 1930s and still remains one of the most popular beaches in New York to date. What the sandy waterfront lacks in restaurants and bars, it makes up for with concession stands, two picnic areas and 26 courts for basketball, volleyball and handball.
The Ramones-approved sprawl may have gained some hipster cache over the past few years, but the draws to Rockaway remain pretty constant: You can't beat the few-blocks-off proximity to the subway—it's about an hour trek from downtown to the sand—and the expansive, nearly six-mile-long beach means it's a little easier to move your blanket away for social distancing. (As a result of a change of ownership to the boardwalk, the fate of local faves including Rippers and Caracas remain up in the air for summer of 2021.) The waves here are also rideable! Hang ten and sign up for surf lessons at the New York Surf School (Beach 69th St; 718-916-5359). The star of the show, though, is the Rockaway Beach Surf Club, a mural-lined bohemian joint that reopens for the season on May 1.
This gem ticks off all the criteria for a jealousy-inducing beach day: Its five-mile beachfront is quiet (radios aren't permitted on Fields 3 and 4) and crowd-free in comparison to its neighbor-to-the-west Jones Beach, and its facilities—private outdoor showers, first aid, grills and picnic tables—are in superb shape. If you're looking for even more solitude, head farther east to Field 5 for access to the rest of the scenic Fire Island coast, including the nearly 200-year-old Fire Island Lighthouse, where you can climb 192 steps for the best views outside the city. Or don't—it's the weekend after all.
Coney Island is one Brooklyn standby that perfectly juxtaposes old and new. While some might say its peak has come and gone, others would disagree, particularly Dick Zigun, the founder of Coney Island USA, the nonprofit responsible for organizing Coney Island's famed events, including the Mermaid Parade. "The beach is still the main attraction," says Zigun of the shore's three miles of southern exposure. "Some people might prefer the Riviera or Montauk, and maybe our sand isn't as pristine, but we've got half-naked New Yorkers here!" Not to mention you've got a full theme park, delicious Nathan's Hot Dogs and all the people-watching you could want a few steps away.
Shed your clothes and inhibitions at one of the biggest and most popular nude bathing spots on the Eastern Seaboard. This sparkly clean two-mile stretch of sand was once the site of a military base; soldiers frequently went skinny-dipping in the nearby surf until the facility was decommissioned in the early '70s. Today, the beach continues to attract naturists—so much so that parking is frequently maxed out on weekends. Avoiding tan lines isn't the only draw, as this pristine coastal destination also offers dramatic views of lower Manhattan, hiking and bird-watching.
In the mood for a soothing, hassle-free beach experience? Head to Staten Island's Midland Beach. Part of the Franklin Delano Roosevelt Boardwalk and Beach, Midland Beach is known for its popular fishing pier and bike path. It's also home to handball and shuffleboard courts, the Midland Beach War Memorial and the Sea Turtle Fountain and sprinklers (beloved by youngsters).
When it comes to Kings County beaches, you have two options. Option one is to Hunger Games your way through Coney Island crowds, past the whirs of Luna Park, around that inevitable dude with the boa constrictor and onto just a sliver of sand. Option two is to hop off the train a few stops earlier at Brighton Beach, a smaller, quieter beachfront in a neighborhood of the same name. The respite itself boasts few frills—but a lot more actual swimmers and sunbathers than close-by Coney—and the real attraction is arguably off the boardwalk: the gritty charm of the largely Russian community nicknamed Little Odessa and its thoroughfare of fur shops, groceries selling traditional Russian foods and restaurants with menus boasting hard-to-find vodka. Would you rather have boa constrictor guy or freshly made Russian pierogi (varenyky)? Seems like an easy choice.
Manhattan Beach is within walking distance of Brighton Beach, on the east end of the same Brooklyn peninsula. Originally created in 1877 as a summer resort, it's now a popular destination for family picnics and barbecues. If you're tired of the obligatory game of beach volleyball, there are tennis, basketball and handball courts, and two baseball diamonds. A quick heads-up: ditch the car and take public transportation, as parking costs $20.
You'll definitely need a car to reach this scenic park by the sea, but isn't Fido worth it? After all, the city has really dropped the ball when it comes to canine-friendly waterfronts in the summertime—dogs are not allowed on any NYC beaches between May and September. This lovely county park on Jersey's northern shore lets your doggie have some fun in the sun, provided he's on a leash. Take advantage of the picturesque fishing pier, peaceful picnic areas, and of course, the mile-long stretch of pristine beach.
Adjacent to Staten Island's Midland Beach is South Beach, "the Riviera of New York City." Refurbished after Hurricane Sandy, South Beach has all-new fountains and playing fields, and a lovely two-mile long wooden boardwalk. Lie on the sand and listen to the sounds of the Back to the Beach concert festival, or enjoy a meal at the South Fin Grill restaurant.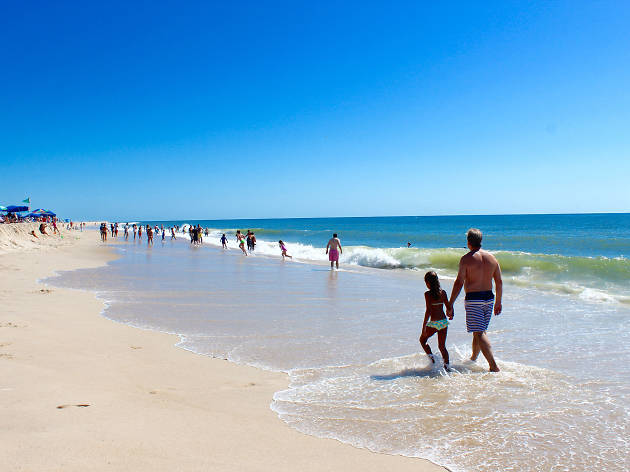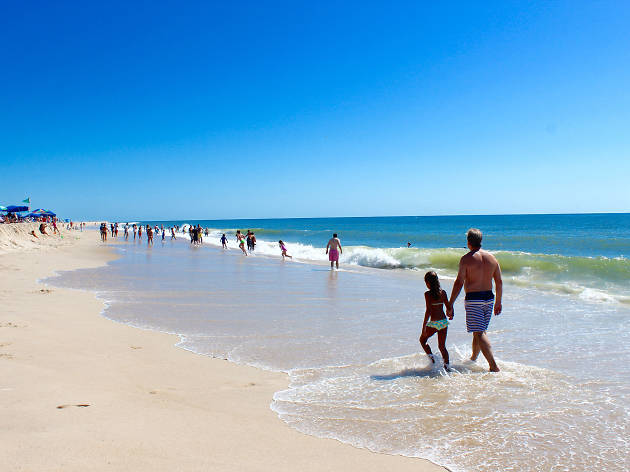 Photograph: Flickr/CC/Shinya Suzuki
As the Village of Southampton's main beach, it has all the amenities you'd need for a full day in the sun. Rent a chair and an umbrella ($10–$15 each) and kickback with a treat from the nearby concession stands. Afterward you won't even have to worry about dragging sand back to your hotel or rental—the well kept bathrooms have freshwater showers.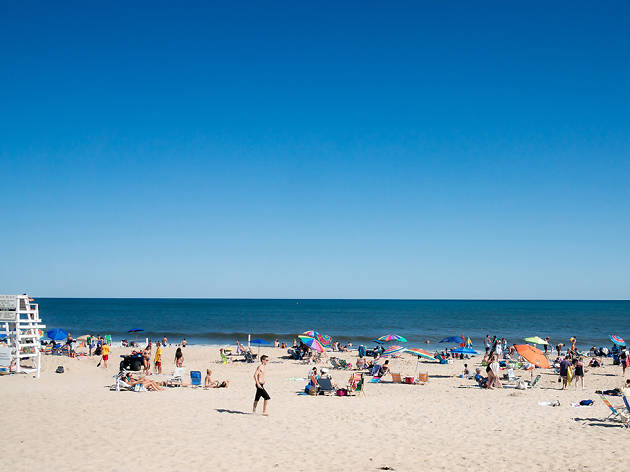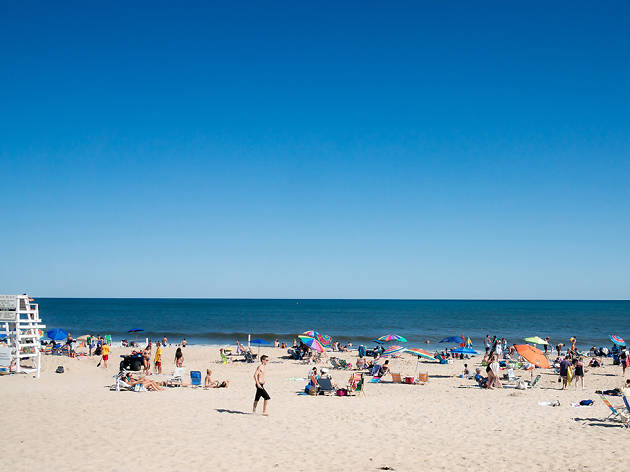 Photograph: Flickr/CC/cgc76
Regularly topping lists as one of the best beaches in America, the pristine white sand beaches are a favorite among Gotham's elite. A hefty parking fee ($30 per day) deters some visitors, but the litter-free oasis with its nearby concession stands—and rare chances to spot a celebrity willing to forgo the private beaches to tan near lesser mortals—makes it worth paying the price (bicycling to the sand).
Have a perfect day on a beach near NYC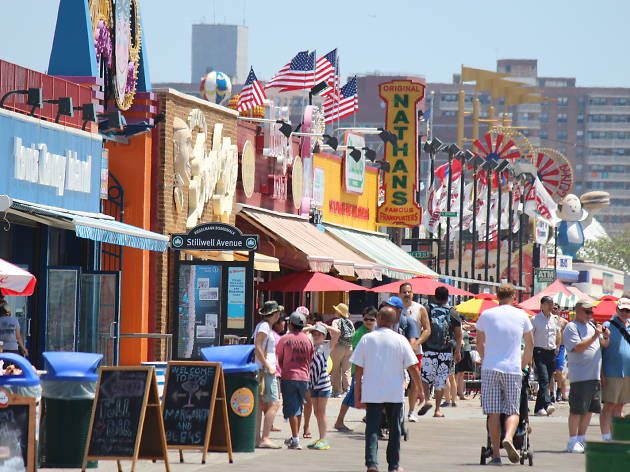 Photograph: Courtesy CC/Flickr/Shinya Suzuki
More New York beaches coverage
Archive New York beaches coverage