Heads up! We're working hard to be accurate – but these are unusual times, so please always check before heading out.
The 11 best things to do in Niagara Falls, NY
From historic sites to a thrilling ride through the whirlpools, these are the best things to do in Niagara Falls, NY
Niagara Falls is a quintessential American vacation haven. While the Canadian side of Niagara Falls tends to hog the spotlight, don't let anyone convince you this Western New York destination doesn't have plenty to offer.
Home to America's oldest state park, fascinating War of 1812 sites, a unique wine region, powerful whirlpools, actually good restaurants and, of course, the legendary Niagara Falls, the city presents the perfect blend of outdoor adventure and unique historic locales, sure to make any traveler swoon.
With Buffalo just 30 minutes up the highway and a small international airport located right in Niagara Falls, arriving to the city is a breeze. Here, we assemble a list of the very best things to do in Niagara Falls—not only covering the tourist hotspots (which, after all, are hotspots for a reason) but also shining light on some local favorites. Pack your bags, friends: it's time to check off Niagara Falls from that bucket list.
Best things to do in Niagara Falls, NY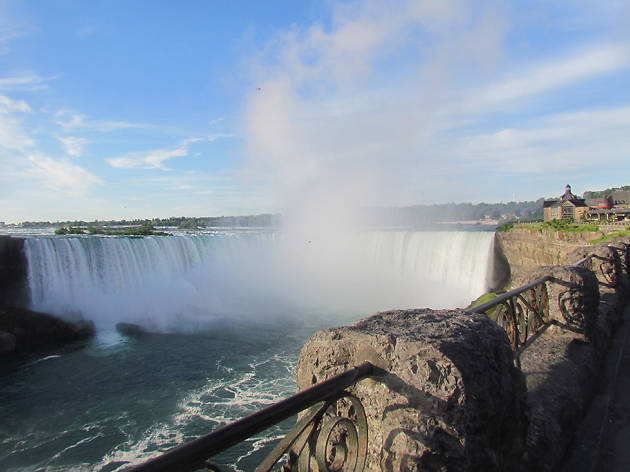 Photograph: Courtesy CC/Flickr/Andy Nystrom
1. Niagara Falls State Park
What is it: Spanning 400 acres and located at the brink of the Falls, this state park is the oldest in the U.S. It was designed by Frederick Law Olmstead, of Central Park fame, and features trails, gardens and a range of attractions.
Why go: This is your chance to get close to the falls. A ticket to "Cave of the Winds" lets you descend into the gorge and stand within feet of the raging waters. Don't miss the daily summer fireworks, either.
Photograph: Courtesy CC/Flickr/Neil Howard
What is it: While technically located in Niagara Falls State Park, Maid of the Mist deserves its own spot on the list. The 20-minute double-decker boat tour takes plastic-poncho-sporting passengers right up to the base of the Horseshoe Falls, which spans an incredible 2,200 feet in width.
Why go: Maid of the Mist has been a Niagara Falls favorite for generations. The ride not only provides passengers with a new perspective on the Falls, but also an appreciation for just how powerful they really are.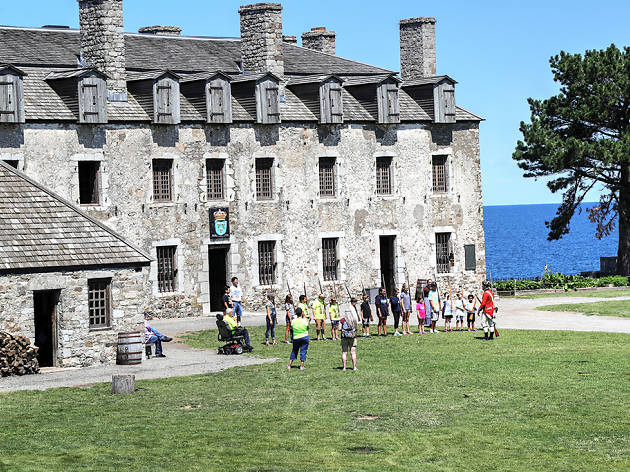 Photograph: Courtesy CC/Flickr/gardener41
What is it: Just 20 minutes from Niagara Falls, Old Fort Niagara lies at the base of the Niagara River. The first military post was established at the fort in 1679 but it's now best known for its role in the War of 1812.
Why go: Whether you're a history buff or looking for a kid-friendly excursion, Fort Niagara is a great day trip idea. Tour 18th century buildings to learn about life in the fort and catch an artillery demonstration carried out by soldiers in uniform.
4. Niagara Falls Underground Railroad Center
What is it: This Heritage Center has a noteworthy mission: to shine light on the city's history of Underground Railroad abolitionists and freedom seekers, and encourage visitors to acknowledge how injustices today have stemmed from slavery.
Why go: The center recently opened in May 2018. Its permanent exhibition, titled "One More River to Cross," highlights the brave actions Niagara Falls residents, especially African American ones, took during the days of the Underground Railroad.
Photograph: Courtesy Yelp/Muddy E.
What is it: Situated in Lewiston, a picturesque town close to Niagara Falls, Art Park is a cultural hotbed that hosts concerts and Broadway shows for residents to enjoy. The park overlooks the Niagara Gorge and features trails, picnic tables and family activities on summer weekends.
Why go: Dozens of outdoor concerts take place here every summer. If you're lucky, you might be able to catch some big names, too. Dolly Parton, Ringo Starr and Barenaked Ladies have all performed at Art Park in recent years.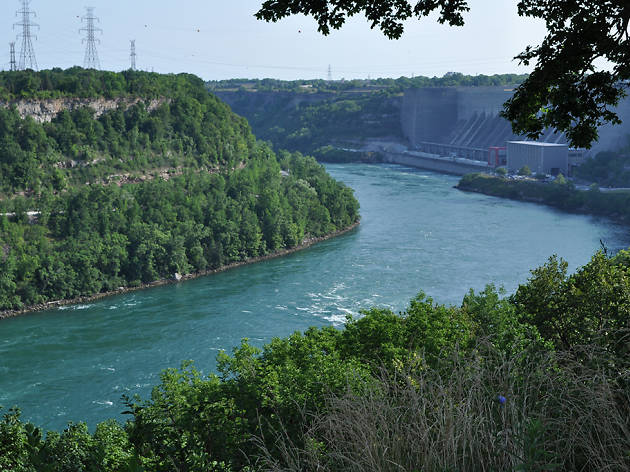 Photograph: Courtesy CC/Flickr/Curtis Anderson
6. Devil's Hole State Park
What is it: It sounds like a scary place. That's because, frankly, it kind of is. This unique park features a stone staircase that leads down the Niagara Gorge and drops you right off at the river's famous and overpowering whirlpools.
Why go: Hike down into Devil's Hole and you'll enjoy a beautiful view of the immense gorge. Go ahead and climb onto the rocks at the river bank but watch your balance: the whirlpools are powerful and can easily suck you under.
Photograph: Courtesy Yelp/Paul L.
7. Whirlpool Jet Boat Tours
What is it: The jet boat tour begins in Lewiston and takes you right into Niagara's Devil Hole Rapids. This crazy ride isn't for the faint of heart, though—the waves can reach almost 20 feet in height and the currents can run as fast as 20 miles per hour, according to the tour company.
Why go: Likely the most thrilling boat ride most passengers have ever partaken in, this is a must-experience. You'll definitely get hit with some huge waves but, if you sit at the back of the boat, you'll experience a slightly easier ride.
Photograph: Courtesy Yelp/Michael G.
8. Rainbow Air Helicopter Tour
What is it: Ascend above Niagara Falls in helicopter and take in a bird's eye view of the surrounding scenery. The flights take off from right beside the Rainbow Bridge, which crosses into Canada and lets you off just outside Niagara Falls State Park.
Why go: This tour includes an aerial view of the Falls but also gives passengers without a Canadian visa a glimpse of life across the border. You can also sign up for an extended tour, which travels down the Niagara River.
Photograph: Courtesy Yelp/Seneca Niagara Resort & Casino
9. Seneca Niagara Resort & Casino
What is it: Try out your luck at the Seneca Niagara Casino, which offers slots, table, poker and keno games. The resort also boasts a 4-star hotel, live shows and more than half a dozen dining options at different price points.
Why go: If you're a fan of gambling, this casino resort makes for a great night out on the town. Head to the Thunder Falls Buffet beforehand for the crab legs, the dessert selection and the huge variety of cuisine options—including Mediterranean, Asian, Italian and American.
Photograph: Courtesy Yelp/Angela M.
What is it: Situated between Lake Ontario and the Niagara Escarpment, the Niagara Wine Trail features almost two dozen award-winning wineries and cideries to enjoy.
Why go: The Niagara Wine Trail presents visitors with the chance to escape to a beautiful farm setting. In both Canada and the U.S., Niagara wineries have been recognized for their ice wines over the years; so plan a visit to Leonard Oakes Estate Winery, whose 2015 Vidal Blanc Ice Wine won best of class in 2017.
Photograph: Courtesy Yelp/T O.
What is it: DiCamillo Bakery first opened in the '20s, delivering fresh baked bread by horse-drawn carriage. Still family run, the bakery today sells biscotti, doughnuts, bread and other Italian treats from multiple Niagara locations.
Why go: Stop by to pick up some peanut stick doughnuts for breakfast or to enjoy during the road trip back. The treats are a resident favorite: many locals who've since moved away make sure to grab a doughnut (or four) when they come back home.
Hungry for the best restaurants in Niagara Falls, NY?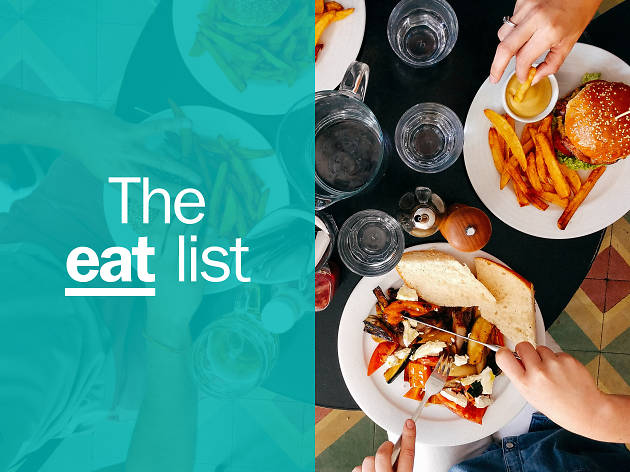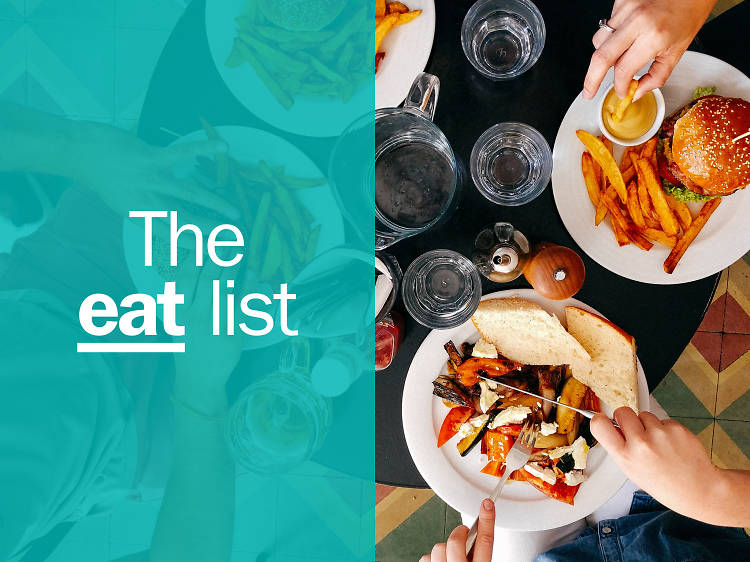 Niagara Falls may not be at the top of anyone's list of foodie destinations, but that doesn't mean it's not possible to get a tasty meal here. Plus, the eateries around town have an ace up their sleeve: jaw-dropping views of the Falls.