Heads up! We're working hard to be accurate – but these are unusual times, so please always check before heading out.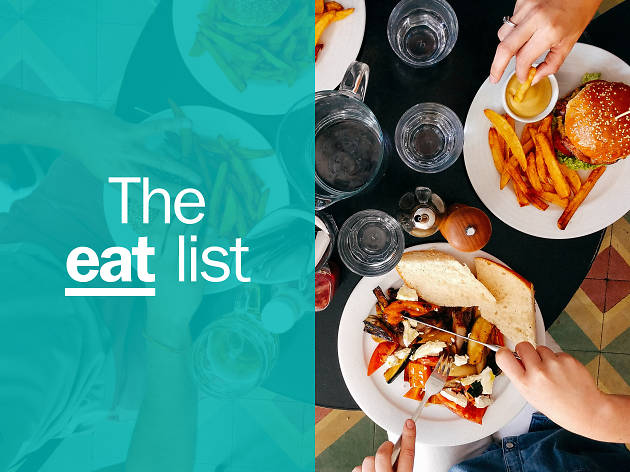 The 12 best restaurants in Niagara Falls, NY
From gastropubs to fine dining establishments, the best restaurants in Niagara Falls are anything but tourist traps
Looking to view the thundering falls – a true natural wonder – but skip the kitschy tourist spots and packed casinos on the Canadian side? Opt instead to experience the charm of the small New York city when visiting the US-side of Niagara Falls.
Here, you can still admire the famous waterfalls, albeit in a more protected environment, while enjoying a laid-back vibe and the plentiful things to do in the area. Niagara Falls may not be at the top of anyone's list of foodie destinations, but that doesn't mean it's not possible to get a slap-up meal here. Plus, the eateries around town have an ace up their sleeve: jaw-dropping views of the Falls.
Start teasing those taste buds now with our round-up of the best restaurants in Niagara Falls.
Best restaurants in Niagara Falls, NY
Photograph: Courtesy Yelp/Chris N.
1. Top of the Falls Restaurant
What is it: Located on Goat Island, inside the Niagara Falls state park, the restaurant serves classic American dishes, including homemade burgers. Top of the Falls Restaurant has partnered with Taste NY to promote local flavors as well—so you'll be sure to taste the very best the region has to offer.
Why go: Overlooking the famous waterfalls, the restaurant affords diners a front-row view of the impressive natural wonder.
Price: Average
Photograph: Courtesy Yelp/700 Bistro Cafe and Wine Bar
2. 700 Bistro Cafe and Wine Bar
What is it: This is an organic cafe by day that turns into a sophisticated wine bar each night.
Why go: Choose from organic salads, wraps and smoothies that are perfect for the gluten-free or vegan crowd when visiting for lunch. Once evening comes around, the space turns into a bistro and trendy wine bar that serves homemade pizza, fruit and cheese plates and some very famous charcuterie boards.
Price: Bargain
Photograph: Courtesy Yelp/Bella Vista Ristorante
What is it: Great Italian food, with a great view of Niagara River.
Why go: Get a taste of traditional Italian dishes in this stylish restaurant located within the Sheraton Four Points hotel. Sample the hand-rolled fettuccine and sauteed jumbo shrimp or the pan-seared snapper. Be sure to leave room for dessert too, especially the warm chocolate lava cake with pistachio ice cream.
Price: Average
Photograph: Courtesy Yelp/Jessica B.
What is it: It sounds like an Irish pub (and even looks like one inside), but is in fact an high-end eatery in the nearby town of Lockport.
Why go: It may be 30 minutes from Niagara Falls, NY, but Shamus is worth the drive. Seafood and steak are the main order of things here, with certified Angus beef available and delicious dishes like shrimp, scallop and king crab risotto. Make sure you book ahead, as Shamus's is a popular hangout.
Price: Blowout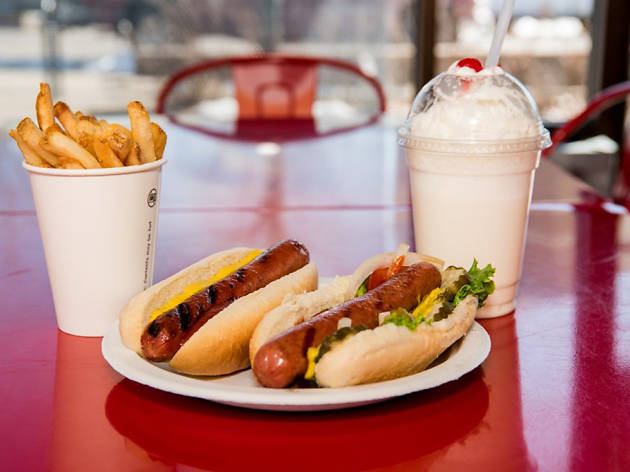 Photograph: Courtesy Yelp/Flip Burger
What is it: Forget tasteless burger chain restaurants and instead visit this local favorite, whose first location opened right here and whose second eatery is in Williamsville.
Why go: You must try one of the 100%-beef burgers, made fresh without fillers or preservatives. If you fancy something different, opt for the chicken sandwich, grilled cheese, veggie patty or hot dog. Sit outside where you can actually hear the nearby falls as you finish off your meal with a hand-dipped ice cream cone.
Price: Average
Photograph: Courtesy Yelp/Mark M.
What is it: This authentic Polish restaurant operated by three generations of the same family first opened in 1964. Apart from a brief closing following the family patriarch's passing, the Polish Nook has been steadily welcoming diners for the last 54 years. Located in a house on a back street about ten minutes from the Maid of the Mist boat tour, this unassuming family-run restaurant is a real hidden treasure.
Why go: Expect as many Polish sausages, perogies and sauerkrauts as you can handle. The perogies especially are so good that they are available for purchase by the dozen to take home: now that's a tasty souvenir.
Price: Average
Photograph: Courtesy Yelp/Joshua F.
What is it: Savor is the Niagara Falls Culinary Institute eatery that offers fine dining in a learning environment, as trainee chefs hone their skills on premise.
Why go: Watch culinary students whip up your dinner in the open kitchen. The changing menu uses locally sourced and seasonal ingredients, bringing the best of the Niagara region to your plate. There is a full children's menu, so you can bring along your little junior gastronomes too.
Price: Pricey
Photograph: Courtesy Yelp/Sean L.
What is it: Part of a chain of four gastro pubs across New York state, this Niagara Falls venue serves all the usual suspects, like chicken wings, fish and chips and onion rings. It's the addition of quality ingredients and toppings to elevate the ordinary, like the maple bourbon bacon jam on the burger, that make this gastropub stand out from the crowd.
Why go: For an upgraded take on traditional pub grub. You're welcome.
Price: Bargain
Photograph: Courtesy Yelp/Wine On Third
What is it: This classy downtown bar doesn't serve traditional Spanish-style tapas. Here, the small plates are contemporary American in origin, accompanied by live music played during weekends.
Why go: Tapas and wine… Need we say more? Share the truffle fries, crispy artichoke and mussels with friends and pair everything with local wines. This will be a memorable meal.
Price: Pricey
Photograph: Courtesy Yelp/P S.
10. Zaika Indian Cuisine & Bar
What is it: This modern North Indian delight welcomes vegans with open arms. The decor adds to the charm: the stylish dining room is energized by a large Bollywood-style mural that takes up the entire back wall.
Why go: A daily buffet offers a huge variety of dishes so that you can basically taste test new flavors without having to commit to an entire meal. Expect a lot of vegetarian and vegan options sharing space with the usual tandoori favorites like a chicken tikka masala.
Price: Bargain
Photograph: Courtesy Yelp/Kasie C.
11. Third Street Eatery and Pub
What is it: This teeny restaurant has only eight tables and, since it doesn't take reservations, you'll need to get in early or be prepared to wait. Don't worry: it's totally worth it.
Why go: Come for the best breakfast in downtown Niagara (think omelettes, French toast and breakfast burritos). After you eat, head upstairs to the cozy loft and challenge your friends to a game of pool or darts.
Price: Bargain
Photograph: Courtesy Yelp/Vicky H.
12. Red Coach Inn Restaurants
What is it: Open since 1923, the Red Coach Inn is a hotel and restaurant close to the Upper Rapids. The Inn offers all-season dining on the outdoors patio in the summer and by a roaring fire in the grill room during colder months.
Why go: Step back in time for a taste of history just yards from the Falls and eat breakfast, lunch and/or dinner at this AAA Three Diamond rated restaurant—a perfect destination for a date night or special occasion.
Price: Blowout
Discover Time Out Market: the best of the city under one roof
Planning a trip to Niagara Falls, NY?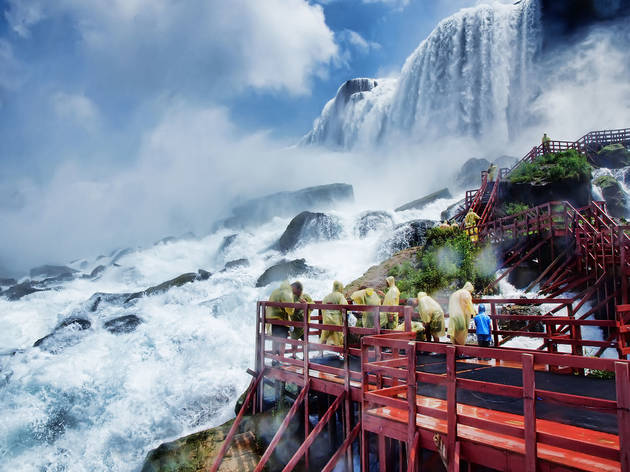 Niagara Falls is a quintessential American vacation haven. While the city's Canadian neighbor tends to hog the spotlight, don't let anyone convince you this Western New York destination doesn't have plenty to offer.