Heads up! We're working hard to be accurate – but these are unusual times, so please always check before heading out.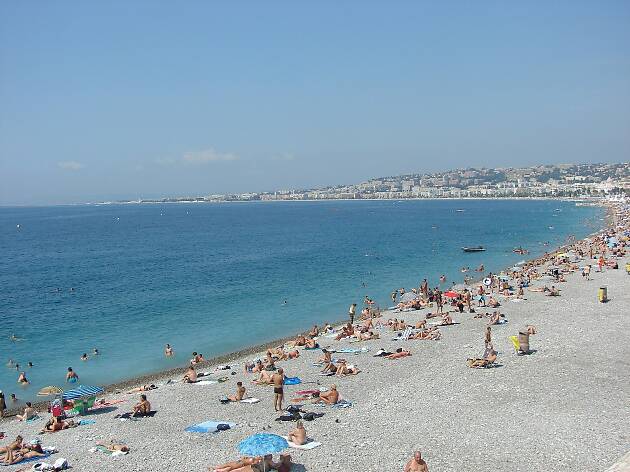 13 stunning beaches in Nice
Explore the best of the French Riviera from one stretch of sand to another with our guide to the top beaches in Nice
If you like luminous seas, long pebble beaches and an endless supply of cocktails, there's nowhere nicer than Nice. There aren't many world-class towns where you can stroll the streets, parks and promenades with the salty tang of the sea ever-present. Which makes Nice, resplendent in its coastal setting along a four-mile stretch of the French Riviera, something rather special.
That pebble-strewn demi-lune of beach borders the Mediterranean's Baie de Anges and is tracked its entire length by one of the world's great city walks along the Promenade des Anglais, dotted with world-class restaurants, top hotels and plenty of shops. But while you could be forgiven for seeing it as one (really, really) long beach, this is the south of France where nothing is ever so simple. In fact, this stretch comprises more than 30 separate beaches, 20 of which are public, 15 private and all with something special to set them apart.
Mostly seasonal and open largely between April and October when the sun and crowds are at their most potent, it's wise to know before you go whether you want cocktails and loungers, gourmet food with price tags to match, or family friendly shores with shallow waters. To help you decide, here are our picks of the best for any occasion.
Beaches in Nice
Photograph: Courtesy Yelp/Scott L.
What is it? A local favorite, tiny La Réserve is a lesser-known public beach tucked away to the east of Nice town in the port area.
Why go? Close enough to stroll to from Nice centre, La Réserve may get crowded thanks to its diminutive dimensions but its seclusion from the main stretch lends it a relaxed, intimate atmosphere. The famed diving boards that crazed local teens have long leapt from have recently been renovated as part of a restaurant serving up great food with views to match.
Photograph: Courtesy Yelp/Cookie M.
What is it? Long a Nice hotspot, this private beach at the foot of the Old Town is the largest in the French Riviera and has five star amenities to match.
Why go? You have to go glam at least once on each visit to the Côte d'Azur and there are few better places to do it than the Plage Beau Rivage. Take a table at the gourmet restaurant not 30 foot from the shore, sup a sundowner at the luxe lounge bar or just stretch out on a striped lounger for a well-earned snooze.
Photograph: Courtesy Yelp/Martina W.
What is it? A private beach open year round that's only steps away from some of Nice's best hotels like the Negresco and Palais de la Méditeérranée on the Promenade des Anglais.
Why go? Often referred to as gastro plage thanks to its excellent restaurant, the beach and restaurant are a boon for anyone willing to pay for entry. Vacationing with the family? The kids will love the beach swimming pool, trampoline and well-curated watersports activities, as will you!
What is it? Okay so not technically in Nice, Villefranche plage is a 15-minute one-euro bus ride away and offers that rarest of things on the French Riviera: sand!
Why go? Alongside the pebble-free sunbathing, public Villefranche is a gem in the classic beachy sense. Plenty of space to spread out, lots of oiled up sun-worshippers, glistening warm waters and a range of restaurants and ice creams stalls to gorge on. And did we mention the sand?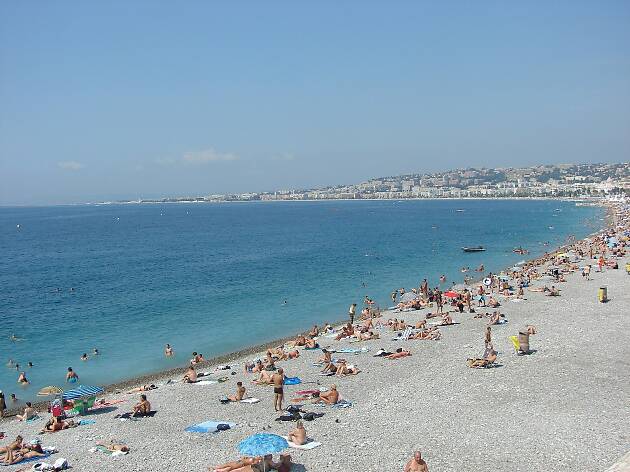 Photograph: Courtesy CC/Wikimedia Commons/M.Strīķis
What is it? The easternmost private beach along the Baie des Anges, Castel is nestled under the headland and chateau and feels far removed from Nice's throbbing crowds.
Why go? Castel offers awesome facilities for a price but also rolls friendly service into the mix – not something Nice establishments are famed for! Sun loungers are tightly packed but comfy, the restaurant serves fantastic Niçois food and ice-cold Provençal rosé to your table or lounger, and the Med is only ever a pebble's throw away.
Photograph: Courtesy Yelp/Cecile N.
What is it? Nice's oldest private beach and former opera house pavilion has been serving locals and vacationers alike since 1889 under the watchful eye of the Maiffret family.
Why go? One hundred and twenty-seven years of dedicated service has allowed the Maiffrets to hone their service to amongst the best in Nice. Whether you 'need' a massage in your sun lounger or a new swimming costume from their collection, no demand is too over the top. The restaurant is also a dead set classic with 30+ new recipes monthly.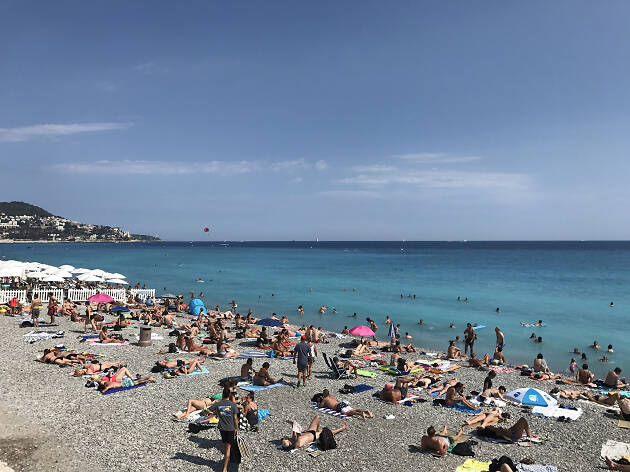 Photograph: Courtesy CC/Flickr/Greger Ravik
What is it? Another family run affair along the Promenade des Anglais dating back a century, Ruhl Plage is a great choice for families.
Why go? Distinctly vintage in theme, it's like stepping into an idyll from the French Riviera's golden age. A wooden platform with steps into the sea saves pebble-worn feet, a saltwater pool with lifeguard keeps the kids entertained, 80 private cabins with hot showers maintain your modesty and Le Coin Lounge serves fresh Niçois dishes and an array of great local wines. What's not to like?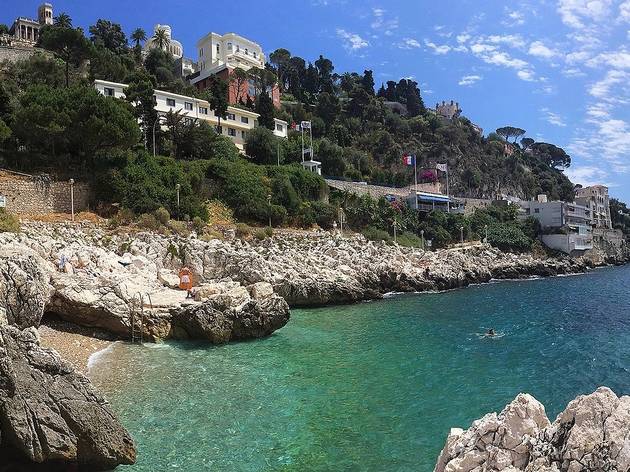 Photograph: Courtesy CC/Flickr/Sokole Oko
What is it? Keep wandering past the port and La Réserve beach, and with a keen eye you'll spot this tiny slice of rocks and pebbles – sometimes heaving with locals, sometimes completely deserted.
Why go? It's public, free, has lifeguards on duty in summer, offers showers to wash away that crystal clear salt water and a single restaurant that may well be closed. So bring a picnic, drape your towel over one of the big rocks (trust us, they're comfier than the pebbles) and settle in for some serious sunning.
Photograph: Courtesy Yelp/Vince V.
What is it? Named after the pebbles that make up Nice's beaches, Le Galet is a high-end new offering opposite Albert-ler Gardens with as much onus on food and drinks as its beachy setting.
Why go? Rather obscurely promising 'the softest pebbles of the Côte d'Azur', chic is Le Galet's byword with a focus on Italian design, fresh food (the poke bowl is to die for) and serious social events (aka parties). Very en vogue with Nice's in-crowd, it's also one of the best places to see the February carnival march past.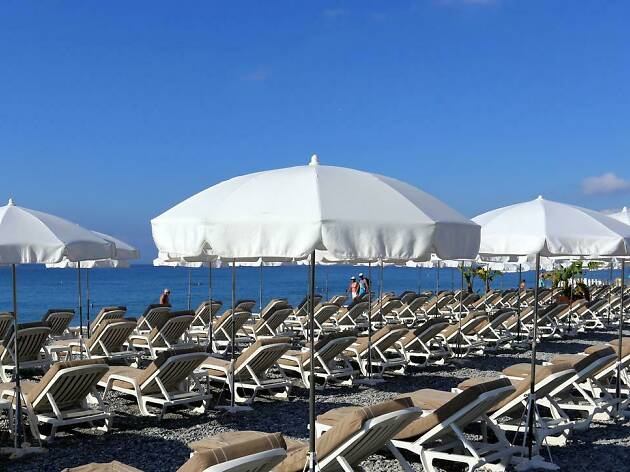 Photograph: Courtesy booking.com
What is it? Plonked almost in the middle of the Baie des Anges along a wider stretch that affords more room than most, Le Voilier is a heady mix of private and public beach.
Why go? Head to the gently sloping public beach for easy access to the sea, loos and a cold shower in high season. If you're after a little extra, the private beach has hot showers, playground for the kids, year-round restaurant and everything from cheap towels to three-person day beds to lounge the day away on.
Photograph: Courtesy Yelp/Emma C.
What is it? A handiplage, easygoing Carras at the western end of the Promenade des Anglais offers easy access and lifeguards so anyone with a disability can get in the water.
Why go? Apart from disability-friendly amenities, Carras is also Nice's only pet friendly plage so expect drenched mutts and the odd rogue Frisbee. It's also the only beach where you can rent jetskis or, for something a little less hectic, head to the Cabane Bleu where you can borrow free books and magazines in multiple languages.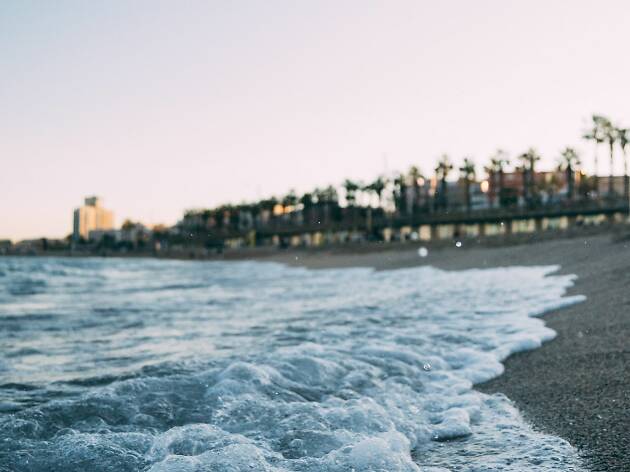 Photograph: Unsplash
What is it? The Plage des Flots Bleus in St Laurent du Var near Nice airport is the ultimate all-in-one beach day destination.
Why go? At one end sits the Cap 3000 shopping mall with 150+ shops, at the other sits the harbor complete with bars and nightclubs. And in between is a brace of restaurants, handiplage access for less able beachgoers, beach clubs and early in the summer season before the tides wash it away… sand!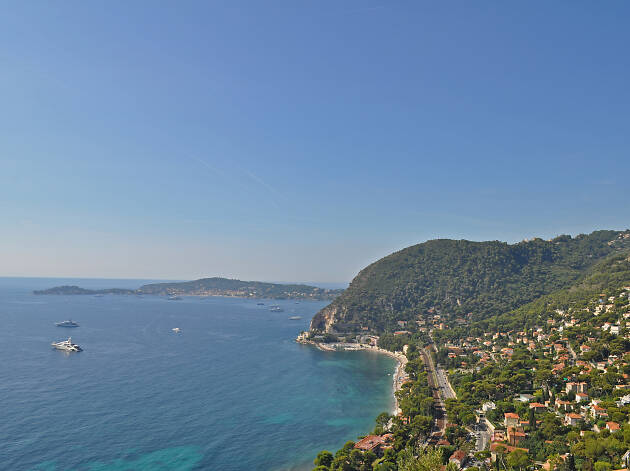 Photograph: Courtesy CC/Flickr/Harshil Shah
What is it? A short drive from Nice centre, but well worth the effort for a spot of seclusion, calm waters and some of the best swimming on the French Riviera.
Why go? The public beach has excellent amenities, loads of water sports to try your hand at in the Club Nautique from scuba to sailing, and two great restaurants in the elegant Papaya Beach and more ramshackle (but just as tasty) Anjuna Bay. The public beach is braced at each end by private beach clubs.
More to explore in Nice
Whether you want to gallery hop, sunbathe on the beach or just mooch along the seafront on the Promenade des Anglais, you can cover all bases in this Côte d'Azur hot spot.