Heads up! We're working hard to be accurate – but these are unusual times, so please always check before heading out.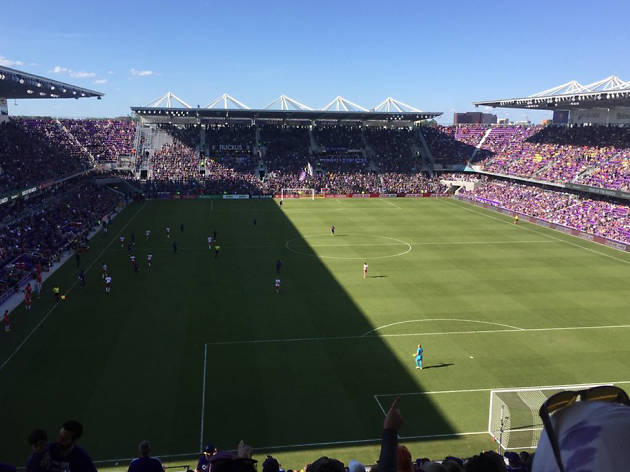 A guide to the 12 best nightlife spots in Orlando
Orlando is more than theme parks: these open-air clubs, rooftop bars and music haunts define nightlife in the city
Did you really think that the only things to do in Orlando involved roller coasters, cartoon characters and some pretty good restaurants? There is a whole different side to the city that most visitors don't get to see and it involves a pretty intense, pretty awesome nightlife scene. With a unique identity that stands apart from the theme parks, parks and attractions that plenty of people travel to the town for, Orlando truly lights up when the sun goes down. From orange-scented craft breweries to rooftop bars, open-air dance clubs, live music haunts and a lively soccer scene, nightlife in Orlando is defined by these local spots.
Best nightlife in Orlando
Photograph: Courtesy Yelp/Maryam I.
What is it: This rooftop speakeasy boasting prohibition vibes was one of the first on the scene and still remains the best around.
Why go: Located in the historic Hanson building in the heart of downtown Orlando, the small and intimate bar serves craft cocktails curated by world-class bartenders. In true speakeasy style, a password is required for entry. Find it on Twitter or call 407-476-9446 and ask for it—just make sure to mention how many "shoes" you need repaired (code for how many people are in your party).
Photograph: Courtesy Yelp/Chris D.
What is it: An Orlando staple since 1991, SAK Comedy Lab is a black box style theater for audience-influenced improv comedy.
Why go: Much like Second City in Chicago, SAK's shows are themed and rotate each season. And if you think that the local comedy scene just doesn't compare to New York's or Chicago's, think again: Wayne Brady got his start here and is rumored to make surprise visits when in town. If you fancy yourself a comic, you can also take classes here.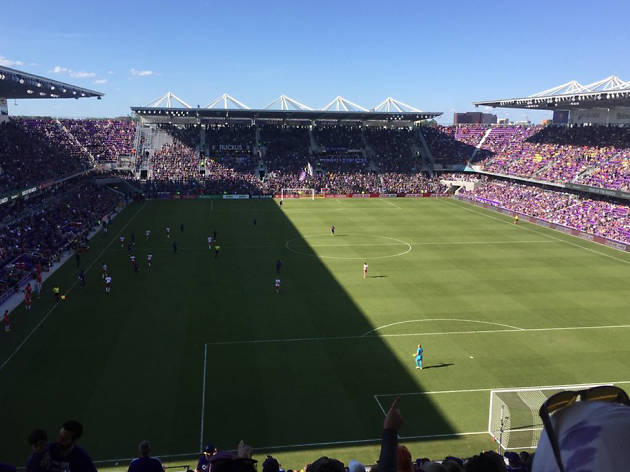 Photograph: Courtesy Yelp/Vanessa B.
What is it: Orlando loves its soccer team (Orlando City Soccer) so much that the city built it an entire stadium back in 2017.
Why go: Orlando City Soccer team entered the scene just eight years ago but has captured the hearts of Orlandoans ever since. When in town, you should definitely catch a game—just be sure to wear purple and pick up an Orlando Lion scarf to really blend in.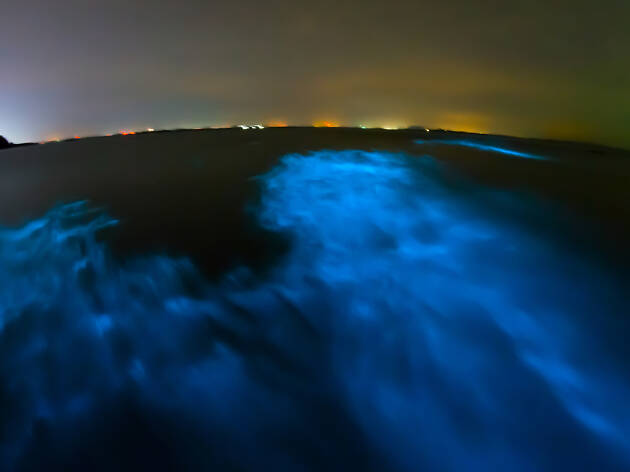 Photograph: Shutterstock
4. Bioluminescent Kayak Tour
What is it: This is an other worldly, algae-illuminated nighttime adventure… on a kayak.
Why go: For the nature lover, a trip to Florida isn't complete without exploring its unique ecosystem and the short drive from Orlando to the Space Coast is totally worth this awesome kayak ride. Go double or single on this nighttime kayak tour that winds through Florida's Indian River Lagoon. Luminescent plankton glows as your paddle pushes through the water. Leave your camera at home and enjoy the peaceful sounds of Florida wildlife.
Photograph: Courtesy Yelp/T B.
What is it: A retro themed underground lounge boasting Las Vegas-like vibes.
Why go: As you descend into the red glow of Stardust Lounge, you're taken out of Orlando and into the seductive era of the '70s and '80s. Stardust's red leather couches create intimate corners for you and your party to lounge on long into the night. Come here on the weekend when the DJ is spinning old school hip-hop and dance beats. Don't miss the monthly burlesque show, Peek A Boo Burlesque.
Photograph: Courtesy Yelp/Krystal L.
What is it: Will's Pub is a Seattle-style grunge bar and music venue that's been the heart of Orlando's independent music scene since first opening back in 1995.
Why go: Will's Pub lives in the artsy Mills 50 District and on any night of the week you can find fine local talent jamming late into the night, or the DJ spinning punk and hard rock hits. Keep an eye on the calendar for occasional big names to appear on stage or be the first to discover the next up-and-coming sound of our generation. Bands that have played here include The Decemberists, Iron & Wine, The All-American Rejects and The Velvet Teen.
Photograph: Courtesy Yelp/Ashley B.
What is it: As their own motto accurately states, this is "the club for people who don't like clubs." Located in the heart of downtown Orlando, I-Bar is the nightclub you didn't know you needed in life.
Why go: Locals have kept this club around longer than most of its Orange Avenue competitors, and for good reason. The three-tier venue features two dance floors spinning different beats from Motown to '80s new wave. For a break from the heat of the dance floor, step onto the sidewalk patio for some solid people watching and fresh Florida air.
Photograph: Courtesy Yelp/Enzian
What is it: Enzian is more than just your typical movie theater, it's an art institution and a community tradition. The non-profit institution has been screening alternative films for over 31 years.
Why go: Arrive early to your screening and enjoy a pint of craft beer at the evergreen Eden Bar—an outdoor bar and patio sheltered by ancient wild oaks. Once inside, find a retro couch and make yourself comfortable while indulging in a basket of truffle parmesan fries. The Enzian hosts the Florida Film Festival each spring, don't miss it.
Photograph: Courtesy Yelp/Disney Springs
What is it: The sprawling outdoor shopping, dining and entertainment hub won't have you waiting in lines. It's basically the least "Disney" thing you can do on a Disney property.
Why go: Disney Springs is the place to go to please a picky, large group. There's an assortment of entertainment offerings here—cinema, live music, live shows, wine bars, bowling alleys and high-end dining. Don't miss The Edison, a jazz-themed, three-story club and restaurant where 1920s-like musicians, dancers and aerialists perform in.
Photograph: Courtesy Yelp/MArisa C.
What is it: This is an oriental furniture store by day and moody, bohemian wine and beer garden by night.
Why go: Walking into The Imperial is like stumbling into an East-Asian palace basement: the lighting is dim and you are at once lost in a maze of four poster beds, Balinese coffee tables, Indian treasure trunks and Rajasthani door frames. At night, this eclectic collection of artisan pieces from abroad transforms into a jungle of intimate corners for quiet conversation in dreamy environs. The wine and craft beer menu is perfectly complemented by the elevated bar snacks.
Photograph: Courtesy Yelp/Joe R.
11. Orlando Science Center
What is it: A private science museum that hosts an adults-only social for science lovers and curious minds.
Why go: On select nights, the Orlando Science Center opens its doors to inquisitive adults for themed nights and special programming as part of the "Science Night Live" program. Drinks are available from the onsite Hard Rock Cafe and guests can explore four floors worth of exhibits, watch films on the Cinedome or partake in science trivia activities.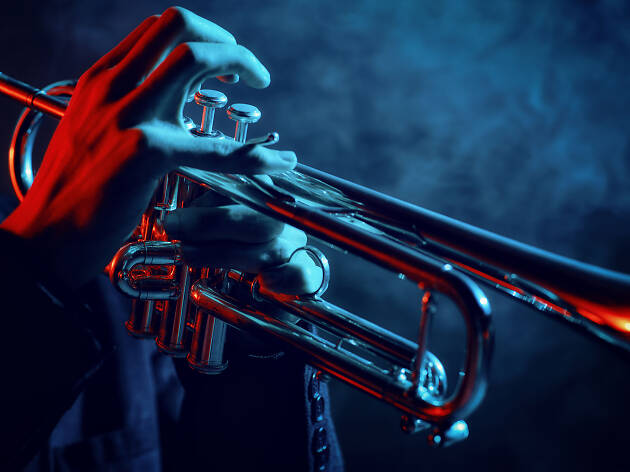 Photograph: Shutterstock
12. Blue Bamboo Center For the Arts
What is it: The artsy, intimate hub, located in the North Orlando neighborhood of Winter Park, hosts live jazz gigs and performance art pieces.
Why go: More a live theater venue than a nightclub, Blue Bamboo plays host to jazz musicians most nights of the week. Unlike most clubs, the concert space is open to people of all ages. It's never too early to educate the little ones on the importance of music.
More of the best of Orlando