1/5
© Anna Maréchal / TOP
2/5
© Anna Maréchal / TOP
3/5
© Anna Maréchal / TOP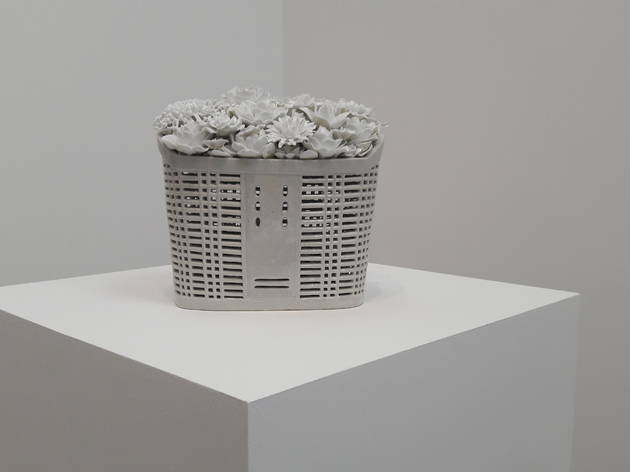 4/5
© Anna Maréchal / TOP
5/5
© Anna Maréchal / TOP
The Chinese artist-activist continues to amaze with six incredible, politically-engaged works of art.
You never know what to expect from an Ai Weiwei exhibition. Subversive and versatile, the photographer/architect/artist/activist is always full of surprises, and his new exhibition at the Galerie Max Hetzler in the Marais is no different.
The space consists of six works, each one as impressive and unique as the next. His white marble 'Surveillance Camera' literally merges with the white-walled décor - a poignant statement portraying the high-level surveillance he lived under during his months in prison and under house arrest in China. Another installation 'Bicycle Basket with Flowers in Porcelain', is a detailed creation, commemorating his 600 day-long peaceful protest against the Chinese government's confiscation of his passport. He left a new bunch of freshly picked flowers in the basket of a bicycle every day outside his Beijing home, an act immortalised in this porcelain work of art. 'Tree' and 'Treasure Box' are both equally striking, the former a massive 4,33 metre cast-iron tree, created especially for the exhibition; the latter an infinite wooden Chinese-box style puzzle, attracting and challenging many curious onlookers.
Six works cannot even begin to encapsulate Ai Weiwei's career – he's been active for nearly thirty years - but the artist proves a mastery over the materials he works with, namely plastics, while appealing to and rousing our political and humanitarian conscience.