Beauté Congo 1926-2015, Congo Kitoko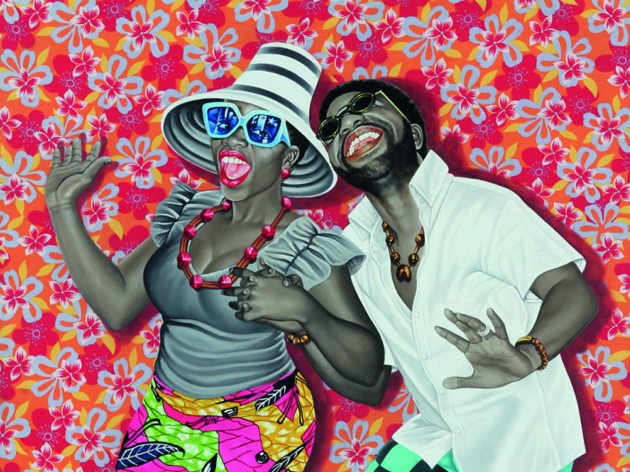 1/9
JP Mika, 'Kiese na Kiese' (détail), 2014 / Collection Pas-Chaudoir, Belgique / © JP Mika
2/9
Jean Depara, 'Sans titre', c. 1955-1965 / Collection 'Revue Noire', Paris/ © Jean Depara
3/9
Chéri Samba, 'La Vraie Carte du monde', 2011 / Collection Fondation Cartier pour l'art contemporain, Paris / © Chéri Samba
4/9
Pilipili Mulongoy, 'Sans titre' (détail), 1955 / Musée royal de l'Afrique centrale, Tervuren / © Pilipili Mulongoy
5/9
Kiripi Katembo, 'Subir', série 'Un regard', 2011 / Collection de l'artiste / © Kiripi Katembo
6/9
Moke, 'Sans titre (Match Ali-Foreman, Kinshasa)', 1974 / © Moke
7/9
Albert Lubaki, 'Sans titre', 1927 / © Albert Lubaki
8/9
Monsengo Shula, 'Ata Ndele Mokili Ekobaluka (Tôt ou tard le monde changera)', 2014 / © Monsengo Shula
9/9
Ilunga, 'Sans titre', c. 1950 / Collection Pierre Loos, Bruxelles / © Ilunga
This groundbreaking showcase of 20th century Congolese art is flawed, but fascinating.
The Fondation Cartier often gives the impression of rushing its exhibits, creating chronologically flawed collections. First, it was 'América Latina', which boasted of bringing together an entire continent's worth of photography from across half a century. This time, an account of 90 years of Congolese art history has been squashed into a handful of rooms, divided up by the dates 1920, 1947, 1978 and 2000. Mostly centered on painting, the over-ambitious exhibit doesn't make life easy for itself by also attempting to bring in sculpture, music and photography. Rather, it comes across fragmented and chaotic.
But 'Beauté Congo' still piques the interest. This area of African art, never really à la mode, has been largely ignored by museums and galleries – so the Fondation has a perfect subject in the gigantic Congo, with its vast and rich artistic tradition. Incorporating elements of advertising, fresco, caricatural art and comics, the 'populaires' painters of the late 1970s created heavily politicised works, often adding text to their works to really hammer home their message. The politically engaged and particularly in-your-face style of art takes in everything from colonisation and poverty to sex, boxing and the election of Barack Obama.
Forays into other disciplines prove less successful for the Fondation. The parallel between music and painting set out on the ground floor is passable, but incursions into photography seem out of place next to the eye-catching sculptures of utopian towns by Bodys Isek Kingelez and 'hut paintings' from the 1920s. Still, there are the stunning shots of downtown Kinshasa in the 1960s by Jean Depara, most notable for their striking juxtaposition of American imagery and the Congolese cityscape. There's much to see and enjoy here, but the gallery's curation is sadly hurried.