Being Modern: MoMA in Paris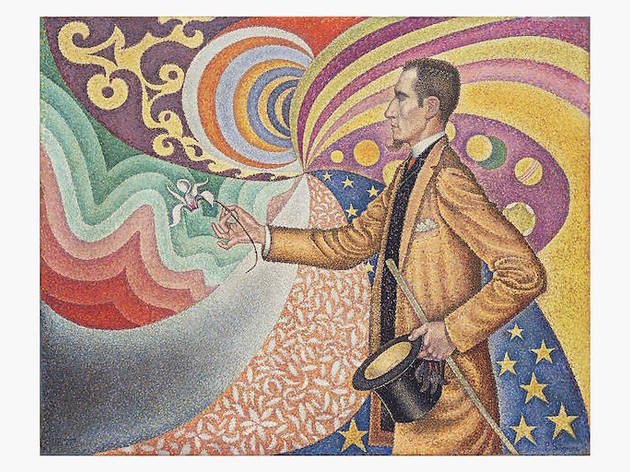 1/6
Paul Signac. 'Portrait de M. Félix Fénéon' (1890) The Museum of Modern Art, New York. Gifted by M. & Mme David Rockefeller, 1991
2/6
Cindy Sherman. Untitled Film Still #21. 1978. Épreuve gélatino‑argentique 19,1 × 24,1 cm. The Museum of Modern Art, New York Horace W. Goldsmith Fund par l'intermédiaire de Robert B. Menschel. 1995. Courtesy of the artist and Metro Pictures, New York. © 2017 Cindy Sherman
3/6
Ellsworth Kelly 'Colors for a Large Wall' (1951). The Museum of Modern Art, New York. Gifted by the artist, 1969. © 2017 The Estate of Ellsworth Kelly
4/6
5/6
6/6
John Wronn
Roy Lichtenstein 'Drowning Girl' (1963) The Museum of Modern Art, New York © Estate of Roy Lichtenstein New York / ADAGP, Paris 2017
The shining stars of MoMA come to Fondation Louis Vuitton
Featuring over 200 works from the Museum of Modern Art in Paris, "Being Modern: MoMA in Paris" is a celebration of the institution's role in 20th and 21st century art. The New York giant has chosen Fondation Louis Vuitton, Paris' futuristic art museum, to host the exhibition which runs from October 11 to March 5, 2018.
Spread over 3 floors, "Being Modern" is as starry as you'd expect with big names including Andy Warhol, Henri Matisse, Pablo Picasso, Edward Hopper, René Magritte, Walker Evans, Paul Cézanne…nearly every wall has a head-turner. But there are some surprises in the mix, including a diverse range of immersive pieces. Don't miss Roman Ondak's interactive performance work Measuring the Universe - an entire room where visitors can be measured and write their names and the date next to it. Echoing the recording of children's heights, the installation will remain for the duration of the exhibition. Janet Cardiff's The Forty Part Motet - an audio installation that worked with the Salisbury Cathedral Choir - is a climatic finish.
"Being Modern" traces the museum's chronology from its opening in 1929, tracing key moments in its journey and monumental exhibitions, such as Edward Hopper's House by the Railroad which was the first major painting acquired by the museum. Add to that museum developments, gifted collections, and background on its three founding ladies: Lillie P. Bliss, Abby Aldrich Rockefeller and Mary Quinn Sullivan.
The exhibition features work emblematic of the era - Spanish Civil War posters, Walt Disney's pioneering short film Steamboat Willie, Cindy Sherman's prints, Warhol's Screen Test films - as well iconic pieces for the modern art genre. Conceptual art and video art included.
Several works are being shown in France for the first time such as Warhol's hand-painted Campbell's Soup Cans (1962) and USA Today by Félix Gonzalez-Torres (1990).
The exhibition is well laid out over the three floors, although the visitor path is not always clear on each of them. It's a colossal size without a wealth of 'reflection benches', so we advise comfortable shoes and at least 2 hours to enjoy it thoroughly.
So much more than a 'best bits' exhibition, "Being Modern" dances you through the modern art and MoMA's significance as one of the world's best places to see it.
Here's a sneak preview of the much-anticipated event.