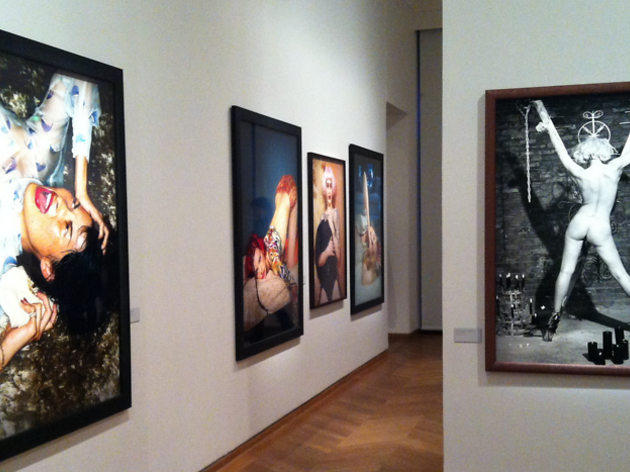 1/7
©E.Boutié
2/7
©E.Boutié
3/7
©E.Boutié
4/7
©E.Boutié
5/7
©E.Boutié
6/7
©E.Boutié
7/7
©E.Boutié
Femme fatales are as magnificent as they are terrifying in this destabilizing photography series.
Singular French photographer Bettina Rheims gets her first show at the Maison Européenne de la Photographie this spring. Her obsession? Women. In 180 images, including portraits of actresses and models, Rheims challenges the aesthetic codes of femininity. Rheims's subjects are femme fatales, but not in the classic sense – these women are as magnificent as they are terrifying.
Her photographs of women in full control of their sexualityrecall Helmut Newton: Rheims destabilizes and shocks the viewer with subjects that dominate, beautiful and surreal, in both ambiguous and obviously sensual poses. In one striking photo, Monica Bellucci looks alluringly at the camera, licking her fingers in a Formica kitchen as she dumps ketchup onto a plate of spaghetti, clad in a red latex dress that matches the red on her fingers.
It's not all stars and celebrities though. Rheims also photographs prison inmates, delving deep into the question of identity under abnormal circumstances. Another series, 'Rose c'est Paris', features naked women posing around the city, creating a mysterious and enigmatic tableau.
TRANSLATION: MARIA THOMAS