Christian Dior, Couturier du rêve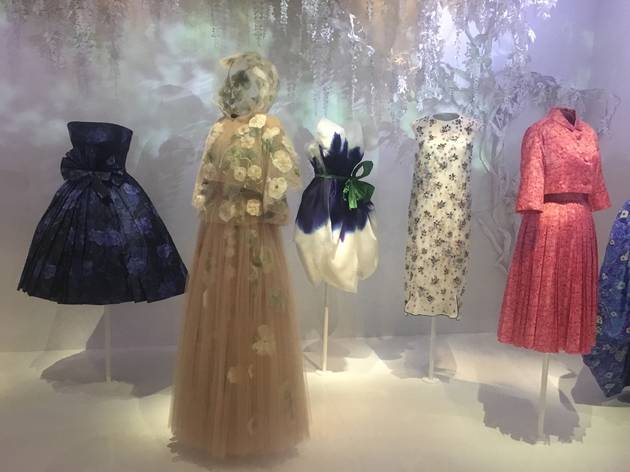 1/5
2/5
3/5
4/5
5/5
Celebrate the glitz and glamour of the famous fashion house.
It might not seem it, but Christian Dior was something of a late bloomer. By the time he debuted his first collection in 1974, he was 42 years' old.
Despite this later start, destiny had him propelled for this life. When he was 14 a fortune-teller proclaimed: "You will be penniless, but women will be good to you and it is thanks to them that you will succeed." How true this turned out to be.

The exhibition weaves its way through Dior's early life - as colourful and varied as the one he became famous for. A section dedicated to when he was a gallery owner - Picasso, Manray, Dalí and Giacometti were amongst the names that he showcased.
Family photographs taken at Villa des Rhumbs in Granville (now the Christian Dior museum), sketches featured in Le Figaro showing raw talent, excerpts from films like Le lit à colonnes where Dior did the costume design. Personal trinkets, including the metal star he tripped over on the way to the meeting that launched the house, are joyful extras fans will appreciate.
A long passage holds an irresistible spectrum of accessories. Perfume bottles, lipsticks, shoes, brooches, dresses, hats, trainers...organised into a rainbow of colour from the iconic Dior red, to Granville grey.
Numerous photos make it clear Dior has been Hollywood and royalty's first choice throughout the years. From Princess Margaret's 21st portrait by Cecil Beaton, to Bardot and Hayworth in the dressing room, and countless stars on the red carpet - Dior's allure hasn't waned.
Don't miss the second section of the exhibition, which traverses the museum itself. Dedicated to the designers who took the reigns after Christian's early death: Yves Saint Laurent, Marc Bohan, Gianfranco Ferré, John Galliano, Raf Simons; and recently, Maria Grazia Chiuri. Each section portrays the different interpretations, while a vibrant Dior vein pumps through them all.
"Paris is couture. Couture is Paris". It seems only fitting that Musée des Arts Décoratifs hosts Christian Dior's 70th birthday party. And what a celebration, with this rich and vivid exhibition, spanning a colossal 3,000m2 and hundreds of pieces that changed the course of fashion history. Our only advice, come during off-peak hours - the huge crowds often spoil the view.
Rating Breakdown
5 star:

1

4 star:

0

3 star:

0

2 star:

0

1 star:

0