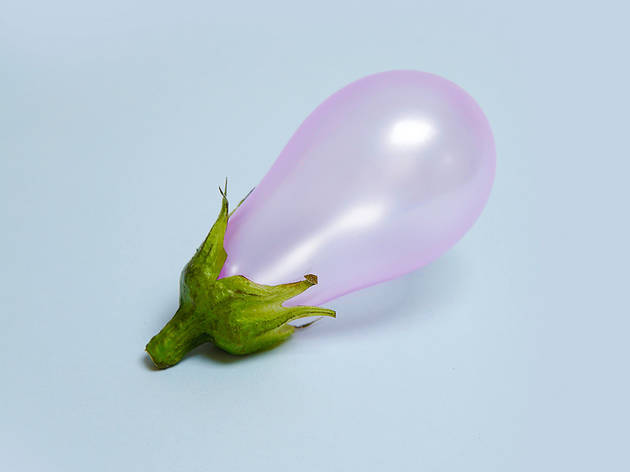 1/5
© C.Gaillard
Vanessa MCkeown
2/5
© Jeremy Wong/C.Gaillard
"chien de mie"
3/5
© Jeremy Wong/C.Gaillard
'Lint Roller Rabbit' de Jeremy Wong
4/5
© C.Gaillard
Rui Pinho
5/5
© C.Gaillard
A one-way ticket to the land of the absurd.
Galerie Sakura is known for its slightly wacky exhibitions. And 'Décalage immédiat' is no exception. The inverted worlds of Laurent Rosset, Vanessa Mckeown's balloon fruits, valleys of naked bodies by Carl Warner and a Barbie foozball table by Chloé Ruchon are all replete with incongruities, kitsch anomalies and the occasional stroke of poetry.
What it doesn't lack is a sense of humour - it's hard not to giggle, or at least crack a smile at Jeremy Wong's shapeshifting animals or Gandee Vasan's Photoshop creations – such as the Dalmatian shaking off his spots as if they were mud. It's also difficult to ignore the ironic satire in David Zaitz's 'Reality Bites' series, which depicts a man mowing his lawn wearing a gas mask, while surrounded by factories belching out smoke. It's funny and thought-provoking, powerful and visually striking.
No risks are taken with this one – the pieces are entertaining and aesthetically pleasing, but neither subversive, nor provocative. This is the kind of exhibition you will enjoy and leave satisfied. It's missing a certain sting in its tail but once again, Galerie Sakura – we salute your madness.
TRANSLATION: MEGAN CARNEGIE