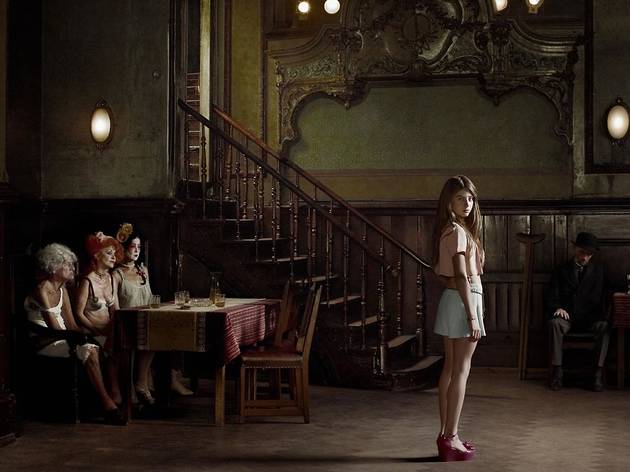 1/5
'Berlin, Clarchens Ballhaus Mitte, 10 Juli 2012' / Courtesy de la galerie Rabouan Moussion ©Erwin Olaf
2/5
'Berlin, Stadtbad Neukölln, 23 april 2012' / Courtesy de la galerie Rabouan Moussion ©Erwin Olaf
3/5
'Berlin, Porträt n°5, 9 Juli 2012' / Courtesy de la galerie Rabouan Moussion ©Erwin Olaf
4/5
'Berlin, Fechthalle Westend, 11 Juli 2012' / Courtesy de la galerie Rabouan Moussion ©Erwin Olaf
5/5
'Berlin, Olympia Stadion Westend, Selfportrait' / Courtesy de la galerie Rabouan Moussion ©Erwin Olaf
Erwin Olaf is first and foremost a fashion photographer for glossy magazines: Gucci, Diesel, Levi's. Polished shoots with a few provocative ideas (older models, showing a model with an erection and a bag over his head), like an eternal repetition of what advertising has produced since the 1980s.

But Olaf is also an ambiguous photographer. He is capable of capturing solitude, remorse and sadness in his sumptuous compositions, which are bathed in pastel tones and a distant Nordic light. His portraits of women evoke Rembrandt and Hopper, the elegant luxury of their style exuding a profound sentimentality.

For this new series, 'Berlin', the Dutch photographer left his studio for the first time to mix with street life, interacting with the city spaces and architecture. Olaf understands the space, the city and the conflict between generations, finding in the German capital the same flavour of a century ago, the tense uncertainty of the inter-war period.