Esther Ferrer: Face B. Image / autoportrait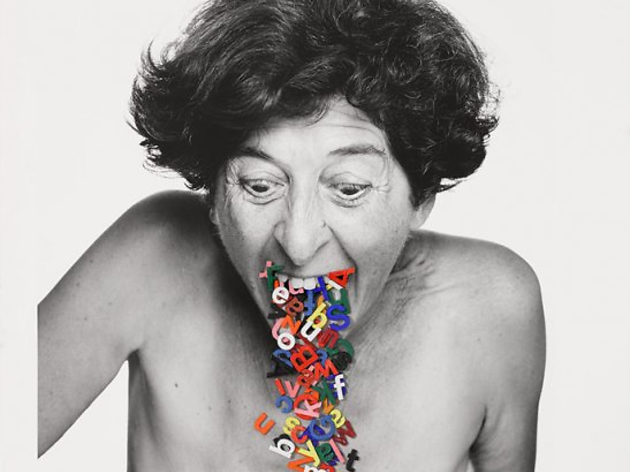 1/6
Esther Ferrer, 'Sans titre', version 2011 / Série 'Le livre des têtes' / © Esther Ferrer
2/6
3/6
Esther Ferrer, 'Autoportrait', 1986 / Série 'Le livre des têtes - Autoportraits travaillés' / © Esther Ferrer
Esther Ferrer, 'Autoportrait', 1986, extrait de la série 'Le Livre des têtes - Autoportraits travaillés'
4/6
Esther Ferrer, 'Les Choses' , version 2011 / Série 'Le livre des têtes' / © Esther Ferrer
5/6
6/6
Esther Ferrer, 'Autoportrait', 2013 / Série 'Le livre des têtes - Je l'ai retrouvée' / © Esther Ferrer
What's happened to the rock stars of performance art, the ones who were the celebrities of art and feminism in the '70s? Well, they've got old, just like everyone else. But this doesn't mean that they've holed themselves up in their flats with five cats – some of them, like the 77-year-old Esther Ferrer, are still filming and photographing themselves, studying the transformations happening to their faces and their aging bodies. The life of an artist therefore becomes the performance itself: a work that is destined to fade slowly over the years.
Over the years, Basque performance artist Esther Ferrer has occupied the same space in the art world as Marina Abramovic and Valie Export (although her art doesn't reach quite the same masochistic extremes). As one of the pioneers of 'action art', her body is the central motif – her videos, photomontages and installations hail from another era, pre-Photoshop, pre-abortion and pre-Femen, and have to be understood as such. This is someone who prints her face on the concertina of an accordion just in order to disfigure it as much as possible, who photographs her pubic hair and then colours it red, yellow, green and blue, who lines up dozens of self-portraits on a wall, increasing the exposure of each photo little by little until the last one is nothing more than empty white space.
Examining the finite nature of life and the constant transformation of the body has added more depth to her work with age. In particular in the huge frieze of 'double faces' – photographs where the artist combines self-portraits taken at different stages of her life (1981, 1989, 1994, 1999, 2004, 2009, 2014) into one picture. Without embarrassment and without a value judgement, Ferrer is the heroine of a passive performance: not direct action, but the observation of her own transformation, over which she has no control. All of this, plus the beautiful curation by MAC/VAL, makes this exhibition highly recommended.