Frédéric Bazille, la jeunesse de l'impressionnisme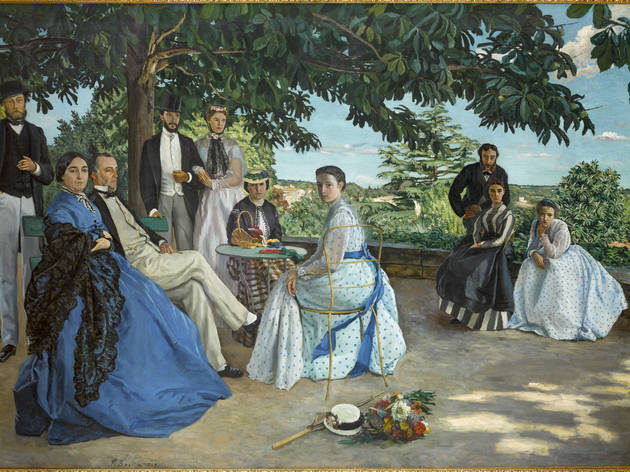 1/5
© Photo musée d'Orsay, Dist. RMN-Grand Palais / Patrice Schmidt
Frédéric Bazille, 'La Réunion de famille', 1867.
2/5
© Cliché Frédéric Jaulmes
Frédéric Bazille, 'Jeune femme aux pivoines', 1870.
3/5
© Cliché Frédéric Jaulmes
Frédéric Bazille, 'Les Remparts d'Aigues-Mortes', 1867.
4/5
© Photo musée d'Orsay, Dist. RMN-Grand Palais / Patrice Schmidt
Frédéric Bazille, 'La Robe rose', 1864.
5/5
© Cliché Frédéric Jaulmes
Frédéric Bazille, 'Atelier de la rue de Furstenberg', entre 1865 et 1866.
This fiery, modern painter and his short career are proof that talent is innate, not learnt.
In his short, seven-year career, Frederic Bazille produced some remarkable work. Not outright masterpieces perhaps, but paintings which have been unfairly forgotten despite them being a key component in the creation of modern impressionism. The young painter's style (he died in the war, aged 28) is marked by unfiltered emotion, palpable from the beginning of the the exhibition: the first canvas – 'Autoportrait à la palette' – is an intense self-portrait of this great beanpole of a man, showing his sharp gaze and weary air.
An avant-garde imperfection pervades his work, giving us a sense of the young prodigy's inexperienced daring, self-assured nonchalance, and underlying vanity - as exasperating as it is captivating. 'Atelier de la rue Furstenberg', for example, the artist's innovative self-portrait, features his palette spilt on the ground and his empty armchair, subtly intimating his presence. This enlightened creativity can also be seen in his striking, chromatic harmonies, hazy, solid colours and light-bathed landscapes, almost resembling photography. But the true modernity of his work resides in his open-mindedness: he was the first of his generation to praise the beauty of the black woman in his 'Jeune femme au pivoine' (Young woman with peonies).
One criticism however: the exhibition itself is a little too wide-ranging. From the title, we'd expect a retrospective on the artist - it's actually more an exploration of the era, also featuring the work of his contemporaries (Cezanne, Renoir, Monet etc.) Nonetheless, it deepened our understanding of this unfairly neglected painter.
TRANSLATION: LEONIE CATER