Hieronymus Cock, La gravure à la Renaissance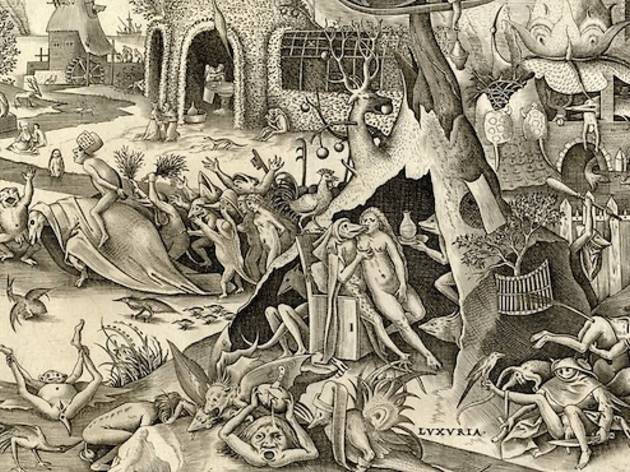 1/5
Pieter van der Heyden d'après Pieter Brueghel l'Ancien, 'Luxuria (la Luxure)', de la série 'Les sept péchés capitaux', détail / ©DR
2/5
Pieter van der Heyden d'après Pieter Brueghel l'Ancien, 'Luxuria (la Luxure)', de la série 'Les sept péchés capitaux', détail / ©DR
3/5
Joannes et Lucas van Doetecum d'après Jérôme Bosch, 'L'Eléphant de guerre' / ©DR
4/5
Johannes Wierix, Portrait de Volcxken Diericx / ©DR
5/5
Pieter van der Heyden d'après Frans Floris, 'L'Érection du serpent d'airain' / ©DR
Visiting the wing of the Institut Néerlandais that houses the Hieronymus Cock exhibition is to admire a grandiose portrait of the 16th century. History, architecture, geography, mythology: when he founded his publishing house 'The Four Winds' in 1548, Cock began a sort of inventory of the era's artistic legacy through his etchings. At a time when imagery was still rare and precious, the etchings he published minutely reproduced the works of the masters of the Italian Quattrocento movement (particularly Raphael), maps of a rapidly expanding world, plans of remarkable Italian buildings and the most famous religious imagery of the era.

Living in Antwerp, the hub of the Western world at the time, Cock was fully involved in the Renaissance and the diffusion of the humanist spirit. While facilitating the circulation of works from Southern Europe, he allowed many Dutch artists to open up to global influences and to benefit from the copies that inspired their own creativity (while saving them the price of a trip to Rome or Florence).

Beyond the crucial importance of Cock's publishing house in the intellectual and artistic development of the 16th century, the exhibition underlines the quality of the work it produced. Influential and innovative, 'The Four Winds' was also the principal outlet for the work of Brueghel the Elder, during a fruitful collaboration that lasted over 15 years and produced some astounding etchings. His amazing series on the seven deadly sins, full of absurd figures and perverse details, or his impressive landscapes bursting with life, are excellent advertisements for the treasures revealed by this surprising exhibition.
Rating Breakdown
5 star:

0

4 star:

1

3 star:

0

2 star:

0

1 star:

0
Totally strange that the Netherlands' Governement is behaving so cheap by closing L'Institut Néerlandais after decennia of cultural exchange between la France and la Hollande. It might say something about the change in the Netherlandish politics that culture is not of any importance but only if it is understood and appreciated by the masses. I hope that this governement in Holland will always be recalled as the cheap, non-cultural, opportunistic politiciens without cultural view or insight but only people eager to get their own easy votes of the masses.