La mécanique des dessous – Une histoire indiscrète de la silhouette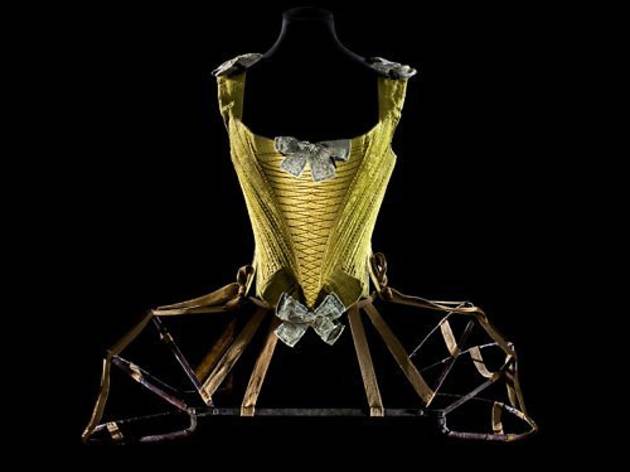 1/7
Panier à coudes articulé, vers 1770, et corps à baleines, vers 1740-1760 / Paris, Les Arts Décoratifs, collection Mode et Textile et dépôt du musée de Cluny ©Patricia Canino
2/7
Publicité pour le maillot de bain Wonderjock d'AussieBum, 2007 ©Aussiebum, photo : Sean Ashby
3/7
Tournure cage, modèle papillon, vers 1872 / Paris, collection Falbalas ©Patricia Canino
4/7
Justaucorps, vers 1730-1740 / Paris, Les Arts Décoratifs, collection Mode et Textile ©Patricia Canino
5/7
Combiné, Photographie de dépôt de modèle, 1954 / Paris, Les Arts Décoratifs, photothèque, don mars 1963 ©Les Arts Décoratifs, photothèque
6/7
Bas rembourré ou faux-mollet, 1850-1890 / Paris, Les Arts Décoratifs, collection Union française des arts du costume ©Les Arts Décoratifs, photo Jean Tholance
7/7
Publicité pour le slip Kangourou, 1948 / Collection particulière ©DR
'Our clothing is made of iron, the invention of barbaric and gothic times. You must smash these chains if you want to become happy and free' said Bernard Faust in 1792, during the French Revolution. You'd be hard put to contradict him when faced with the twisted outfits on display in this exhibition, which compress, muzzle, mould, prop and lace up, sometimes seeming more like instruments of torture than clothes – and which were sometimes inflicted on children as young as two or three years old.

Throughout history, desperate to obey the dictates of fashion even in its most grotesque manifestations, men and women (particularly the most well-off) have mangled their bodies as if they were malleable materials, putting their image before their health. Be it inflating derrières with iron cages or padding out calves when it was seen as a sign of male virility, the human silhouette has been crushed, flattened and neutralised as the era demanded. Always, behind the game of appearances, the weight of social markers: shaped by clothing, the body becomes the incarnation of status, the sign of aristocratic birth, the manifestation of overwhelming virility or of rigorous piety.

From the Middle Ages until today, the Musée des Arts Décoratifs explores this obsession with appearance in a tone both erudite and playful. And if we contemplate the improbable costumes of earlier times with a mocking smile, we'd do well to remember that the tyranny of dieting, plastic surgery and muscle-building are no more than the continuation – more extreme? – of the enormous bustles and eccentric doublets of yesteryear.