Le Surréalisme et l'objet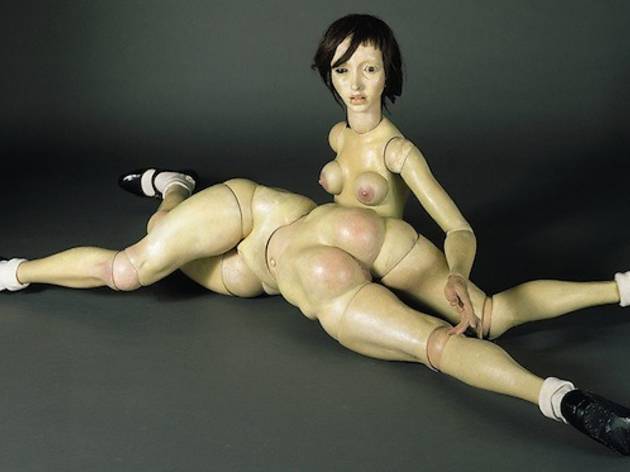 1/9
Hans Bellmer, 'La Poupée', 1933-1936 / Dist. RMN-GP Photo : Philippe Migeat, Centre Pompidou © Adagp, Paris 2013
2/9
Giorgio De Chirico, 'Le Prophète', 1915 / © 2013. Digital image, The Museum of Modern Art, New York / Scala, Florence
3/9
Marcel Duchamp, 'Porte-bouteilles', 1914 / 1964 Ready-made Fer galvanisé / Dist. RMN-GP © Succession Marcel Duchamp / Adagp, Paris 2013
4/9
André Breton, 'Objet à fonctionnement symbolique', 1931 / Photo : Georges Meguerditchian, Centre Pompidou © Adagp, Paris 2013
5/9
Man Ray, Exposition 'Objets surréalistes', galerie Charles Ratton, 1936, [Reportage-vues d'accrochage], 1936 / © Man Ray Trust / Adagp, Paris 2013
6/9
Man Ray, Mannequin de M. Duchamp dans la rue aux Lèvres, 1938, à l''Exposition internationale du surréalisme' Paris, galerie des Beaux-Arts, 1938 / © Man Ray Trust / Adagp, Pari
7/9
Pablo Picasso, 'Vénus du gaz', 1945 / Collection particulière © Succession Picasso, 2013
8/9
Victor Brauner, 'Loup-Table', 1947 / Dist. RMN-GP Photo : Philippe Migeat, Centre Pompidou © Adagp, Paris 2013
9/9
Brassaï, 'Billet d'autobus roulé', 1932, De la série 'Sculptures involontaires' / Dist. RMN-GP Photo : Georges Meguerditchian, Centre Pompidou © Estate Brassaï – RMN-Grand Pala
'These objects, which offer a minimum of mechanical functionality, are based on fantasies and allegories, brought about by the realisation of unconscious acts.' In the image of Salvador Dali, the surrealists gave 'functional' objects a brand new place in the history of art. From Marcel Duchamp's 'ready made' series to Giacometti's 'suspended ball' via Hans Bellmer's dolls, considering the relationship between surrealism and objects is to tell a major evolutionary tale in 20th century art.

With the iconoclasm inherited from Dada, surrealism violently demystified the concpt of an 'artwork' by introducing urinals into art galleries, or those wooden mannequins that André Breton's first surrealist manifesto in 1924 presented as among those objects most likely to provoke a stirring of human sensibilities. The intrusion of the object into the world of art also coincides with Breton's giving the movement a concrete identity (and the rejection of the real), as well as with the politicisation of a section of the surrealist movement who were attracted by the communist ideology, which brought numerous artists to reconsider their notions of works of art and creative genius.

Bringing together a hundred or so sculptures and around 40 photographs, the exhibition attempts to follow the whole surrealist movement, including pieces by Miró, Arp, Dali, Calder, Ernst and more. It extends to look at the repercussions of the movement's ideas that still echo in the art of the today, for example in works by Cindy Sherman, Ed Rusha and Paul McCarthy, notably in the bias towards 'installation', a direct descendant of the surrealist celebration of the object.