Heads up! We're working hard to be accurate – but these are unusual times, so please always check before heading out.
Microsoft's mixed reality technology brings a French landmark to life
An installation at the Musée des Plans-Reliefs shows how headsets could shape the future of museums
The Musée des Plans-Reliefs must be one of the Left Bank's best-kept secrets. Its speciality – stunningly intricate handmade models of fortified towns – bears ample testament to the genius of French military mapmakers from the 17th century on. Hours really could be spent staring at each, so complex are their Hogwarts-like towers, crooked dwellings and tangled, twisting streets.
Of the 100 or so structures on display here, the Mont Saint-Michel must be among the most striking. Occupying an island half a mile off the Normandy coast, the town has hosted strategic fortifications since the 8thcentury AD and has become one of France's most recognisable landmarks. You would think a miniature would never be able to do it justice, but how wrong… for not only is the relief map itself a marvel, the museum and Microsoft have collaborated a project that uses the latest AI and augmented reality technology to bring it fizzing to life.
Just as the original 3D model was built using the most cutting-edge mapping techniques of its time, so Microsoft has teamed up with pioneering French firms HoloForge Interactive and Iconem to create a first-of-its-kind experience. Visitors are now offered a Microsoft HoloLens headset, which allows them pick out otherwise invisible details, explore areas in greater depth and see how the site has changed over the centuries. Blending the physical and the virtual, it's an ideal way to discover a place so steeped in history, and sure to please even the most restless of young explorers.
Microsoft President Brad Smith, who used to live nearby in the 7th arrondissement, fell in love with the museum during visits with his family in the 1990s. Last year he went back, to visit which sparked an idea to blend what was the most cutting edge technology of the 17th century with that from the 21st century. Soon thereafter, a team from Microsoft began working on this project. Their hope was both to unlock the hidden treasures of historical sites and to provide a means of preserving knowledge of architecture around the world. Now, eleven months in the making, the resulting installation gives a good impression of how museums might look in the decades to come.
Learn more about the installation on the Microsoft In Culture page.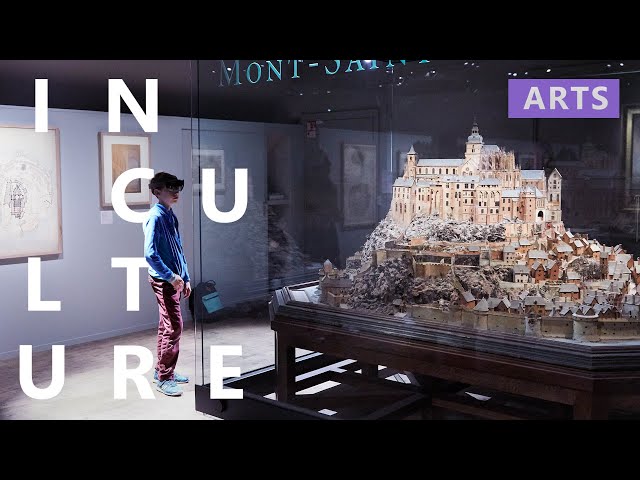 What ? Le Mont-St-Michel, Regards numériques sur la maquette
When ? From October 11th 2018 to January 14th 2019
Where ? Musée des Plan-reliefs, Hôtel national des Invalides, 7e
How much ? From 10 to 12 €