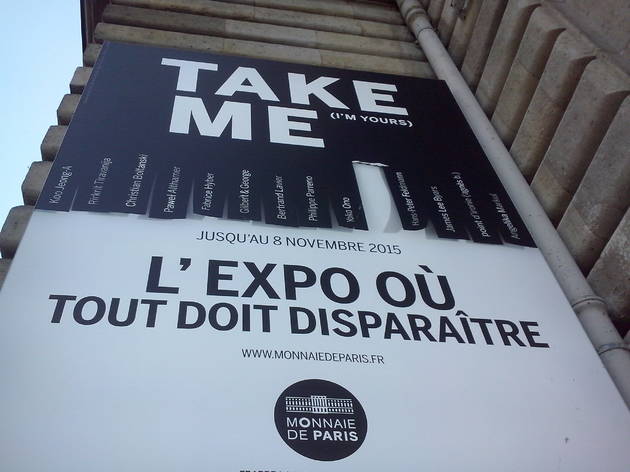 1/18
© Louise Pierga / Take me (I'm yours)
2/18
© Louise Pierga / Take me (I'm yours)
3/18
© Louise Pierga / Take me (I'm yours)
4/18
© Louise Pierga / Take me (I'm yours)
5/18
© Louise Pierga / Take me (I'm yours)
6/18
© Louise Pierga / Take me (I'm yours)
7/18
© Louise Pierga / Take me (I'm yours)
8/18
© Louise Pierga / Take me (I'm yours)
9/18
© Louise Pierga / Take me (I'm yours)
10/18
© Louise Pierga / Take me (I'm yours)
11/18
© Louise Pierga / Take me (I'm yours)
12/18
© Louise Pierga / Take me (I'm yours)
13/18
© Louise Pierga / Take me (I'm yours)
14/18
© Louise Pierga / Take me (I'm yours)
15/18
© Louise Pierga / Take me (I'm yours)
16/18
© Louise Pierga / Take me (I'm yours)
17/18
© Louise Pierga / Take me (I'm yours)
18/18
© Louise Pierga / Take me (I'm yours)
Pick up a piece of art and leave your own behind at Christian Boltanski and Hans Ulrich's revived interactive exhibit.
Two decades after first bewildering visitors at the Serpentine Gallery in London, Christian Boltanski and Hans Ulrich bring the innovative 'Take Me (I'm Yours)' interactive exhibit to the Musée de la Monnaie de Paris. This time, no less than 30 different major artworks are on show across several rooms, with notable contributions from Yoko Ono, Philippe Parreno, Franco Vaccari, Gilbert & George and Carsten Höller.

As in 1995, the curators have urged visitors to touch and play around with the various smaller works on display (be they items of clothing, posters or old newspaper pages) and even take them away as souvenirs, as well as leave their own personal objects behind. Although it's mostly used metro tickets and food packaging, the piling up of valueless everyday items on such a high-profile pedestal encourages visitors to ask questions like, 'What actually constitutes art?' and 'What is, or what should be, our relationship with art?' The main takeaway is here is that contemporary art thrives on account of a continuous, democratic exchange of ideas, and that it's all the more exciting for it.

TRANSLATION: HUW OLIVER.