The Art of Walt Disney Animation Studios: Movement by Nature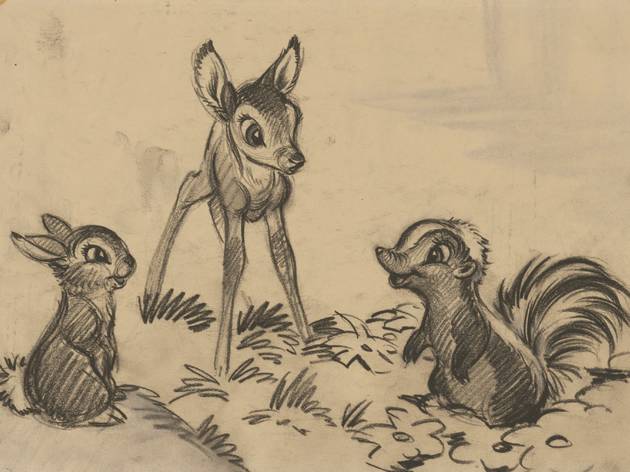 1/7
©Disney
Artiste Studio Disney, Story sketch Bambi, 1942
2/7
©Disney
Brittney Lee, Concept Art La Reine des Neiges, 2013
3/7
©Disney
Walt Disney dessinant un faon Bambi, 1942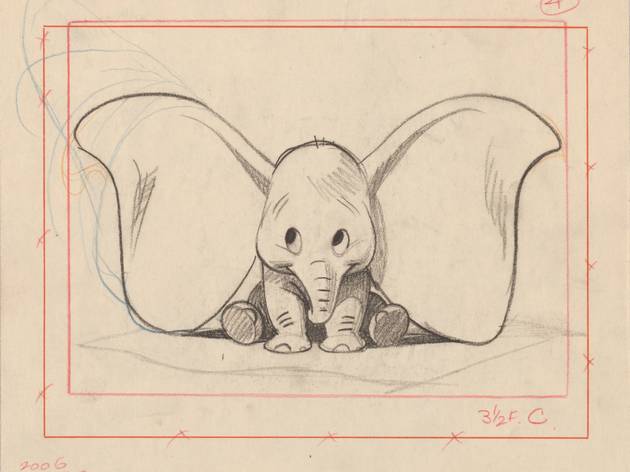 4/7
© Disney
Bill Peet, Story Sketch Dumbo, 1941
5/7
©Disney
walt Peregoy, Concept Art Les 101 Dalmatiens, 1961
6/7
© C.Gaillard
Vue de l'exposition.
7/7
© C.Gaillard
Vue de l'exposition.
A source of awe for children and a blast of nostalgia for grown-ups.
As masters of contextualisation, exhibitions at the musée Art Ludique tend to start with a presentation of work to situate the viewer. Here, it begins with the production team which laid the first stone in the creation 'Steamboat Willie' – whose inimitable whistle signalled the end of the silent (film) era. Then we descend into the wonderful world of Burbank Studios, with rudimentary sketches of Mickey Mouse and his gang, together with preparatory drawings for what eventually became 'The Snow Queen'.
Salivate over the backdrop for 'Wreck It Ralph,' (made entirely from sweets) and marvel over the 3D secrets behind Rapunzel (2010) or the Little Mermaid's hair (1989), thanks to extraordinary illustrative videos. Previously unpublished documents prove that despite technical progress adopted in recent decades, Disney has managed to preserve its naturalistic principles – by pushing its designers to observe the world so as to reconstitute realistic movements. We learn that Walt Disney and his team spent hours watching a fawn frolic to capture and imitate him in 'Bambi,' and developed scholarly and detailed calculations of a bubble bursting for the volcanic scene of 'Fantastia'.
Suddenly, we have a different perspective on the short films we watched in our infancy. Did we notice the abstract, even surrealist dimensions of Dumbo, as he is haunted by elephant ghosts after drinking contaminated water? Were we aware of the complexity of the early Disney films, like 'Snow White,' filmed with a multiplane camera? A technical feat for its time (1937), it was made possible by these visionary geniuses.
The exhibition takes care not to overlook the women and men who worked in the shadow of Walt Disney himself. The ingenuity of Disney's animated films was, and remains today, carried on the shoulders of a collective of artists. From the 'Nine Old Men' (Disney's core animators - or rather founding fathers), right up to the creation of Walt Disney Studios, it is these masters of the pen and brush who brought the tone, evolution of style and modernity we know so well. And despite stiff competition from other studios, it remains unbeatable entertainment for children and adults alike.
TRANSLATION: MEGAN CARNEGIE