Unedited History: Iran 1960-2014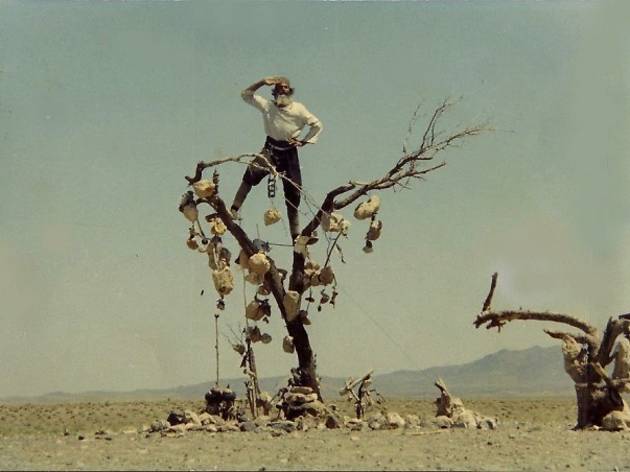 1/9
2/9
Mitra Farahani, 'D & G', 2011 / Fusain sur toile / Collection particulière / © Mitra Farahani
3/9
Narmine Sadeg, 'Homme-Oiseau', 2014 / Techniques mixtes / Collection de l'artiste/ © Narmine Sadeg
4/9
Bahman Jalali, photos de guerre, Iran 1980-1988 / Epreuve gélatino-argentique / Collection particulière
5/9
Ardeshir Mohassess, 'Jeune Afrique' Numéro 626, 1973 / Collection Groupe Jeune Afrique
6/9
Arash Hanaei, Série 'Capital', 2009 / Impression sur papier couché / Collection de l'artiste / © Arash Hanaei
7/9
Affiche du 9e Festival des Arts de Shiraz- Persepolis, 1975 / Conception graphique, Momayez
8/9
Kaveh Golestan, Sans titre (série des 'Prostituées'), 1975-1977 / Photographie / Collection Kaveh Golestan Estate, Londres
9/9
Morteza Avini, 'Haqiqat', 1980 / Vidéo / Arrêts sur image Revayat-e-Fath, Téhéran
Like a film in the early stages of post-production, rich in images yet still lacking a clear narrative arc, this exhibition approaches the last half-century of Iranian art with little regard for strict chronology – in other words, 'unedited'. As an organising principle, it insteads looks at the two defining political events of that era – the Revolution of 1979, and the war with Iraq in the '80s – and the ways in which they, and the regimes that they engendred, have shaped the country's creative media. On balance, 'Unedited History' sheds welcome light on some of the finest Iranian art of recent times, while also stepping back to raise general questions regarding the nature of state art and the role of individual expression in a highly conservative society.

While the upheavals of 1979-1988 undoubtedly put the brakes on the more modernist, subversive artistic movements of pre-revolutionary Iran, original creative expression was by no means halted outright. The photography of Bahman Jalali and the films of Kamran Shirdel speak to the enduring (and very ironic) influence of '60s American counter-culture on the Islamic Republic's propaganda, while the captivating installations by Narmine Sadeg and Chohreh Feyzdjou and the ultra-realist charcoal drawings of Mitra Farahani testify to the bravery of certain individuals in the face of state repression. Throughout, the curators point out continuities between different generations of artists, in the process sketching the outline of a distinctive Iranian creative tradition.

Open Tue-Sun 10am-6pm (until 10pm on Thurs).