The best hidden terraces in Paris
A selection of lush spots that are fairly well-kept secrets...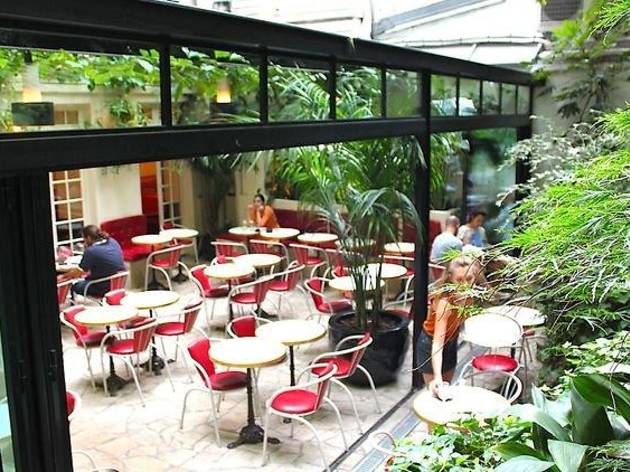 During the summer months Paris can get a little cramped...the heat and crowds have us begging for an tranquil urban oasis. Fortunately, the city is home to a few hidden terraces - from secret hotel bars to flower-filled gardens.

Here are some of the best terraces in Paris to get some headspace.
Hidden terraces in Paris
Set in the luxurious, verdant hills of the Parc des Buttes-Chaumont Pavillon Puebla is where you'll want to spend your summer. Next to the Napoleon III-era house is an enormous terrace shaded by trees. It's a popular place, but thankfully there's plenty of lounging space - large wicker chairs, cosy garden furniture or benches layered with huge cushions.
Read more
What makes La Sardine great is surely its location on Place Sainte-Marthe, Belleville's answer to a village square, with a relaxing, tree-shaded terrace and hardly any passing traffic. With a decent wine list and live music on occasion, this is one terrace that will become a sure-fire favourite this summer.
Read more
At MOB you can feast on excellent organic pizzas, take a rooftop yoga class, watch people cultivating their cabbage patches, or take in an open-air film. This immense space opened at the beginning of March and is sure to be the spot for summer. Where better to enjoy a barbecue, evening film or terrace bar? Betting you can already picture yourself on a deckchair with a fresh Aperol in hand...
Read more
Behind the walls of an 18th century convent lies the huge Café A courtyard. With cool pop-up events and a series of summer exhibitions featuring Parisian artists, it's no wonder this place gets chockablock. We advise getting here before 7pm to get a seat, especially as the garden area shuts at 10pm.
Read more
A multi-dimensional space, La Bellevilloise is enjoying some serious popularity at the moment. The charming terrace is the ideal place to have brunch (there's live jazz at some of these) or to people watch. Warning: some evenings you can hardly move for the thirtysomethings living it up like they were 20 again.
Check prices
Read more
To get into this unexpected tropical garden in the heart of the Petit Palais, you first have to get a free ticket to the permanent collection, then make your way through the first wing of the building. Once you get to the café you'll find a ravishing garden with a pond, palm trees and herbs, encircled by the interior arcades of the Petit Palais.
Read more
One of the best small concert halls in Paris, La Maroquinerie is home to Les Inrocks Indie Club nights, but there are still traces of its world music roots. In summer chirpy locals invade the shaded terrace from the heat on the streets. To boot, the food is cheap and wine sourced from across France starts at €3 a glass. Santé !
Read more
Tucked away behind the Montmartre hill, the luxurious Particulier Montmartre hotel garden is a favourite with in-the-know Parisians. This lush enclave feels more like a forest thicket than a garden, with its towering trees, wild ferns and patches of creeping ivy. The service is discreet and attentive, while the clientele is an unusual mix of well-heeled older guests and trendy youth. Fancypants.
Read more
A restaurant, bar, café, farm and vegetable garden and more...welcome to La Recyclerie, located in a former railway station on the Petite Ceinture. The terrace has a sweeping view over the old railway tracks, accompanied by an exterior bar and local allotments. Have a drink amongst the chickens for a complete countryside feeling.
Read more
Show more