Forget cheap plonk – both drinks and food here are nothing but the best. Behind the big bar of this dimly-lit dive, staff from the Experimental Cocktail Club, the Curio Parlor and Prescription have abandoned their mixers for straightforward bottles of red, white and pink. The result is a lovely, intimate wine bar, dotted with sofas and cosy corners. The wine list has more than 3,000 bottles listed, and to go with the booze, there are some first class things like burrata, prosciutto al tartufo, truffles and fine cheeses. The service is friendly if occasionally overstretched, but always ready to guide you through the menu. The clientele is varied, but always well turned out.

It's not necessarily the place for a big night out, but perfect for a civilised evening; just beware of running up quite a bill. The menu performs leaps and bounds from €6 to €80 a glass, and from €20 to €4,000 a bottle. But even if you don't have four months' rent to spare, the lower end of the selection is worth looking in to.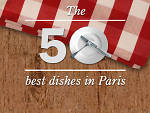 This restaurant serves one of Time Out's 50 best dishes in Paris. Click here to see the full list.