The best bars for beer in Paris
We seek out the malt of the earth among the capital's bars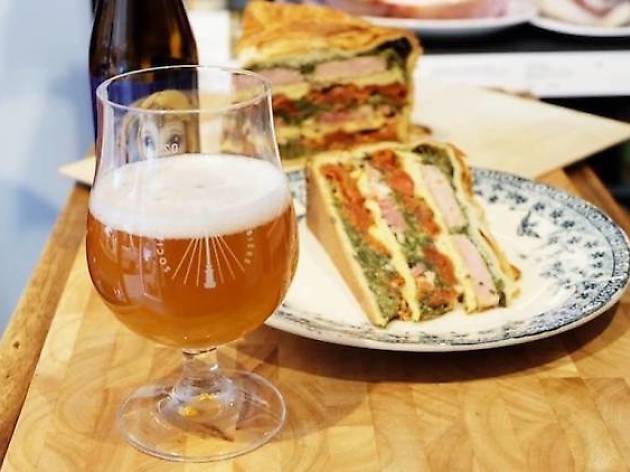 Blonde or bitter, Belgian or British, beers are in bountiful supply in Paris's bars – you just need to know where to look. We've scouted the best places in the capital to booze on brews; whether you're into black-as-night stouts or amber ales, you'll be well catered for. So load your wallet, line your stomach and hop over to one of the best beer bars in Paris. Or if you're craving the harder stuff, cast an eye over the best cocktails bars in Paris.
The top ten beer bars
1
Beer expert Fabien Nahum has been selling his Batignolles-brewed beer from this charming stonewalled shop – 'cave à bières' – in the 17th arrondissement for two years. And we're big fans.
Read more
2
Run by a team of 'bièreologues' who man the twenty or so taps, La Fine Mousse offer plethora of artisanal beers from France, Belgium, Norway and England.
Read more
3
choose between around eight brews, ranging from the moderately bitter Northmaen Blonde (€4.50 per pint) to the dark and stormy Kernel Export India Porter (€9.50). If beer is the religion at Les Trois 8, heretics are tolerated – a decent range of wines is also on offer.
Read more
4
Supercoin is all about characterful beers, rock music and having a good time – their motto is 'artisanal beers and pop culture'. You'll need more than just one night to test out everything they've got on offer, as the beer list is regularly updated­ – there are dozens of bottled varieties and some lovely surprises.
Read more
5
L'Express de Lyon's choice of beers will distract you long enough that you might miss your train from Gare de Lyon if you're not careful. The taps lining the bar bear exotic names (for Paris) of far-flung breweries – Brew Dog's Punk IPA, Craig Allan's Cuvée d'Oscar, a range of De Molens – and the fridge stocks a healthy selection of bottled beers.
Read more
6
This pub sells only the divine Belgian beverage. Drinkers here will struggle to choose between around a hundred bottled beers, or can opt for one of the ten beers on tap. Fruity, dry, light, strong, blond, amber, brown… all tastes are catered for in the international selection, though naturally Belgian breweries get above-average representation.
Read more
7
Every table at this spacious bar in Saint-Denis comes equipped with its own beer pump, meaning you can help yourself to pints and halves without even going up to the bar. Everything else is relatively normal, but rather than banter with the barman, you use a pre-paid magnetic card to get the beer flowing.
Read more
9
Hidden in a small road near the Bastille in front of Nul Bar Ailleurs, Troll Café serves 120 Belgian beer, in various forms: on tap, bottle, brown, white and amber. The choice is so vast that your best bet is to ask the bartenders for advice on choosing between, for example, bottles from Duvel, Chimay, Orval, Westmalle, Chouffe and even Ch'ti.
Read more
More great pubs in Paris
The oldest Irish pub on the left bank, and one of the three oldest in Paris. Unlike many of its blander contemporaries, Connolly's Corner could almost be mistaken for an authentic Dublin tavern.
Read more
Having fallen in love with Germany during a holiday to Berlin, the owners of this café began to import German products and traditions, creating a nice Franco-German ambiance. The success was immediate, attracting devotees of both classic Croque Monsieurs and traditional German currywurst, a German sausage in a curry sauce with crisps.
Read more
If you fancy a night out with U2, Aerosmith, AC/CD and The Clash pulsing in your ears, the Guinness Tavern in Châtelet foots the bill. This Irish pub draws a multigenerational crew whose love of rock is only surpassed by their love of Guinness and Kilkenny - a pint of which will cost you a whopping 9.50€. On the up-side, there are free concerts 'til 5am, cheesy karaoke nights and the bar's open 'til 6am, making this a coveted anglophile nightspot.
Read more
Perched the left bank hillock of Montagne Saint-Geneviève, The Bombardier is the place to come to drink stout in peace and to indulge in a bit of nostalgia for the other side of the channel. It's a great find for locals and students in search of quality beer, as long as you're OK with the decor that comes with the adjacent libraries – blackboards around the room announcing the latest sports matches, Monday night student deals and Sunday pub quizzes.
Read more
A useful address in the 5th arrondissement, where the majority of bars sport plasma screens and are filled with tourists, the Piano Vache is a relaxed student bar with a great happy hour from 6pm-9pm. Come here for the relaxed atmosphere and the regular programme of themed nights: Monday is live jazz manouche, Tuesday '80s night, Wednesday is Goth, Thursday 'after work', and Friday and Saturday rock, punk and pop.
Read more
A genial Marais bar with big windows that look out on to the street. Pushing open the door, you discover a bar full of ex-pats and Marais regulars all bundled together in an incomprehensible brouhaha. For Brits in search of a good beer selection this is a real find, with a long menu of imported bottles complemented by affordable house cocktails during happy hour.
Read more
Among the many bars strewn around here, we particularly like Teddy's for its choice of beers and cocktails, its interminable happy hours (from 3.30pm til 8pm) and for its welcoming, low-key atmosphere. It's good to curl up in the sofas and have one's back tickled by the leopard-skin-covered walls while sipping the beer of the month, be it a cold Bavaroise or a Trappist Belgian variety.
Read more
Since 1964, L'Académie de la Bière has been serving good beer with generous mains throughout the day and until late at night. No need for embellished décor or posh crockery here - it's rough, simple and efficient. But there's one thing they don't scrimp on: the way they serve beer.
Read more
Show more
OUR FAVOURITE PUBS IN PARIS – THE FULL LIST
Boozing on a budget?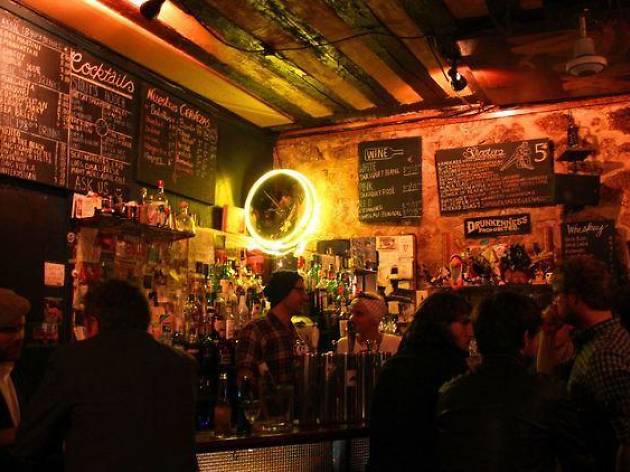 Drinking on a budget in Paris is no mean feat. But among the city's plush wine bars and speakeasies, are some miraculously cheap watering holes.
Read more