Adèle Exarchopoulos interview: 'Sex is an important force in life'
Tabloid controversy, explicit sex, awards glory. Time Out meets Adèle Exarchopoulos, the 19-year-old lead in a bubbling French scandale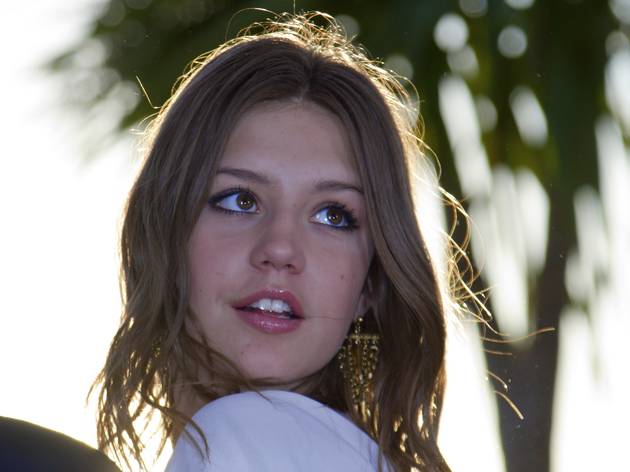 They hadn't starred in a Palme d'Or-winning film such as '
Blue Is the Warmest Colour
', that's for sure. It's an explicit portrait of two young women falling in love. Back in May at the Cannes Film Festival, jury president Steven Spielberg decided to split the coveted Palme three ways, awarding it jointly to Exarchopoulos and her onscreen lover, 28-year-old Léa Seydoux, as well as the film's director Abdellatif Kechiche ('
Couscous
').
Outrage followed when Seydoux and Exarchopoulos suggested they had been exploited during several weeks of explicit sex scenes. The director hit back, saying he was 'humiliated'. As if that weren't enough, the author of the graphic novel on which the film is based, Julie Maroh, accused all three of colluding in a straight fantasy of what lesbian sex might be…
We caught up with Exarchopoulos to find out what it's like to be a teenager at the centre of such an extraordinary storm.
Did you get to know Léa Seydoux before shooting the intimate lesbian sex scenes in 'Blue Is the Warmest Colour'?
'We met twice before the shoot, but quickly. Then our first scene was a sex scene. So it was like, "Hey! You're naked, me too! Weird." But it was like a game, and like having a crush on her, a friend-crush. We had a strong relationship. We shared so much and I learned a lot from her. But she never gave me advice; I just watched her work.'
Were you already a fan of the director Abdellatif Kechiche before you first met him?
'Yes, he's one of the greatest, most famous directors in France, and I love the trance-like feeling that you get with his cinema. I love how he starts from a simple story and builds something powerful, and I love the way he does justice to women in his movies. It's always intimidating meeting someone when you like their movies. You don't want to be like, "Hey, I like your movies!" You want to be more deep! He doesn't speak a lot. We went for coffee, and sometimes we talked, sometimes we didn't. He's very spiritual and likes to take time to think. Then I read the comic [graphic novel 'Le Bleu est Une Couleur Chaude'], and one day they told me, "It's you."'
What do you say to people who think the film is a male fantasy of sex between women?

'Even the author of the comic has suggested that. It's not. We decided to treat those sex scenes like any other, like scenes where we're eating or talking; the important thing was to be natural. It's organic between these two girls, it's natural, and sex is an important force in life. I think viewers have to understand this. The comic has these scenes, and I loved the comic, and I trusted Abdellatif.'
But both you and Seydoux have said that you hated making the film. Were those reports correct?
'What we said was true but, come on, it's art. We were suffering on this movie for art. We were exhausted because there were so many takes. You talk with a journalist for a long time and they take a selection of what you say and choose what to use and where to put it, and people took only the negative things we said.
'But I regret nothing. Abdellatif has his own complexity, like any genius, like Stanley Kubrick or Francis Ford Coppola. He likes to work in that moment when you're exhausted. He shoots many, many takes. He can do 97 takes, 100 takes, whatever. He wants to see your soul. He wants you to abandon yourself, to lose yourself.
'It was hard sometimes, the way he insisted. But we learned a lot. It was not conventional. I had a lot of freedom, and I improvised a lot. This is the best movie I've made.'
The film has an 18 certificate in the UK. Which is a shame when you consider how powerful it could be for teenagers struggling with their sexuality, no?
'I agree. It's important for young people to see this movie. We forget that it's two women; that doesn't matter. But I think many Americans find it scary and fascinating and disturbing. It's weird, but I can understand that they're not used to it. I hope people can open their minds when they see this movie.
'Even Steven Spielberg – who made, you know, "ET"! – told us after he gave us the prize, "I am planning to show this movie to my child." He said it was the best love story he's ever seen.'
'Blue Is the Warmest Colour' is on general release under its French title 'La Vie d'Adèle'
Read our review of 'Blue Is the Warmest Colour'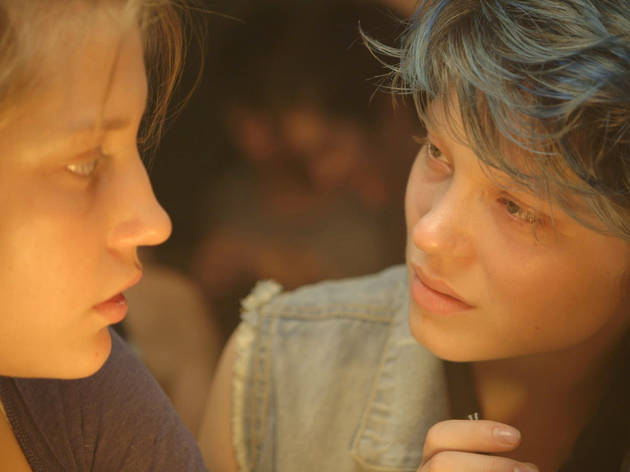 'Blue Is the Warmest Colour' is a minutely detailed, searingly erotic three-hour study of first lesbian love. Its writer-director, the French-Tunisian Abdellatif Kechiche, had a setback with his last film, 2010's 'Black Venus'. An imposing biopic of the nineteenth-century South African slave-turned-freakshow-act Saartjie Baartman, it proved too harrowing...
Read the full review
More to explore