Andrew Garfield interview: 'Jesus did some really sick stuff'
The bouncy Brit actor behind the mask in 'The Amazing Spider-Man 2' has done some serious thinking about his character – even comparing him to the Son of God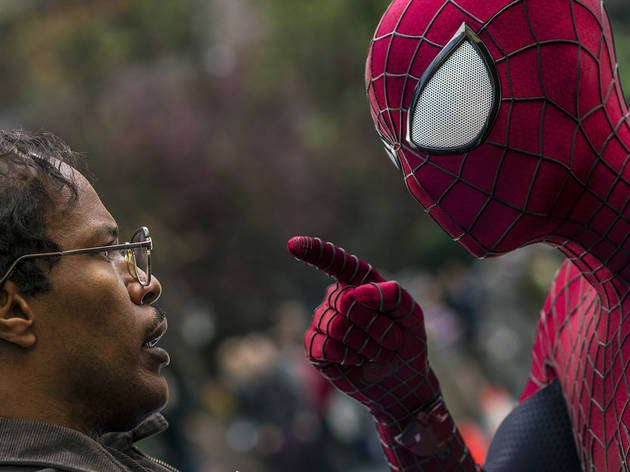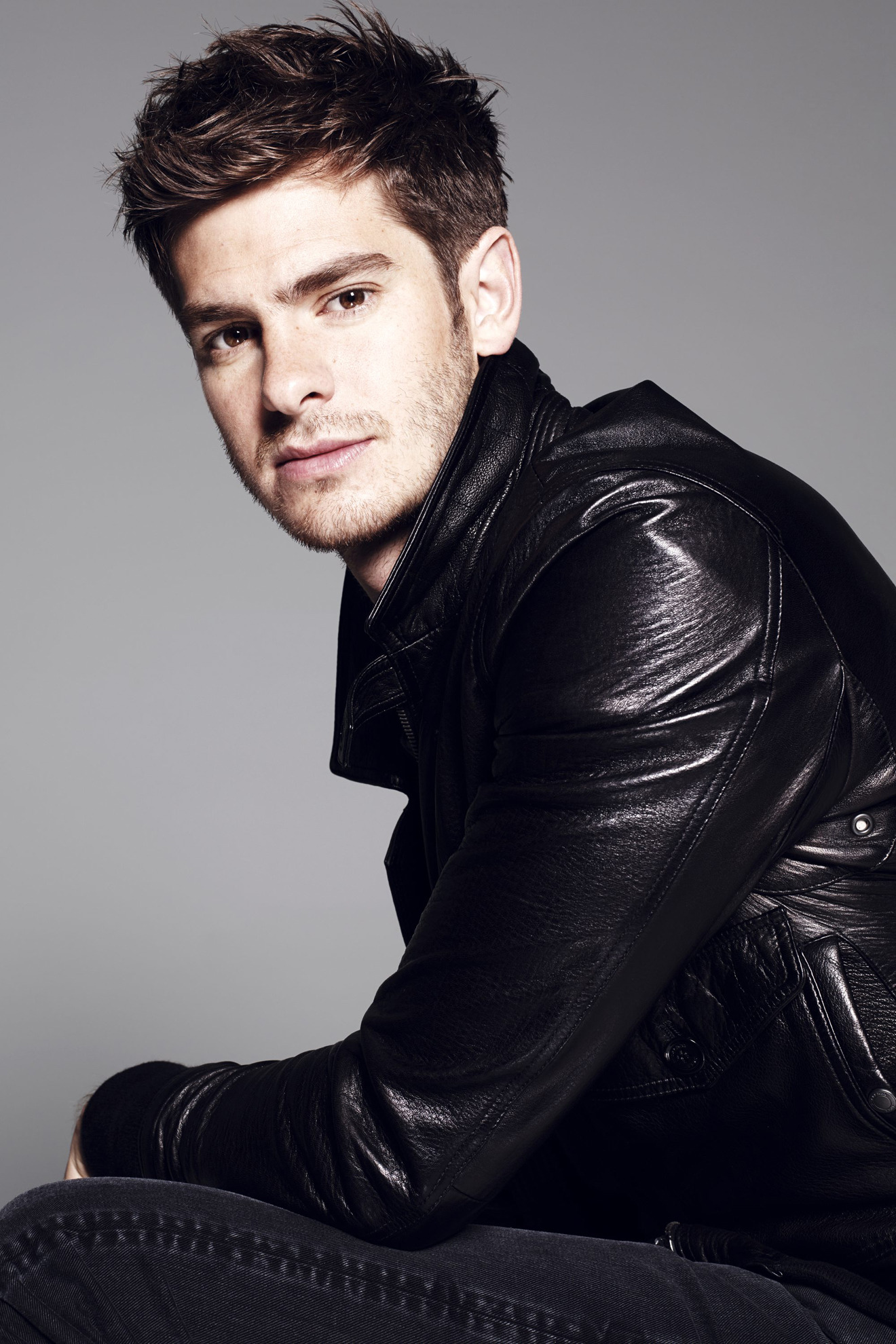 © Paola Kudacki

In 2012, on the eve of 'The Amazing Spider-Man' opening in cinemas, Andrew Garfield looked like a kid about to have root-canal surgery. Which is less enthusiasm than you'd expect from an actor on the brink of becoming the superstar face of a Hollywood mega-franchise. It turns out Garfield was seriously freaked out by all the attention: the life-changing, no-going-back-ness of being famous.

Two years later, squeezing back into costume for 'The Amazing Spider-Man 2', the actor from Surrey is as protective of his privacy as ever – he's still not answering questions about his real-life girlfriend Emma Stone (who plays Peter Parker's ladylove Gwen Stacy in the series). But this time he's relaxed and smiling. Now 30 ('Am I a young man still? Or can I just say "man"?'), he seems to have shed a little of the self-doubt and has mellowed, though he still brings that jumpy-little-brother energy to Spidey.

'I actually had more confidence for the second film because Spider-Man is more confident,' he says thoughtfully. 'When Peter puts on the spandex he gets to save people's lives. When he's just Peter, he's got to deal with just being Peter. It's the same with me. When I'm not being creative and acting, I have to deal with myself and I go a bit crazy.'

As for fame, Garfield is just glad it came in his late twenties. 'If I'd had these opportunities when I was younger, I would have been Justin Bieber,' he says. 'If you are a 16-year-old kid and you can do whatever the fuck you want, you're making trillions of dollars and you have a leopard-print Ferrari, it's not healthy. If I was going through what I'm going through now when I was 16, I might have ended up in jail.'

With the second instalment of the arachnoid blockbuster under his belt, Garfield is maturing into something of an expert on the character, as he proved when we quizzed him on all things Spider-Man. But how many more Spidey movies has he got left in him? 'I can only do ten. No, seriously, I signed up to do three. Never say never. But I don't want to be a 50-year-old in spandex.'

You've wanted to be Spider-Man since you were a kid. What's the most surprising thing you've learned about him along the way?
'That being Spider-Man is a hassle. It looks cool. But when you actually have to save New York City, it's knackering. And inevitably you can't save everyone. People get badly hurt. People die. That's a lot to deal with. It's a crazy responsibility. It's a tough calling for Peter Parker.'

Is Spider-Man's problem that he's not a knucklehead? That he's too sensitive?
'Yeah. He's not a simple dude. He can't just switch off. Peter Parker takes his work home. He is really thoughtful, compassionate and caring. He never feels like he's doing enough. He's like my brother. My brother is a doctor. He takes his work home when he feels like he could have done more. That's a real hero.'

In a 1965 survey, college kids picked Spider-Man as their favourite revolutionary, alongside Che Guevara, Jesus and Bob Dylan. One guy back then said he liked Spider-Man because he's got money troubles and girl problems. Is that still why we like him – because he's like us?
'Wicked. That is the coolest thing ever. Yes, he's just a 19-year-old kid who's struggling. He's an everyman and that's what I've always loved about him. Peter Parker's destiny is to be Spider-Man, but he ums and ahs about it till the cows come home.'

So is he a revolutionary?
'Yes. In the sense he's protecting the underdog. He's not a shallow guy, he's a deep, soulful individual who really wants to live right.'

And just like Jesus, they are out to get him.
'I don't mind the Jesus parallel for Spider-Man. Like Jesus he is misunderstood. Jesus is an awesome guy. Whether he was real or fake, he did some really sick stuff. When Pontius Pilate said: "They say you're the Son of God. If you're the Son of God, tell me," Jesus was like: "I know who I am bitch." I don't know if he said "bitch". Maybe he didn't curse up Pontius Pilate. But that was a cool thing.

'Peter is not that evolved. Peter wants to tell the world he's a good guy: "Like me: I'm a good guy." Because he's a kid. He's a kid struggling with being misunderstood. We've all been misunderstood. That's universal too. I like being Peter.'

Does being a nerd make Spider-Man a better superhero?
'Back in the day, being a nerd meant you were an outcast. You weren't going to get the girl. You got a wedgie and got called names. Now the nerd is a billionaire who can have sex with anyone he wants. Nerds are running the world. They finally won. It's a cool thing. But what I think makes Spider-Man a better superhero is his compassion and his sensitivity. Being an underdog himself he wants to protect the underdog. He's protecting a part of himself - the five-year-old boy inside that got bullied in the playground.'

You were bullied at school. What did Spider-Man mean to you as a kid?
'It wasn't crazy-abusive, just one guy in the playground wanting to pick on someone and seeing the super-skinny, sensitive kid and wanting to hurt him. Weirdly, I'm grateful for the bullying I experienced. Being a skinny, sensitive kid – and being a skinny, sensitive young man – means that I found acting.'

And the boy who bullied you gets to see you having the last laugh.
'Yeah, I'm not going to say his name, but he knows who he is.'

Is Spider-Man the most human of the superheroes?
'It would be much easier if he was a life-saving robot. The fact is he suffers from self-doubt, which is not useful when you're about to save someone's life. You don't want a surgeon operating on an open heart with his hands shaking. He ums and ahs because he's neurotic. He's Jewish. That's a defining feature. I hope Jewish people won't mind me raising the cliché, because my father's Jewish. I have that in me for sure. So he's a neurotic. He's an over-thinker. That is why I love him.'

What's at stake for Spider-Man in this film?
'His life, whether or not he can be with Gwen, because of the promise he made to her dad to stay away. It's a pretty difficult thing to fight a promise you made to a dead man, no matter what your heart or any other part of your body wants. That's a male joke. That part has a mind of own. But seriously, what's at stake is whether Peter can have his own life, whether he has to sacrifice Gwen.'

We get more daddy issues in the new film. There's Peter, of course, and now Harry Osborn, son of the Osborn Corp boss. Should they call in the psychiatrist rather than the big guns to sort this lot out?
'A good dose of therapy would be beneficial to Spider-Man for sure. But I don't know of any father-and-son relationship that hasn't struggled. Fathers do really have an ability to mess up their sons. And this story is a really good example. It's a cautionary tale for dads.

'You know, when I become a dad, as soon as my child is born I'll have messed up. There is an imperfection in being human that we have to accept. As the child you've got to learn to get over it, become you're your own person. You can't keep blaming your mum and dad. It's a tough road for young people. It definitely was for me.'

Which London building would you most like to climb?
'I love Big Ben. It's a pretty clock.'

How does Peter Parker get in and out of his spandex so quickly?
'The three-second costume change is bullshit. We're selling you a false dream. When we were making the first movie, I wanted to do a silly little short film, which would depict me taking 15, 20 minutes to get into the suit, with the help of three people and a giant shoehorn.'

Which superhero would you like to see Spidey hook up with, 'Batman v Superman' style?
'I like Mark Ruffalo, so I'm going to say the Hulk. I thought what he did with that part was so cool in "The Avengers".'

Which other blockbuster are you most looking forward to seeing this summer?
'"Godzilla". I saw the trailer in front of "Gravity" at the Imax in Australia. Literally, it looks like the greatest film ever made. I can't stop thinking about it.'

They've just announced a Bananaman movie. You scared?
'Terrified. "Bananaman" is going to be the most lucrative superhero franchise. Ever. "Bananaman" is going to blow "The Avengers" and that Katniss Everdeen girl out of the water!'

'The Amazing Spider-Man 2' is on general release in Paris.
Watch the 'The Amazing Spider-Man 2' trailer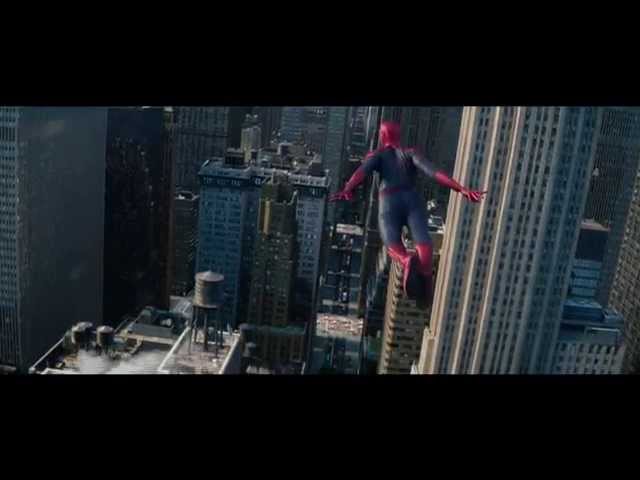 Read 'The Amazing Spider-Man 2' review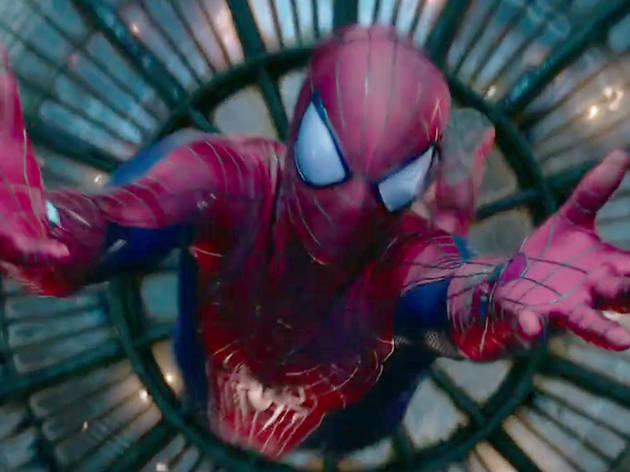 Film, Action and adventure
Garfield aims for dorky and loveable but comes close to smug; Emma Stone, as his squeeze Gwen, gets too little to do; the big action sequences are perfunctory, confusing and too infrequent. Those who made the first movie such a huge success will doubtless find much to enjoy here, while others will find themselves longing for the boldness, scope and wit of 'The Avengers'.
See the full 'The Amazing Spider-Man 2' review