The 2014 Oscars: ten things we learnt
'Gravity' wins big, '12 Years a Slave' takes Best Picture and J-Law trips (again)… all the night's highlights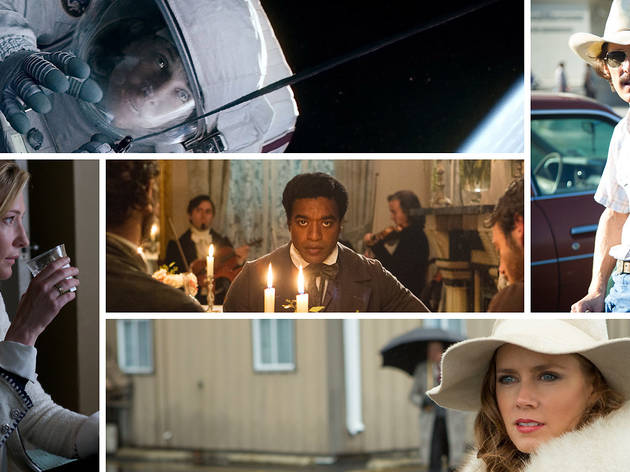 The months of speculation are over, the speeches have been and gone, the parties have ended (though we'll never know with that Jared Leto guy). What went down at last night's Academy Awards?
We're talking about '
12 Years a Slave
', last night's Best Picture winner, a heavyweight movie that many wanted to see win, but fretted that the Academy would overlook. For much of the evening it looked like the British slavery drama would walk away empty-handed, but in the end it took home the night's biggest prize. Steve McQueen (the first black director of a Best Picture winner and the first man called Steve McQueen to win an Oscar) dedicated his win to people living in slavery today: 'Everyone deserves not just to survive, but to live.' Bravo!
No big surprises in the acting categories. But the winners' non-Gwynnie moments on the podium were worth it. Best Supporting Actor Jared Leto thanked his mother (sitting in the audience) who raised him on her own, while Best Actress Cate Blanchett gave a shout out to Woody Allen – scandal be damned. Lupita Nyong'o provided the night's most heart-warming speech, with a lovely dedication to director Steve McQueen: 'Thank you so much for putting me in this position. It is the joy of my life.' And ever the dude, Matthew McConaughey managed to deliver the message of striving to be your own hero in a way that wasn't smug or arrogant. How'd he do that?
After last year's Seth MacFarlane-presenting-debacle, all eyes were on host Ellen DeGeneres. There was masses of goodwill in the starry crowd and Ellen's serene confidence lifted her shtick to effective hosting. Clearly, producers wanted her out in the crowd, even sending in a pizza delivery guy (a real one, not an actor) to feed the A-listers – Martin Scorsese and Jonah Hill included. The gimmick didn't quite make the celebs look human (does it ever?), so much as make you wonder: how long has it been since Harrison Ford enjoyed a slice?
David O Russell's explosively entertaining crime comedy seduced the Academy with an impressive ten nominations, but now joins the frustrated company of '
Gangs of New York
' and the Coen brothers' '
True Grit
' by losing all ten of its bids. Not even Hollywood's sweetheart Jennifer Lawrence made good on her Best Supporting Actress nomination, pipped by Lupita Nyong'o for '12 Years a Slave'. None of which reflects so badly on '
American Hustle
' (that's a ton of noms), but it looks like most voters saw it as merely a one-night stand.
The biggest upset of the night came when Spike Jonze's '
Her
' script won the Original Screenplay award (an easy win for 'American Hustle', assumed the pundits). The easy-going writer-director thanked the Academy for recognising his movie's intimacy, and elswehere Karen O tenderly performed the film's Oscar-nominated track 'The Moon Song' to a simple guitar accompaniment – creating the most emo moment in Oscar history.
It was adorable when Jennifer Lawrence tripped over her Dior frock collecting Best Actress for '
Silver Linings Playbook
' last year. But when she tripped over a traffic cone, pre-show, on the red carpet… again… really? Cue some gentle mocking from host Ellen, which, to be fair, had J-Law in stitches, rolling with a few laughs at her own expense.
Winning seven of its ten nominations, including Best Director for Alfonso Cuarón, the space adventure's triumph probably tells us something about changes in the Academy: voters are younger and many of them are technical whizzes. (Consider the mere four nominations for '
2001: A Space Odyssey
' in 1968, which only collected one award for visual effects.) The fact that '
Gravity
' didn't quite seal the deal, losing Best Picture to '12 Years a Slave', might have a lot to do with the fact that the acting branch dominates the Academy.
Don't they always? The Twitterverse launched into disapproval almost immediately – no Dennis Farina or Cory Monteith? This year's rather elegant tribute paid homage to James Gandolfini, Peter O'Toole, the critic Roger Ebert and of course Philip Seymour Hoffman. It was followed by a brassy version of 'Wind Beneath My Wings', belted by Bette Midler herself. Depending on where you stand on '
Beaches
', that either utterly spoiled the moment, or reduced you to a teary mess on the sofa.
After 25 minutes, only one award had been bestowed. Lengthy segments were devoted to 'Hollywood heroes': action stars, animated characters and dramatic powerhouses of yesteryear. As if all of this wasn't infuriating enough, Pink sang a version of 'Somewhere Over the Rainbow'
without
being suspended in the air, Cirque du Soleil-style. How does that even qualify as a proper Pink performance? (If you're wondering why, it was the seventy-fifth anniversary of '
The Wizard of Oz
'.)
On a night where everything can feel scripted to the last full-stop, we love an unrehearsed moment. Bill Murray pumped his fist and flew to his feet when singer Darlene Love burst into some bluesy verses while accepting Best Documentary for the backing-singers tribute '
Twenty Feet from Stardom
'. (Later, while reading off the cinematography nominees, Murray shoehorned in an unscripted mention of his colleague Harold Ramis, who died last week.) And best of all, director Steve McQueen, ordinarily a serious, straight-talking character, could be seen arms over his head, jumping up and down for joy, after he and producer Brad Pitt accepted Best Picture for '12 Years a Slave'. Go ahead, Steve, you earned it.