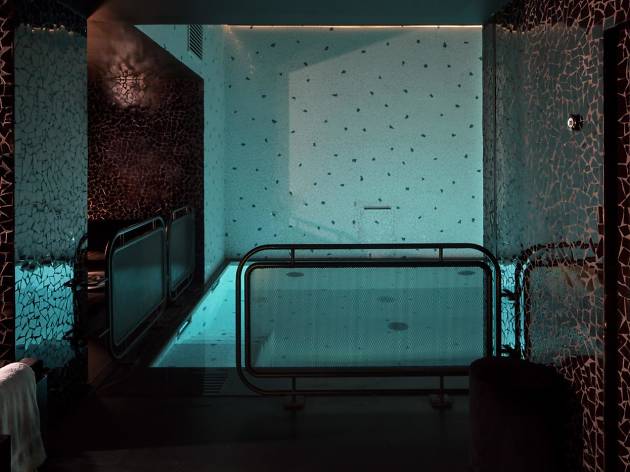 Time Out says
Friendly warning! We're working hard to be accurate. But these are unusual times, so please check that venues remain open.
Delicious bespoke cocktails in the legendary former bathhouse turned nightclub turned luxury hotel.
Located on the tiny Rue du Bourg-l'Abbé in the 3rd arrondissement, Les Bains has a long and illustrious history. First opened by the Guerbois family in 1885, it was originally a bathhouse catering to la crème de la crème of Parisian society, including Marcel Proust. In the '80s and '90s, it was a famously debauched nightclub, frequented by the likes of Sean Penn and Grace Jones. The venue fell out of fashion (and into disrepair) in the early 2000's, playing host to delightfully seedy gay socials before its forced closure due to fire hazards. Reopened in early 2015, in its latest incarnation Les Bains is a luxury hotel, club and spa.
We dropped in on a weeknight to test the bar, a cavernous space flanked by glassed-in courtyards with lacquered crimson moulding and columns. It has a dazzling and almost otherworldly ambience. When we asked the elegant, moustachioed barman for a menu, he answered, without a beat, 'I'm the menu'. Aside from basking in the place's general splendour, this is the real reason to come: 'bespoke' cocktails. The bartenders are career mixologists, creating strange and wondrous tailor-made concoctions that incorporate your preferred liquors and flavours (fruity, minty, milky, sour, or whatever strikes your fancy).
The three drinks we tried were all so excellent that we'd be hard pressed to choose a favourite. The first – made with fresh, crushed grapes, lemon, basil, sugar and Pisco (a Peruvian wine brandy) – was brisk and bitter, tasting of grape seeds. The second was a friskier mixture of fresh pear juice, coriander, lemon, ginger beer and fennel-infused vodka. The last and most exotic of the three was soft and luscious on the palate: a purée of banana flambé infused with Tahitian vanilla, Jamaican rum, Lebanese pomegranate molasses and agar (a sweet jelly substance extracted from red algae). The best cocktails in recent memory came at a steep price (expect around €15 per drink). It's no surprise then that the clientele seemed to be mostly older businessmen. The website promises that Les Bains are 'as before, better than before', and indeed, the establishment is just what the aristocratic Guerbois family intended: a resplendent haven for Paris's privileged elites.
Details