Heads up! We're working hard to be accurate – but these are unusual times, so please always check before heading out.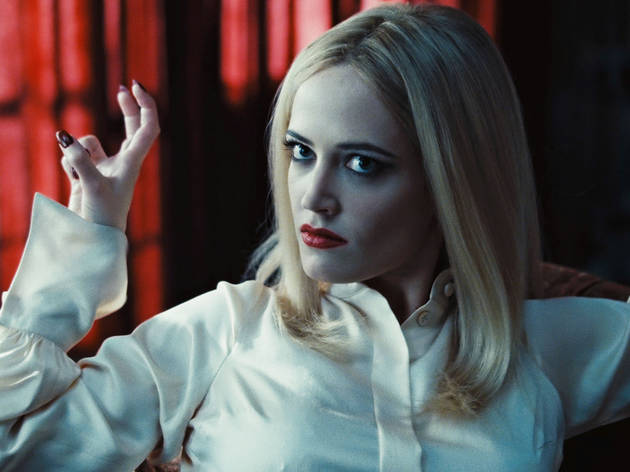 Interview: Eva Green
The Dark Shadows villainess goes for broke (literally) in her latest role.
If bloodsucker fiction has taught us anything past the perils of stakes and sunlight, it's that loving a vampire isn't easy. But at least Mina Murray and Bella Swan have their ebbing and flowing affections reciprocated; for handmaiden-enchantress Angelique Bouchard, the fervour she feels for the roguishly charming Barnabas Collins is continually rebuffed. Her frustrated passions lead this witchy woman to curse the aloof aristocrat with his creature-of-the-night proclivities, and the duo's eras-spanning antagonism was a big draw for viewers of the beloved '60s soap opera 'Dark Shadows'. It's also one of the strongest elements in Tim Burton's tragicomic big-screen adaptation, thanks to ever-beguiling Bertolucci muse and Bond girl Eva Green.

"I kind of decided to create my own character," says the actor, 31, when reached by phone in Los Angeles. "I didn't know anything about the television series because it never came out in France. So Tim and I worked together to build Angelique. The challenge was to not make her a cartoon baddie, and to bring as much humanity as possible to what is kind of a bonkers role."

At first, this Angelique seems the epitome of the busty chambermaid ("so perfect, very Barbie looking," says Green) who has a broom-closet tumble or two with the pre-vampire Barnabas (Johnny Depp) before casting her deadly spell. But she proves a much more formidable opponent after the story jumps ahead two centuries to the 1970s, where the porcelain sex kitten has remade herself as a titan of industry, even as her heart still yearns.

"What really inspired me was Tim's recent exhibition in New York and L.A.," notes Green when asked about the character's delicate intelligence and allure. "Seeing all of his drawings of crazy, extreme individuals that are still very poetic, beautiful and sensitive. I actually reminded Tim of one of his pictures in which a character literally gives their heart to a loved one, and that's where we got the idea that Angelique would do the same with Barnabas. She's a damaged person with many colours, and there's a reason for her behaviour."

Angelique's ardent desire is explicitly expressed in an F/X-heavy sequence in which she stumbles around and breaks apart like a cruelly tossed-aside china doll. This is a rare case when the ones and zeros enhance emotion rather than squash it, in large part due to Green's lunatic zeal. Her Angelique is less reminiscent of Lara Parker's smitten sorceress from the original TV series than it is of the enthrallingly deranged and nakedly revealing work of Green's idol Isabelle Adjani.

"I am a great admirer of Adjani's, though I didn't think of her during filming-except maybe subconsciously," observes Green. "She certainly gave her guts to the work and played very extreme, very passionate women who, like Angelique, will do anything for love. Towards the end of 'Dark Shadows', the sets are cracking and bleeding, but so is Angelique. The fact that she breaks apart physically as well as mentally lends an added dimension, and I just loved playing that."

And what of Green's fondness for playing similarly complicated protagonists in other fantasy features like 'Womb' and 'Perfect Sense'? "It's true that I'm drawn to unusual stories," she says tentatively. "Normal roles don't really attract me. But I think I should play somebody more down-to-earth very soon. Otherwise, I might be put into a box. I give everything to my work, and I like complex roles, characters that aren't obvious. I've been very lucky so far, and I'm dreaming of working with directors like Jane Campion, Susanne Bier and the Dardennes." She pauses before adding, "But the gods will decide."
Click here to read our review of Dark Shadows.