Heads up! We're working hard to be accurate – but these are unusual times, so please always check before heading out.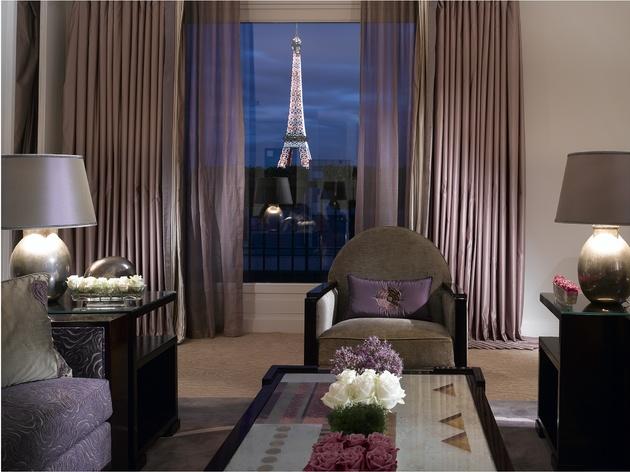 1/13
Click on the arrows above to start exploring the best of the boutique, design, luxury and simply wacky accommodation options Paris has to offer. Above: Eiffel suite at La Plaza AthénéePhoto credit: Richard Bryant/arcaid.co.uk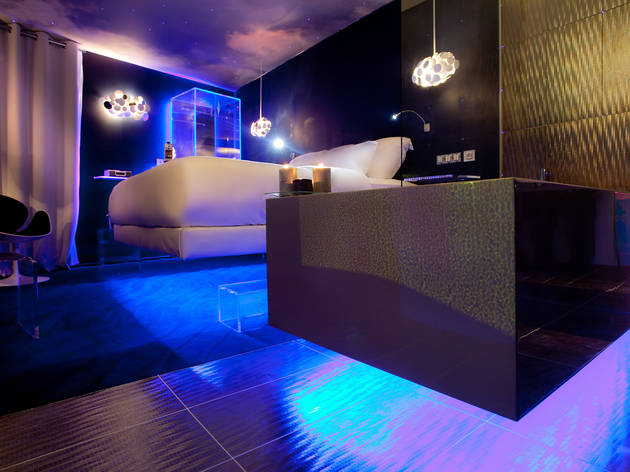 2/13
Seven rooms, seven self-contained worlds, each odder than the last. From the all-white, silk-draped, feather-frilled, circular-levitating-bed playgirl palace of the Sublime suite, to the frankly freaky Alice suite (as in Wonderland, though Lewis Carroll never sanctioned 10 psychedelic lighting settings and two toilets sharing an outsized chessboard), this is definitely one for the adventurous. Perhaps our favourite, though, is Levitation Absolue – yes, that's a levitating bed, plus fibre optic displays and a transparent shower. Let your imagination do the rest.For more info click here.Photo credit: Serge Ramelli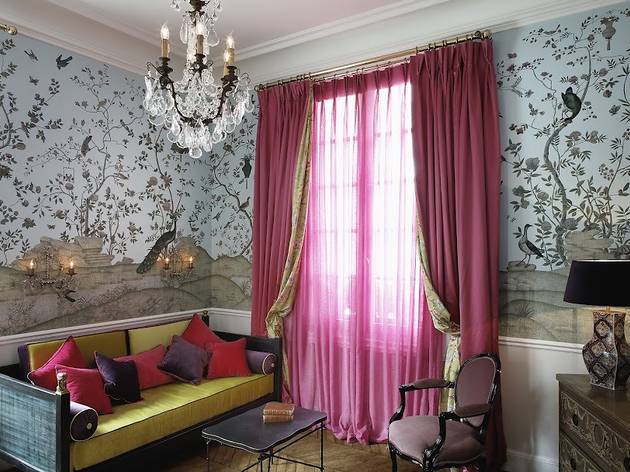 3/13
Formerly the site of the world's first a hot-air balloon airfield, this bourgeois mansion set in private gardens in the centre of Paris has been flamboyantly reimagined as the ultra-luxurious and eclectic Saint James. The enterprise doesn't just stop at hotel rooms, either – instead, head straight for one of their self-contained three-floor pavilions. Couples on a romantic escapade will want to hole up indefinitely in the 'Love Pavilion', with its private spa, hammam and massage tables. If you ever come up for air, don't miss the hotel's terrace, complete with extraordinary hot-air balloon domes sheltering the designer-clad guests.For more info, click here.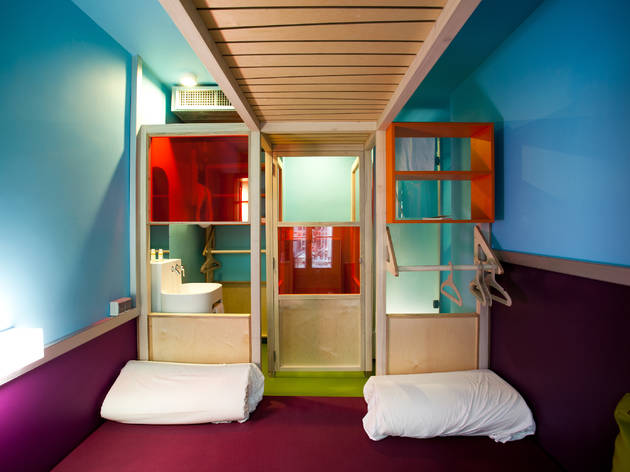 4/13
Hi Life's exclusive ecological concept hotels – their other select branches are in Nice, Tunisia and Ibiza – subtly rethink hotel rooms as something more akin to a South American cabaña, a little self-contained island of peace. What this means in Paris is a clean, colourful and compact space that recalls a kid's bunk room – but instead of a ladder and reading under the covers by torchlight, the rooms feature a platform bed with a shape memory mattress, which doubles as a sofa during the day, and lots of multifunctional tricks to maximise the space. A designer's delight.For more info, click here. Photo credit: Simon Bouisson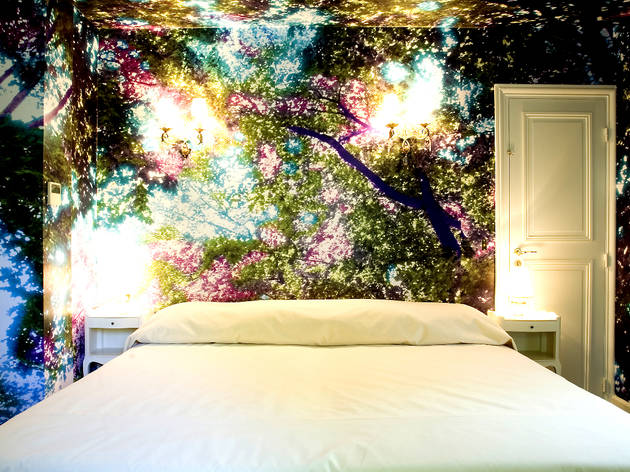 5/13
Each of the five luxurious suites at the Hôtel Particulier has a distinct personality, thanks to avant-garde designer Morgane Rousseau. We love the Chambre Végétale, whose distinctive wallpaper creates the impression of being in a sun-dappled woodland hideaway, and mirrors the play of light through the leaves of the trees beyond the window. In a secluded corner of Montmartre, this might be as close as you can get to a sense of rural peace in the heart of Paris. For more info, click here.  Photo credit: Sylvia Galmot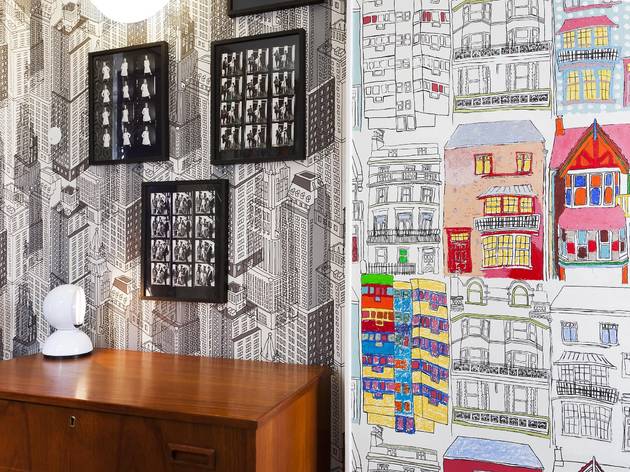 6/13
Think an 'art hotel' is one with soothing paintings on the walls? Think again. The Hôtel Crayon is a place to sleep, but also an artist's residence for Julie Gauthron and Christophe Sauvage, who have personalised each of the 27 rooms with finds gleaned from flea markets and antique shops. The hotel celebrates creativity in other ways, too – like on the walls of the Exquise Exquisse room. If you look closely, a team of budding artists – otherwise known as Gauthron's young children – has painstakingly coloured in their pattern of hand-drawn town houses.For more info, click here.Copyright: Jacques Lebar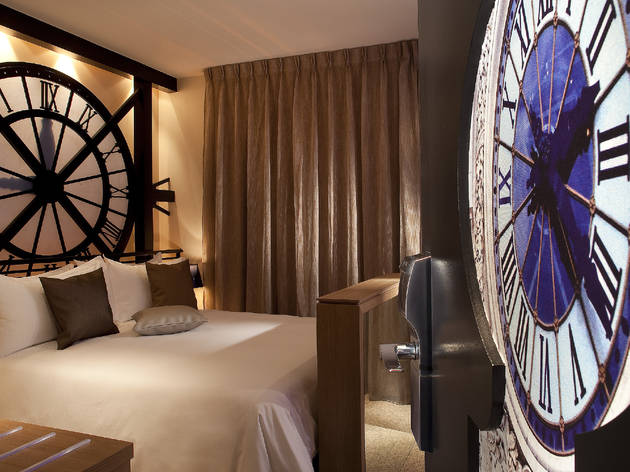 7/13
Got the 'I heart Paris' mug, t-shirt, baseball cap and tote bag? Your image as the perfect Paris tourist still has a long way to go. How about checking into one of the rooms at the 'design' Hôtel Secret, each flamboyantly themed around a different cliché, sorry, classic Parisian experience? You can scintillate in the Eiffel Tower room, do the can-can in the Moulin Rouge room, or just feel a little disoriented by the giant clock in the Musée d'Orsay room.For more info, click here.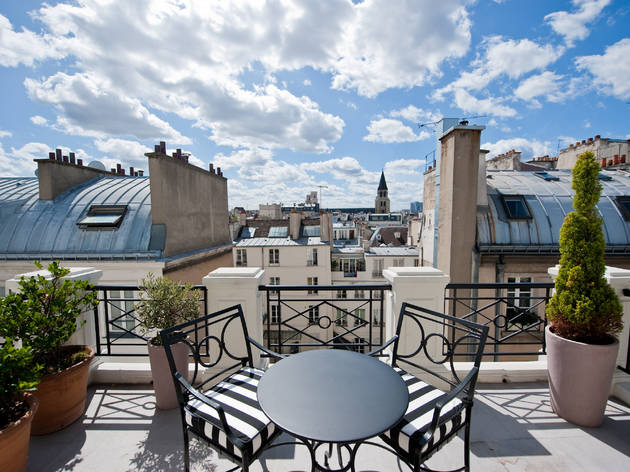 8/13
L'Hôtel has long been famous as the final resting place of Oscar Wilde, who keeled over here in 1900, but since then it's had a sumptuous makeover by renowned designer Jacques Garcia. Inlaid furniture, silky wall hangings, claw-footed baths and ruched drapes abound, but those with the cash will surely head straight for the penthouse apartment suite – whether Oscar stayed here or not, the private terrace is just the spot to look out over the roofs of St-Germain and ponder the legacy of starving artists passed.For more info click here.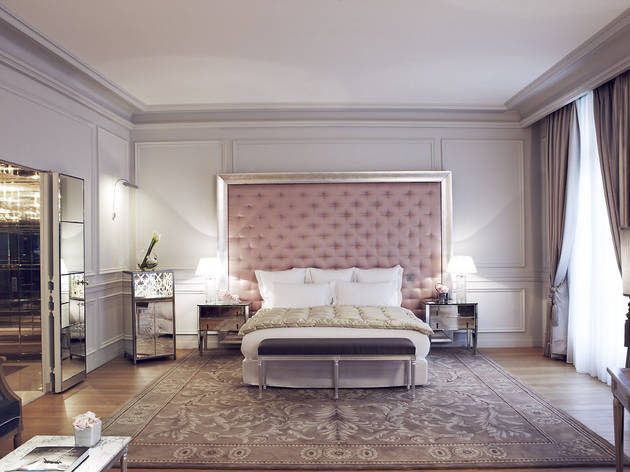 9/13
Reception room, dining room, bathroom, hammam, rain shower, walk-in closet, kitchen, private gym, private lift, private entrance. The list of amenities in the Presidential suite at Le Royal Monceau – Raffles Paris reads – and is priced like – a fully-fledged fantasy Parisian apartment. It takes a very special sort of luxury hotel to be able to top off this 350 square metre palace (courtyard views, Phillippe Starck furniture) in style, but never fear – for poets and rock stars everywhere, the suite comes with an acoustic guitar as standard.For more info click here.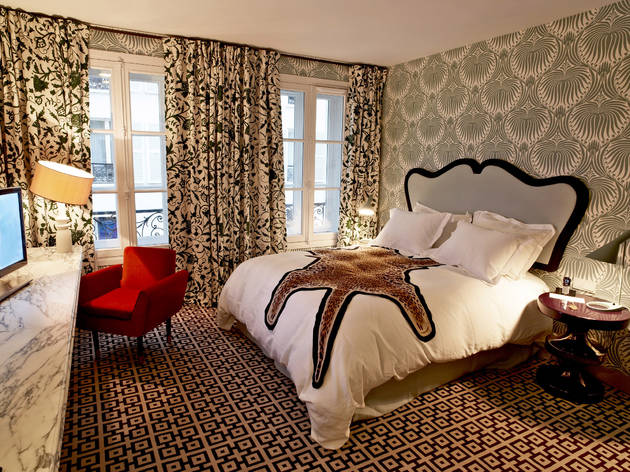 10/13
Hotelier Thierry Costes's painstakingly crafted temple of style – its interiors conceptualised to within an inch of their lives by avant-garde design darling India Mahdavi – is the boutique hotel to end all boutique hotels. It's a bit like a French country cottage, if that cottage was a croissant's throw from the Eiffel Tower and came complete with tiger-skin throws, custom wallpaper and complimentary iPads. Throw in the highly-regarded Brasserie Thoumieux and Restaurant Jean-François Piège, and you've got yourself a deliciously distinctive destination.For more info, click here.Photo credit: Stéphane de Bourgies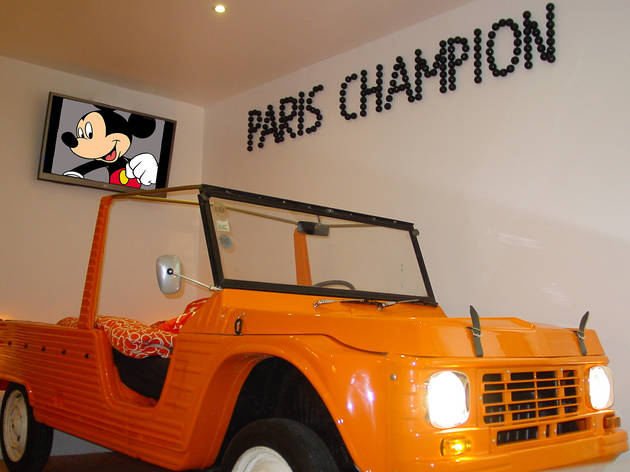 11/13
One for the kids, and for parents who are all out of ways to entertain the tiresome tots. Enter Paris Champion, one of the wacky self-catering apartments curated by Bertrand, a hotelier with a taste for clashing colours and neon mannequin body parts. But there's nothing so scary at Paris Champion, just a bed installed in a bright orange Citroën car beneath a giant TV screen – easy bedtimes, tick. Elsewhere in the apartment, there's a Tour de France-themed bedroom, a games room and a toilet installed in a phone box, proving that Bertrand perfectly understands the mentality of small children.For more info click here.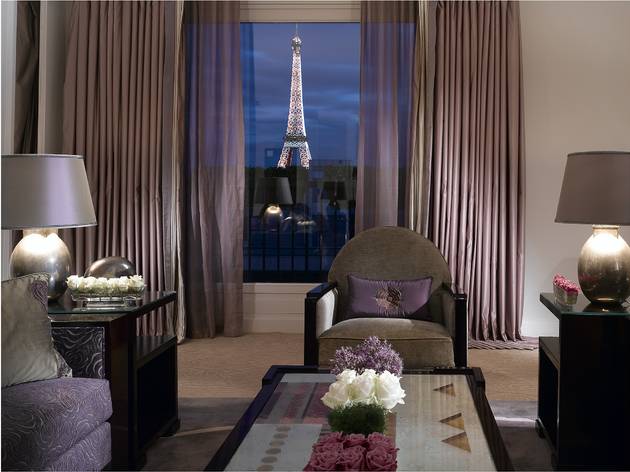 12/13
One of the most luxurious hotels in Paris, La Plaza Athénée achieved an extra lashing of celebrity glitz when it featured as the boudoir of one Carrie Bradshaw and her ill-fated Russian squire in the finale of Sex and the City. Still, Paris has an embarrassment of luxury destinations dripping with gilt, swathed in silk and bristling with uniformed flunkeys, so it takes something pretty special to make one suite stand out from all the rest. How about the iconic Eiffel Tower framed in a vast picture window, your own private lightshow? Oh, OK then.For more info, click here.Photo credit: Richard Bryant/arcaid.co.uk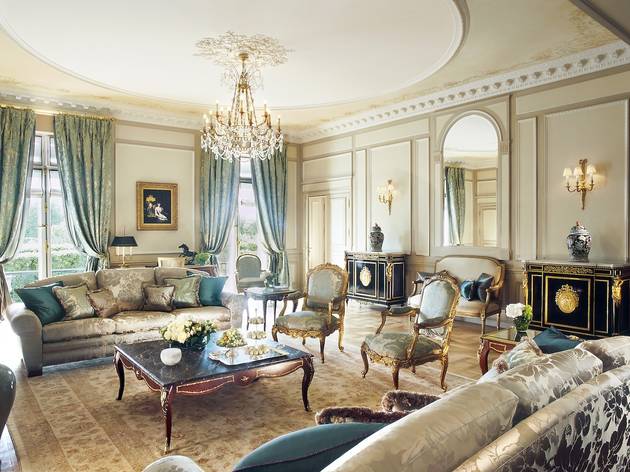 13/13
Salvador Dali may have lived here for over 30 years, but the Presidential suites on the first floor of Le Meurice are mercifully free of his surrealist melting clocks and deformed heads on sticks. Instead, they are what must be some of the most preposterously palatial apartments in the city, done out in sumptuous Louis XIV furniture across 380 square metres of swags, gilt, silk and crystal chandeliers. You might not achieve Dali's artistic notoriety, but if luxury reflects status, you'll certainly feel every bit as important.For more info, click here.
The best hotel rooms in Paris
Luxurious, avant-garde and eccentric hotel rooms in the French capital