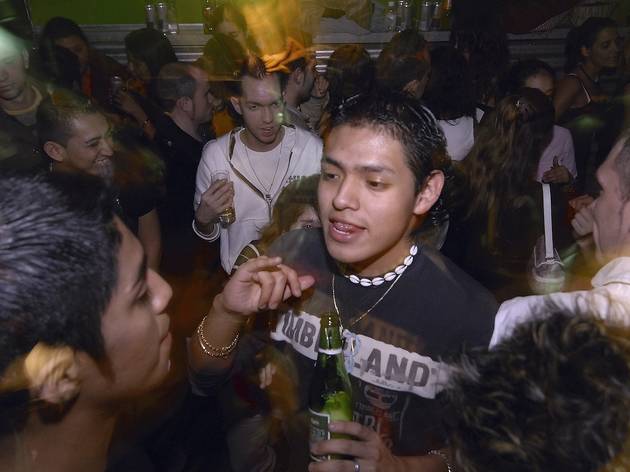 Hailed as the largest backroom in Europe, Le Dépot is more than just a place to meet local men. The dark and dingy interior is full of cavernous hallways with alcoves and rooms for all sorts of naughty behaviour that would make even the most adventurous man blush. If you're wondering why there are safe sex paraphernalia at your disposition, just accept one of the advances from any of the dozens of men who will inevitably approach you. Ladies, abstain, you're simply not allowed to join the fun, which starts at 2pm every day and lasts until 8am the next morning, if you're up for it. Prices go from €8 early in the afternoon but rise to €13 later at night, though all entries include a drink at the bar, which you'll need to brave the large mix of locals and travellers, both young and old, of all styles, who come here with one thing on their minds. Pack some hand sanitizer.
Venue name:
Dépot
Contact:
Address:
10 rue aux Ours, 3e
Paris


Opening hours:
Daily 2pm-8am
Transport:
Metro: Etienne-Marcel or Rambuteau
Average User Rating
1.5 / 5
Rating Breakdown
5 star:

0

4 star:

0

3 star:

0

2 star:

1

1 star:

1
I agree with what Flibber T said: I also went there for the first time in a long time some days ago and I was surprised because it was completely different. I asked the guy that was at the entrance and he told me that the place was entirely rebuilt. And in fact it is completely different, much smaller. It is entirely incorrect to say that it is the biggest in Europe. I even doubt if it is the biggest in France. And it has lost is soul. I don't know if they want to change it to a dance place, and not a cruising one, but as a cruising place, i believe that Le Depot today is not better than others cruising places and it is not worthy the entrance fee.
i went there for the first time in a long time on a saturday night. After some renovations, it's become a total dump. The upstairs disco is nice and the music is good. But downstairs it smells like piss and it's gross. Not nearly as crowded as it used to be, but there are still lots of arrogant a-h*s who are not nearly as fabulous as they think they are. Far less "sexy space" than previously, and what space there is is small and cramped and smelly and FILLED WITH PICKPOCKETS. I caught one dude trying to open my pocket (sealed with velco, so i both heard and felt him trying to go in) and steal the contents, so i grabbed his thumb and clocked him square in the face, then i left. The era of The Depot is long over, and it's a pathetic shadow of its former self. DON'T BOTHER. There are plenty of other places in the center where you get what you're looking for.