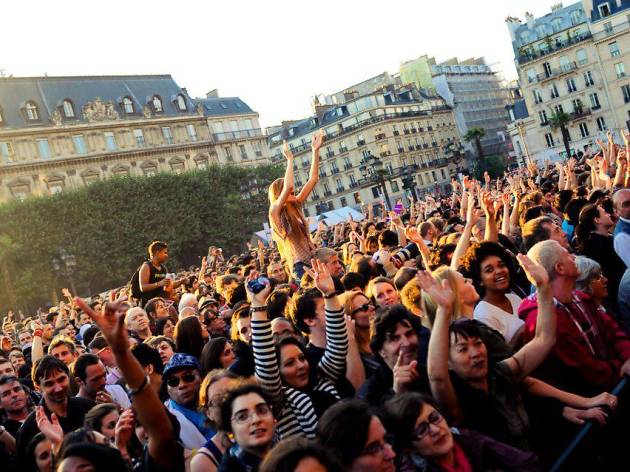 FNAC Live 2017
A bumper crop of free live shows in the heart of Paris, back for its seventh edition, July 6,7,8 2017
When? July 6,7,8 2017, from 5pm to midnight.
What? FNAC-sponsored outdoor music festival in central Paris.
Where? Hôtel de Ville.
Every year, powerhouse music retailer FNAC brings an impressive roster of artists to a stage outside the iconic Hôtel de Ville for four nights of great music with the FNAC Live festival, while smaller concerts are held at a more intimate venue at the Salon des Arcades. The 2017 line up is yet to be revealed but we expect big things... The 2016 edition featured the likes of Lianne La Havas, Lilly Wood & the Prick, Sage, Hyphen Hyphen, William Sheller and Keren Ann.
Tickets are free but you'll need to be smart about getting them when they become available from FNAC outlets.

And the line-up for 2017 is *DRUMROLL*...
Thursday, July 6
Scène du Parvis / 5pm – midnight
Label Microqlima | The Pirouettes | Fishbach | Mémé Tan | Calypso Rose | Polo & Pan DJ | Benjamin Biolay | Mome
Scène du Salon / 7.40pm – 8.30pm
Entry: Free
Friday July 7
Scène du Parvis / 5pm – midnight
Label Vietnam Otzeki | Alltta | Irène Drésel | Cassius | Paradis | Loyle Carner | Camille
Scène du Salon / 18h – 20h35
Juliette Armanet + Albin de la Simone + Rover
Entry: Free
Saturday July 8
Scène du Parvis / 5pm – midnight
Label Beggars | Eddy de Pretto | Valerie June | Aliocha | The Horrors | Clara Luciani | Julien Doré | The Blaze
Scène du Salon / 6pm – 8.35pm
Tim Dup | François The Atlas Sound | Jay-Jay Johanson
Entry: Free
As well as FNAC Live...
It might not quite have the international clout of London or Berlin, but Paris is no musical slouch: from the legendary jazz clubs to the thriving independent and underground music scenes, plus some seriously sharp record stores, there's everything here for the connoisseur...
See more Paris music festivals