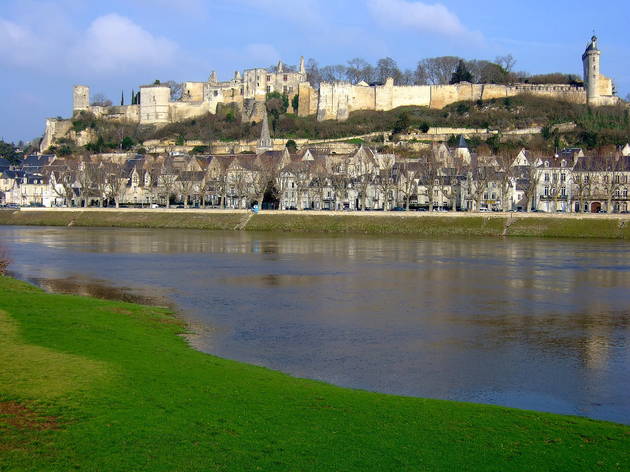 Time Out says
Friendly warning! We're working hard to be accurate. But these are unusual times, so please check that venues remain open.
Medieval Chinon is best described like its famous Chinon wines: full of local flavour with a hint of sophistication. You can get here by train from Paris (2h20 from Montparnasse), or drive from Tours. Its dinky town-centre looks like the set of a period movie with remarkably preserved half-timbered medieval houses (plus a few 17th-century ones thrown in for good measure) and a majestic medieval fortress ruin, the Forteresse Royale (02.47.93.13.45), perched precariously over the streets below, dating mainly from the reigns of Henri II (12th-century) and Charles VII (15th-century). It was here that Joan of Arc pleaded with Charles the Dauphin (the future Charles VII) to take action against the English during the Hundred Years' War. After the 15th-century however, the court moved away and the fortress gradually fell into disrepair. A huge restoration campaign is gradually coming to en end, but compared to the pristine appearance of many other châteaux, Chinon is still a deliciously crude option.
Before you visit the castle, the prettiest views are to be had from the Quai Danton, which affords sweeping vistas of the town and River Vienne. Once over the bridge, rue Voltaire represents a cross-section of Chinon's history with its fine 15th and 16th-century houses, including a quaintly old-fashioned automated wine museum at N°12. If you fancy a DIY walking tour, the Tourist Office (02.47.93 .17.85) provides a map of the main historic monuments and churches. It's a circuit worth following, and by surreptitiously sneaking behind closed doors you can often glimpse at Chinon's pretty hidden courtyards, especially around the Grand Carroi crossroads inside the Hôtel du Gouvernement - Government House – with its eye-catching arcades.
The Renaissance writer Rabelais (1494-1553), author of the burlesque adventures of two giants, Pantegreul and his father Gargantua, grew up in Chinon (on rue de la Lamproie) and his legacy is carried on in the utopian gardens at the nearby Château du Rivau (Le Coudray, 02.47.95.77.47) - an amalgam of medieval heritage and cutting-edge modern art, woven together by colourful, fairytale themed gardens and one of the biggest collections of Roses (over 400 varieties) in Europe. Erected in the 13th-century and fortified in the 15th by Charles VII's Chamberlain, Pierre de Beauvau, it is a quintessential fairytale castle, with a working draw-bridge, donjon, turreted towers, archers slits and a trophy room, all painstakingly restored (since 1992) by the current owners. Try and come between June and September when giant vegetables from Gargantua's vegetable patch are served up in the castle's café, La Table des Fées (Fairy Table).
From here it's a hop, skip and a jump to the picture-perfect boxed flowerbeds at the Château de Villandry (02.47.50.02.09). They're France's most complete example of the formal Renaissance style gardens adopted in the 16th-century, with majestic patchwork flower-beds and vegetable patches best appreciated from the castle's upper outside terrace. The castle, built in a typical Renaissance style by François I's secretary of state, Jean Le Breton, owes its longevity to the Spanish physician Joachim de Carvallo, who acquired Villandry in 1906 and devoted his life to its restoration.
Twenty-one kilometres northeast of Chinon lies the queen of all Renaissance Châteaux, Azay-le-Rideau (02.47.45.42.04). After Villandry, Azay-le-Rideau feels positively bite-size with its compact pleasure moat (actually the River Indre) and perfect proportions. Its architecture epitomises the qualities of Renaissance château-building, with its high roofs, tall watch-turrets, long rows of windows and dormer-windows and majestic Italian structure, which provides the building with a stunningly symmetrical façade. It is an eternal reminder that you should never try to outdo your king: Upon seeing Azay-le-Rideau, François I accused its builder, his finance minister Gilles Berthelot, of misappropriating funds and took it into royal possession.
For more information on Chinon and its surrounding attractions check the Tourist Office website.
Details
| | |
| --- | --- |
| Address: | Chinon |
| Transport: | The fastest trains for Chinon leave from Gare Montparnasse (2h20 with one change at Tours). Trains from Gare D'Austerlitz can take up to four hours so check before you buy. By Car, Chinon lies 47km east of Tours. |
| Contact: | |