Heads up! We're working hard to be accurate – but these are unusual times, so please always check before heading out.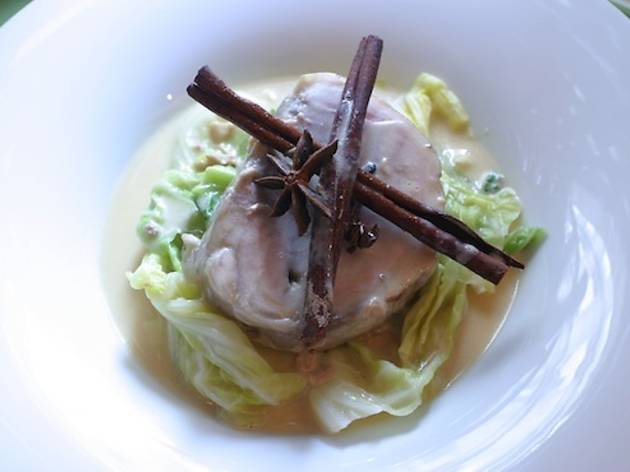 1/11
The characterful Latin Quarter is full of great restaurants. Click on the arrow above to start exploring some of our favourites. Think we've missed a great restaurant in the Latin Quarter? Let us know in the comment box below.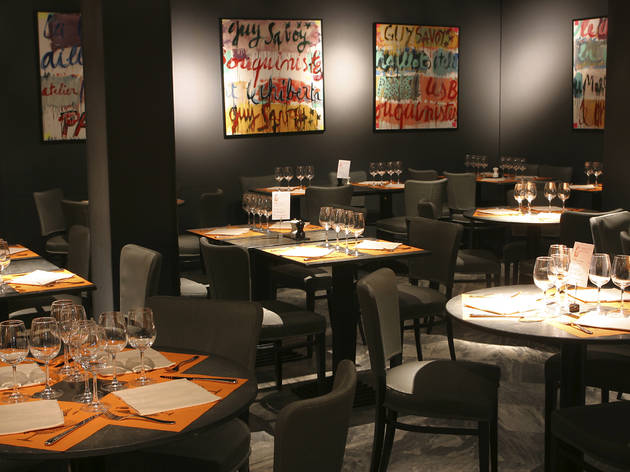 2/11
This Guy Savoy outpost in the fifth arrondissement has slick decor designed by Jean-Michel Wilmotte. The indigo-painted, grey marble-floored dining room with open kitchen and rôtisseries on view is attractive, but it does mean that the place is very noisy at night. The short menu lets you have a Savoy classic or two to start with, including oysters in seawater gelée, perhaps, or more inventive dishes such as the ballotine of chicken, foie gras and celeriac in a chicken-liver sauce. Next up could be tuna served with tiny iron casseroles of dauphinois potatoes, accompanied by cauliflower in béchamel sauce. For more info, please click here.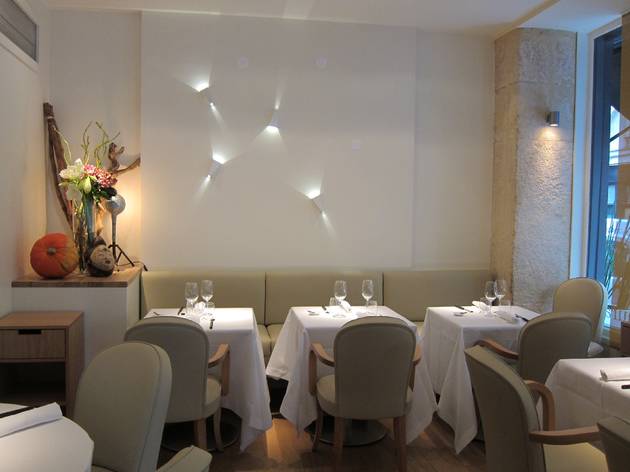 3/11
Chef Sylvain Sendra played to a full house every night at his little bistro Le Temps au Temps near the Bastille before moving to this larger space near Notre Dame. The sleek space brings together all the elements that make for a successful bistro today: a long table d'hôtes, a bar for solo meals or quick bites, and a reasonably priced, market-inspired menu. Not everything is a wild success, but it's hard to fault a chef who so often hits the mark, in dishes such as squid-ink risotto with clams, botargo (dried mullet roe) and tomato. For more info, please click here.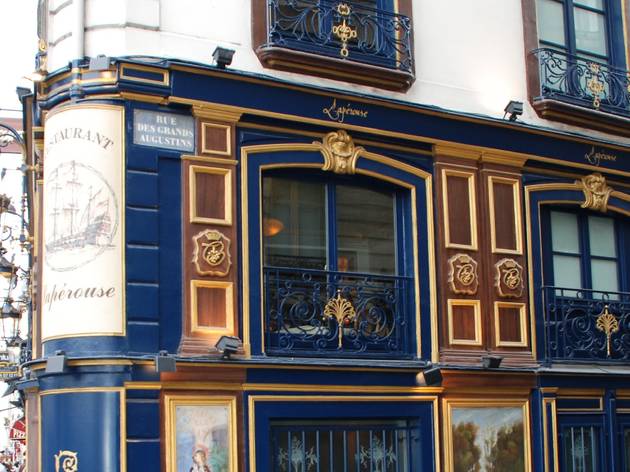 4/11
Founded in 1766 on the banks of the picturesque River Seine, Laperouse resides in one of Paris' most exclusive addresses, a historic mansion overlooking the Ile de la Cite. They say what goes around comes around and Laperouse's olden day look has never been so now. From worn mirrors to deep pink and aubergine velvet sofas, etched glass and wood panelling the interior could easily have been put together by a leading Parisian designer. Magical views of the river dominate the Velvet Bar while the cosy atmosphere of the restaurant is pure romance. Traditional French food is the order of the day – perhaps the very same meals once enjoyed by those courtesans and politicians who dined here in the 1760s, no doubt the fabulous wine cellar would have impressed them. For more info, please click here.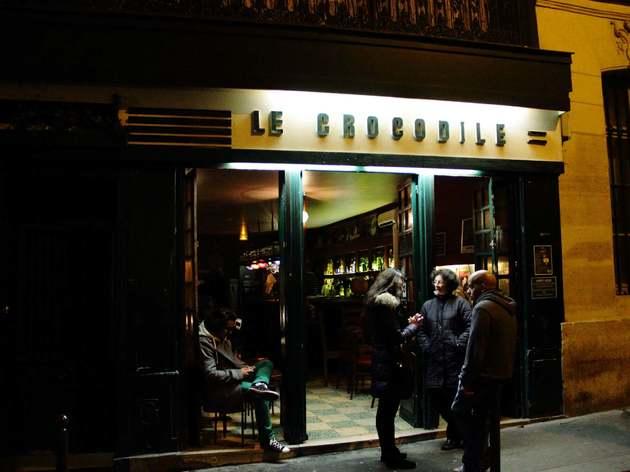 5/11
Prepare yourselves to hesitate at the moment of ordering your cocktail: the menu offers nearly 300, each odder than the last: Galéjade [The Tall Story], Tartempion [The What's-His-Name], Va nu pied [The Go Barefoot], Traîne-savate [The At A Loose End], Rond de cuir [The Pencil Pusher]… how to choose? We'd advise you to check out the happy hour (6pm-8pm) so as to not break the bank – you'll still have to rub shoulders with your neighbour to get hold of your glass (the bar is always packed), but that's just part of the rambunctious atmosphere. In this slightly cramped tavern, we like the vintage posters and the crowded tables. And so what if we're squeezed? The music is good, the service decent and the laughter free. The crowd is very mixed, from students to tourists to bohos – everyone comes to test out the Crocodile's cocktails. For more info, please click here.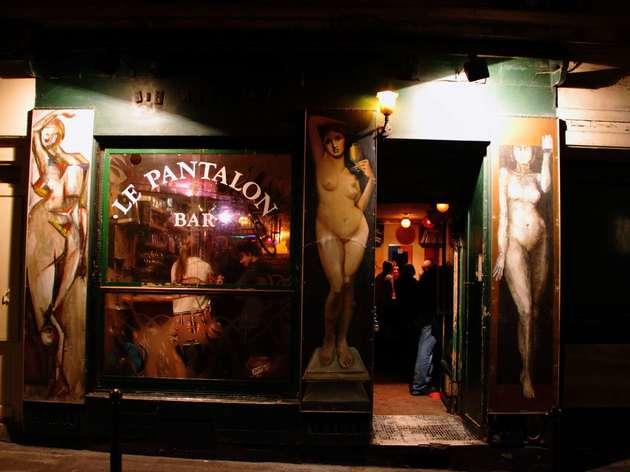 6/11
A local café that seems familiar yet is utterly surreal. It has the standard fixtures, including the old soaks at the bar – but the regulars and staff are enough to tip the balance firmly into eccentricity. Friendly and funny French grown-ups and foreign students chat in a variety of languages; drinks are cheap enough to make you tipsy without the worry of a cash hangover. For more info, please click here.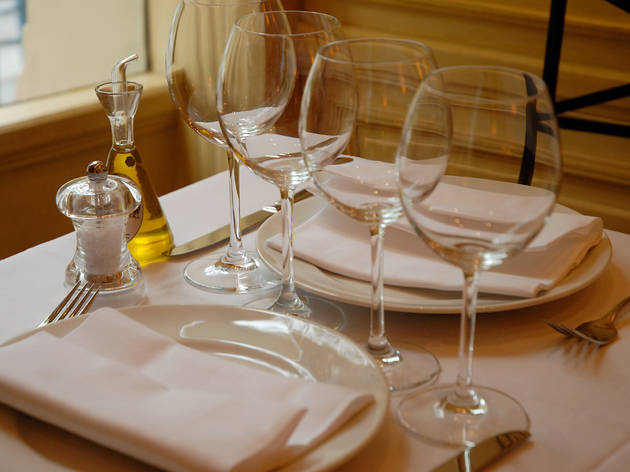 7/11
This bistro facing St-Julien-le-Pauvre church is the creation of Nadège Varigny, who spent ten years working with Yves Camdeborde before opening a restaurant inspired by the food of her childhood in Grenoble. It's usually full of people, including critics and chefs, who love simple, honest bistro fare, such as daube de boeuf or seared tuna on a bed of melting aubergine. And if you have an appetite for offal, go for the gently sautéed brains with new potatoes or veal kidneys with a perfectly prepared potato gratin. For dessert, try the fresh ewe's cheese with bitter honey. For more info, please click here.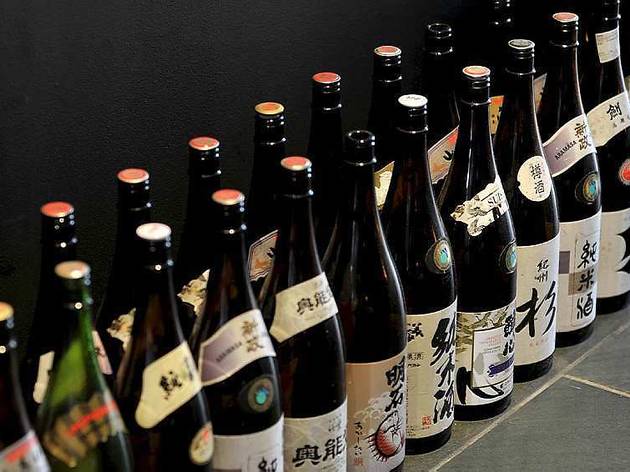 8/11
Squirrelled away in a tiny street in the Latin quarter, Lengué is a real slice of Tokyo. There are huge bottles of sake lined up on the bar, dishes of the day pinned on the walls – in Japanese – and the service is polite, cordial and discreet. In the early evenings you'll find a few knowledgeable Japanese enjoying a glass of sake or beer and some tasting dishes. From 9pm, they make way for a younger, cosmopolitan crowd, who handle the unfamiliar menu etiquette with rather less sang-froid.For more info, click here.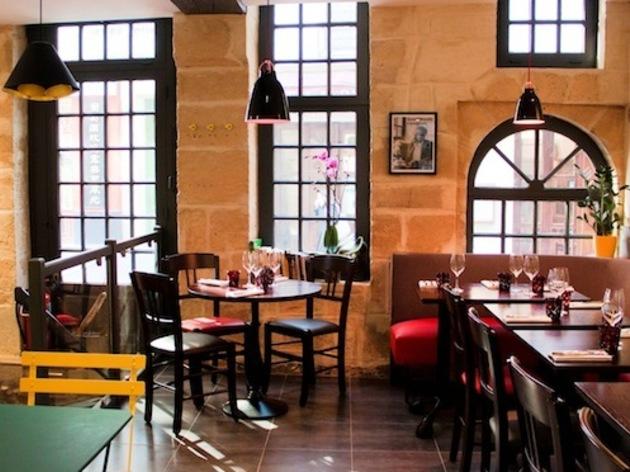 9/11
© A.Lopez
The name of his new restaurant, Aux Verres de Contact ('contact lenses') might lead one to suspect that Guillaume Delage, the former chef at Jadis, is getting short sighted. In fact, it's a reference to the famed writer, journalist and bon vivant Antoine Blondin, who used to write off his bar receipts as 'verres de contact' on expenses claims forms. Just a stone's throw from Notre Dame, the restaurant has a modern yet welcoming décor, with deep red and cream walls and dark wooden furniture.For more info, click here.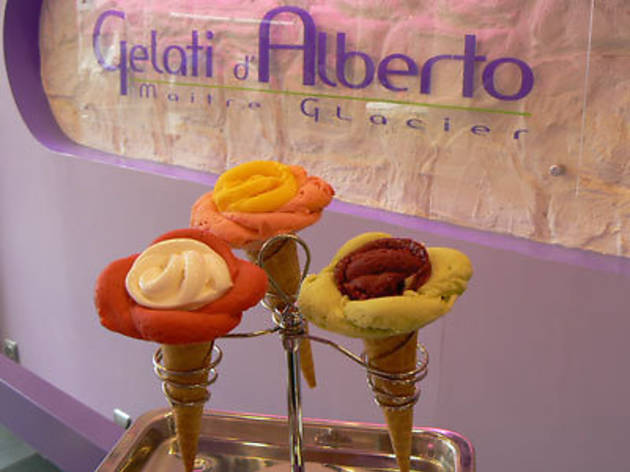 10/11
You come to purple and white Gelati d'Alberto for two things: the delicious ice cream and to watch the employees turn your scoops into a flower-shaped work of art before your eyes. Once you've tasted the classic flavours, try the Nutella, green tea or even the vodka Red Bull varieties. The more flavours you choose, the prettier your ice cream flower becomes. On a sunny day, rows of expectant ice cream buyers snake their way along Rue Mouffetard, so be prepared to queue. For more info, click here.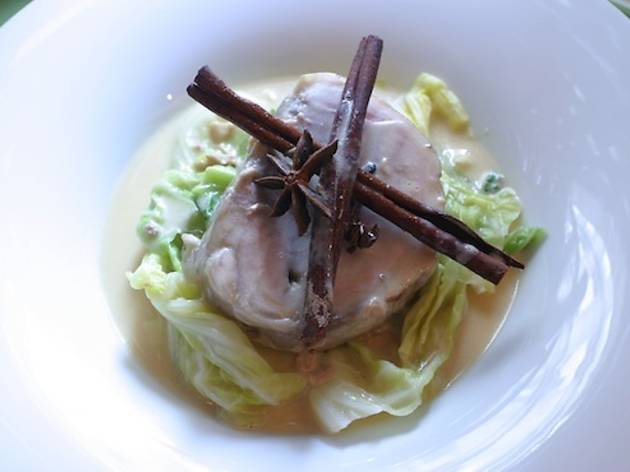 11/11
Philippe Delacourcelle knows how to handle spices like few other French chefs. He also trained with the late Bernard Loiseau, and learned the art of French pastry at Fauchon. Salt cod with cassia bark and smoked potato purée is a classic: what the fish lacks in size it makes up for in rich, cinnamon-like flavour and crunchy texture, and smooth potato cooked in a smoker makes a startling accompaniment. Spices have a way of making desserts seem esoteric rather than decadent, but the roast figs with olives are an exception to the rule. For more info, please click here.  
Restaurants in the Latin Quarter
Our recommendations for the best restaurants in the Latin Quarter
Related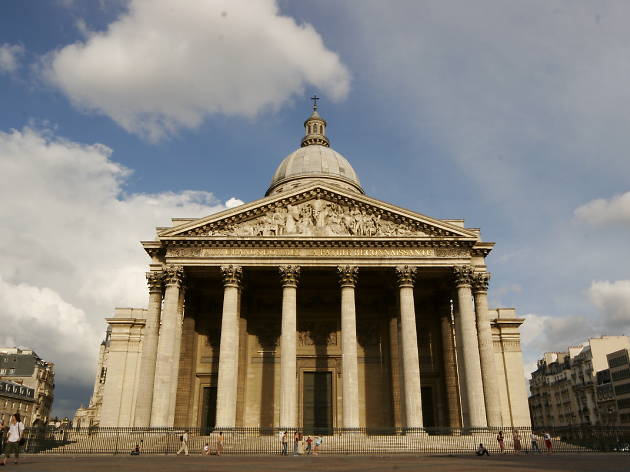 The Panthéon, the Latin Quarter's all-white beacon to France's defunct intelligentsia, is a neo-classical gem that was commissioned by Louis XV and completed in 1790. It nestles on Sainte-Geneviève's knoll like a bijou version of Washington's White House, and tourists come from far and wide to see the tombs of Voltaire, Rousseau, Dumas, Marie Curie and more. You can also climb the colonnade encircling the dome for sweeping views of the city, which is one way to escape the inevitable crowds. But to get fully away from the tourist route, head for these hand-picked local delights...For more information on the Panthéon, click here. Around the Panthéon... Museum: Musée d'Histoire de la Médecine The history of medicine is the subject of the medical faculty collection. There are ancient Egyptian embalming tools, a 1960s electrocardiograph and a gruesome array of saws used for amputations. You'll also find the instruments of Dr Antommarchi, who performed the autopsy on Napoleon, and the scalpel of Dr Félix, who operated on Louis XIV. Park: Jardin des Plantes Less touristy than Jardin de Luxembourg (south of the Panthéon), Paris's botanical garden - which contains more than 10,000 species and includes tropical greenhouses and rose, winter and Alpine gardens - is an enchanting place. Begun by Louis XIII's doctor as the royal medicinal plant garden in 1626, it opened to the public in 1640. The formal garden, which runs between two dead-straight avenues of trees parallel to rue Buffon, is like something out of Alice in Wonderland. There's also the Ménagerie (a small zoo) and the terrific Grande Galerie de l'Evolution, part of the Natural History Museum. Ancient trees on view include a false acacia planted in 1636 and a cedar from 1734. A plaque on the old laboratory declares that this is where Henri Becquerel discovered radioactivity in 1896. Restaurant: Aux Verres de Contact The name of his new restaurant, Aux Verres de Contact ('contact lenses') might lead one to suspect that Guillaume Delage, the former chef at Jadis, is getting short sighted. In fact, it's a reference to the famed writer, journalist and bon vivant Antoine Blondin, who used to write off his bar receipts as 'verres de contact' on expenses claims forms. Just down the hill from the Panthéon, the restaurant has a modern yet welcoming décor, with deep red and cream walls and dark wooden furniture.On the starter menu, there's a good selection of charcuterie and high-quality cheeses, but also some more original things that really show off the talent of the young chef. For instance, an innovative croque-monsieur composed of layers of bread in cuttlefish sauce, mozzarella fondue and grilled vegetable. It's a surprisingly effective reinterpretation, though the balance of bread to cheese could have been more generous to the cheese. Then there was a fresh and crunchy celeriac remoulade with whelks, followed by an exotic fruit jelly baba. It's all just about right for a light lunch.For bigger appetites, there are also lunch menus (€22 or €29) that depend on the chef's whim of the day. On our visit, it was a duck fillet salad and a shellfish soup with a quenelle of horseradish mousse, followed by a fillet of cod in a lemongrass sauce and an assortment of satisfying mini-desserts, especially the creamy rice pudding.The service was perfect – though we were there on a slow day. However, in a touristy district where good restaurants are few and far between, this friendly bistro will soon find a loyal clientele. Restaurant: Breakfast in America Even in Paris, the city of haute cuisine and knock-your-socks-off Brasserie fare, there comes a time when nothing but bacon, fried eggs, juicy burgers and fluffy pancakes drizzled in maple syrup will do. For those moments, Breakfast in America (known lovingly amongst regulars as B.I.A) offers bona fide American diner surroundings, all-day breakfasts and artery clogging delights like sticky pecan pie, washed down with bottomless mugs o' Joe. Needless to say it's a hit with the brunch crowd who come in droves so large they queue up outside, rain or shine. Fortunately turn over is quite fast, so you rarely have to wait more than half-an-hour. The €15.95 brunch menu gets you comfort staples like sausages and eggs (over-easy, sunny-side up or scrambled) with toast and fries or a generous Connecticut ham and cheese omelet and a squidgy chocolate muffin. B.I.A won't take reservations, but there's a second branch in the Marais, so if Latin Quarter students have hogged all the tables, you can try your luck on the Right Bank. Café: Le Rostand Le Rostand has a truly wonderful view of the Jardins du Luxembourg from its classy interior, decked out with Oriental paintings, a long mahogany bar and wall-length mirrors. It's a terribly well-behaved place and you should definitely consider arriving in fur or designer sunglasses if you want to fit in with the regulars. The drinks list is lined with whiskies and cocktails, pricey but not as steep as the brasserie menu. Still, with a heated terrace in winter, it's perfect for a civilised drink after a quick spin round the gardens. Bar: Le Requin Chagrin 'Requin Chagrin', or the 'narked shark', actually comes from Réunion creole slang, meaning 'old prostitute'. At the Requin Chagrin, broke students laugh with pleasure as, unlike at the other bars in the area, having a few drinks here won't break the bank. The cosy wooden bar is filled with tall round tables where students sip on pints of Guinness, Hoegaarden or Grimberger from a wide selection – a 'tasting platter' of a dozen beers is only €12. One could also opt for a whiskey, house cocktail, or rum punch (another nod to the West Indies?). On game nights, large screens are set up throughout the bar, and the atmosphere instantly changes, hoots and hollers filling the air. A second room in the basement houses a U-shaped bar, which encourages spontaneous conversation and making new friends. The décor is constantly changing based on the night's festivities, such as sports games, parties, etc. On weekends, the Requin Chagrin welcomes after-hours drinkers with a 4am closing time. In the summer, there's a small, pleasant terrace that overlooks the charming pedestrian square, Place de la Contrescarpe, and its bubbling fountain. Bar: Le Pantalon A local café that seems familiar yet is utterly surreal. It has the standard fixtures, including the old soaks at the bar - but the regulars and staff are enough to tip the balance firmly into eccentricity. Friendly and funny French grown-ups and foreign students chat in a variety of languages; drinks are cheap enough to make you tipsy without the worry of a cash hangover. Market: Marché Monge This pretty, compact market is set on a leafy square. It has a high proportion of producers and is much less touristy than nearby rue Mouffetard. If you're on a budget (or just fancy a picnic) buy some fresh bread and cheese and tuck in on a bench in Jardin des Plantes. Shop: The Abbey Bookshop Celebrating 20 years in business, the tiny Abbey Bookshop is the domain of Canadian renaissance man Brian Spence, who organises weekend hikes as well as dressing up in doublet and hose for a spot of 17th-century dancing.The tiny, narrow shop stocks old and new works, a specialised Canadian section, and highbrow subjects down the rickety staircase. Several thousand more books are in storage, and he can normally order titles for collection within two days.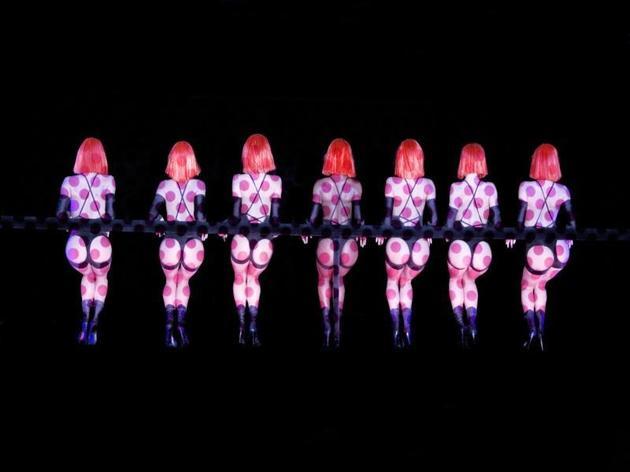 There's more to Paris cabaret than the get-your-glitz-out-for-the-boys genre with frilly drawers, fishnet stockings and lingerie that twangs to the rhythm of the music. There's the art, the synchronization, the wild costumes and, bien-sur, the inter-act performers who do interesting things with animals and ventriloquist dummies (rarely at the same time)! Cabaret in Paris is traditionally served with champers and a meal, turning the four 'B's (boobs, bums, boas and bubbly) into an all-evening extravaganza. Make a night of it with our Paris cabaret guide... Recommended cabaret venues in Paris Le Crazy Horse More risqué than the other cabarets, Le Crazy Horse, whose art du nu was invented in 1951 by Alain Bernadin, is an ode to feminine beauty: lookalike dancers with provocative names like Flamma Rosa and Nooka Caramel, and identical body statistics (when standing, the girls' nipples and hips are all the same height) move around the stage, clad only in rainbow light and strategic strips of black tape. In their latest show, Désirs, the girls put on some tantalising numbers, with titles such as 'God Save Our Bare Skin' (a sexy take on the Changing of the Guards) and the sensual 'Legmania', for anyone with a leg fetish. The Crazy Horse doesn't have a restaurant, so if you want to dine, reserve via the website where you'll find a list of participating eateries. Le Lido This is the largest cabaret of all: high-tech touches optimise visibility, and chef Philippe Lacroix provides fabulous gourmet nosh. On stage, 60 Bluebell Girls and a set of hunky dancers slink around, shaking their bodies with sequinned panache in breathtaking scenes. For a special treat, choose the brand new 'behind the scenes' tour which, before the show, takes you into the heart of the action. For a glam night, opt for premier service (€280) with free cloakroom, the best tables in the house and free water and coffee with your meal. Moulin Rouge Toulouse-Lautrec posters, glittery lamp-posts and fake trees lend guilty charm to this revue. On stage, 60 Doriss dancers cavort with faultless synchronisation. Costumes are flamboyant and the entr'acte acts funny. One daring number even takes place inside a giant tank of underwater boa constrictors.The downer is the space, with tables packed in like sardines. There's also an occasional matinée. Paradis Latin This is the most authentic (and cheesy) of the cabarets, not only because it's family-run (the men run the cabaret, the daughter does the costumes), but also because the clientele is mostly French, something which has a direct effect on the prices (this is the cheapest revue) and the cuisine, which tends to be high quality. Show-wise you can expect the usual fare: glitter, live singing and kitsch entr'acte acts performed in a stunning belle époque room. There's also a thrice-monthly matinée: lunch and show from €65.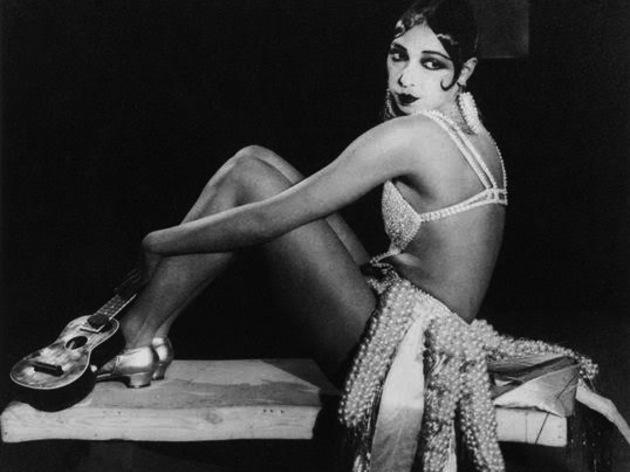 From traditional to avant garde, and from hot new talent to big visiting names – Paris is one of the best cities in the world for listening to live jazz. Here's our guide to the best venues and upcoming gigs. Upcoming jazz gigs in Paris Melody Gardot Philadelphia singer Melody Gardot launched her music career while recovering from a life-threatening injury, and has since become one of that city's notables; the smoky-voiced singer is capable of conveying real longing and subtlety. Her latest, 'The Absence', contains notable bossa nova influences, the result of an inspiring stay in Portugal. Roberto Fonseca The rightful heir to the Buena Vista Social Club legacy, pianist Fonseca had the daunting job of filling his hero Ruben Gonzalez's shoes after the great man passed away. He ended up becoming the star of the show. Now a solo artist in his own right, he is known for the confidence he exudes on his vibrant live shows where traditional African, Brazilian and Cuban sounds find a place in his panoramic mix of whistle-able tunes and euphoric improvising. Joe Jackson The erstwhile post-punk hitmaker behind 'It's Different For Girls' and 'Is She Really Going Out For Him' consciously dropped out of the pop limelight in the mid-'80s, moving to New York to record a series of soundtracks, chamber works and jazz-inflected big-band workouts. Here with the simple backing of long-term cohorts Graham Maby on bass and vocals and Dave Houghton (drums and vocals), expect to hear a selection with a good helping of the classics - which in Jackson's case comprise anything from reggae, jazz and jump-blues to Latin rhythms. Mulatu Astatke + Tonny Allen Ethiopian vibes maestro Astatke here whips up a simmering blend of Afro-beat grooves, melodic modal jazz and skanking brass via dirty funk and swing. Building from psychedelic Sun Ra-ish textures to molten James Brown jams, this is a rare chance to sample this heady brew first hand. Ibrahim Maalouf Born in Lebanon in 1980 and currently residing in France, trumpeter Ibrahim Maaloufis distinguished by his ability to play quarter-tones, an Arabic modal system, on his instrument. His father, also a trumpet player, invented a special microtonal trumpet that's able to play the maqams Maalouf uses in his music. Trained in classical music at two conservatories in Paris, he studied with famous classical trumpeter Maurice André, and went on to win many international competitions. His own compositions, recorded in three studio albums, are flavoured with eastern sounds and styles, but with a western approach. His latest is the 2011 release, 'Diagnostic'. Recommended jazz venues Au Duc des Lombards This venerable jazz spot goes from strength to strength, attracting a high class of performer and a savvy crowd. Check out the 'bon plans' section of the website, which offers reduced-price tickets for certain concerts. New Morning Jazz fans crowd into this hip, no-frills joint to natter, drink and boogie to the consistently excellent live music. Low key it may be but it's still worth looking out for the occasional A-lister - the likes of Spike Lee and Prince have been known to grace the New Morning with their presence as have Stan Getz, Chet Baker, Dizzy Gillespie, and Miles Davis. Even when there's no star draw things rarely laps into MOR territory, New Morning plows a rather more specialised groove: think free jazz, fusion and funk. Salle Pleyel Home to the Orchestre de Paris and Orchestre Philharmonique Radio France, the restored concert hall looks splendid. If the improved acoustics are only partially successful, the venue has nevertheless regained its status as the capital's leading concert hall for large-scale symphonic concerts, and should keep it until the completion of the city's new concert hall in 2012. Soloists read like a who's who of classical music, and this season includes an interesting series entitled Pollini Perspectives, which gives the great pianist free musical rein. La Fusée This is one of Time Out's 100 best bars in Paris. Click here to see the full list. Good bars are hard to find in this corner of Beaubourg, but Le Fusée attracts plenty of young people with its warm atmosphere, charming little terrace and reasonable prices for the area. Its hangings of coloured garlands go well with the ambiance, which includes live concerts of gypsy jazz, swing and chanson Française on Sundays. Inside, this ancient literary café has kept a quirky décor of kitsch old posters. You feel like you're in a market café with the constant flow of people between the tables, the waitresses shouting orders while performing acrobatics to deliver the drinks. Bundles of sausages hang above the bar, cut into generous slices to order and best matched with a pitcher or a bottle of red chosen from the enormous list. Against the background of cult music (Beatles Pink Floyd, Johnny Cash), you'll naturally fall into conversation with your neighbours at the next table. Autour de Midi-Minuit The Tuesday night boeuf (jam session) is always free, as are many other concerts - some by big names like Laurent Epstein, Yoni Zelnik and Bruno Casties. The upstairs restaurant serves reasonably priced French classic cuisine. Péniche Antipode This is one of Time Out's 100 best bars in Paris. Click here to see the full list. In 2002, the Abricadabra theatre company transformed this boat moored on the Canal de l'Ourcq into a floating café, with shows for youngsters during the day and plays and concerts for adults in the evenings. In this enchanting Peniche (houseboat), kids 3-8 years old are entertained and educated by screenings, mimes, songs, comedies, shadow puppets and more – and the actors' antics contain many a nod and a wink for the adults' amusement. In the evenings, the Peniche alternates gypsy jazz, rock, reggae, blues or funk concerts with improv or theatre sketch nights, and from time to time DJs will spin roots, dub, electro or breakbeat. The bar is well supplied, but you won't find coca-cola – the products are all artisanal and fair trade. Les Disquaires This is one of Time Out's 100 best bars in Paris. Click here to see the full list. In its newly-renovated, shiny red interior, Les Disquaires's little stage directly faces the dancefloor and the decks, and temporary exhibitions by Parisian artists decorate the walls around the bar. The venue is a good Bastille quarter bet for enjoying a quality gig over a cocktail or a beer during happy hour, and even music novices will always find something to enjoy in the programme of live jazz, funk, hip-hop and soul. For those who want to press on until the early hours (2am), the organisers always have a DJ set or two up their sleeve. It's always a good idea to look in here to get an idea of what's setting Parisian pulses racing – for the programme details, take a look at their website (French only). Le Sunset/Sunside A split-personality venue, with Sunset dealing in electric groups and Sunside hosting acoustic performances. Their renown pulls in big jazz names. Onze Bar This is one of Time Out's 100 best bars in Paris. Click here to see the full list. A little boho bar that's just the way we like them, Le Onze seethes with people day and night. Very hip and popular right now, its been done up in (very) shabby chic – the stuffing of the big sofas is oozing out, witness to many wild parties. Daily concerts range from Balkan folk to rock'n'roll, via via jazz, blues, funk or afrobeat (see the program on the (French) website here), and the music never fails to produce a fantastic atmosphere, with people getting up to dance wherever they can find room between the tables and chairs. Even during the week, the bar teems with regulars topping themselves up with the very well priced beers or house rum cocktails. There's also a menu with things like roasted Camembert with garlic, duck pie, herby beef skewers and cheesecake, all at reasonable prices. Le Baiser Salé The 'Salty Kiss' divides its time between passing chanson merchants, world artists and jazzmen of every stripe, from trad to fusion. Caveau de la Huchette This medieval cellar has been a mainstay for over 60 years. Jazz shows are followed by early-hours performances in a swing, rock, soul or disco vein. Cité de la Musique This Villette museum/concert complex welcomes prestigious names from all over the globe, and also does a fine line in contemporary classical, avant-jazz and electronica. Caveau des Oubliettes A foot-tapping frenzy echoes in this medieval dungeon, complete with instruments of torture, a guillotine and underground passages. Mondays are Pop Rock Jam nights with the JB Manis Trio, Tuesdays are Jazz Jam Boogaloo nights with Jeff Hoffman, and there are various other jam sessions during the rest of the week. Ateliers de Charonne This spanking new jazz club is the place to see the rising stars of gypsy jazz (jazz manouche). If you want to grab a good spot near the front of the stage, reserve for dinner and the show. Café Universel Café Universel's owner Azou has an eye for spotting talent, with musicians playing every night in his unpretentious jazz café. Amongst the array of American memorabilia and jazz accessories, Azou's window also displays posters of groups playing modern jazz, swing, blues, bossa and soul. Every Tuesday, guitars, doublebass, trumpets and keyboards set the pace for amateur singers who come to try their luck at the Jam Vocal. Don't be put off by the big plastic American-Indian who guards the entrance, nor the kitsch neon lights above the door: a little kitsch doesn't detract from the venue's genuine friendliness. Entrance is free: prices are a little high (a demi for €4.90), but not indecent for the area. Le Petit Journal Montparnasse A two-level jazz brasserie with New Orleans sound, big bands, Latin and soul-gospel.