Heads up! We're working hard to be accurate – but these are unusual times, so please always check before heading out.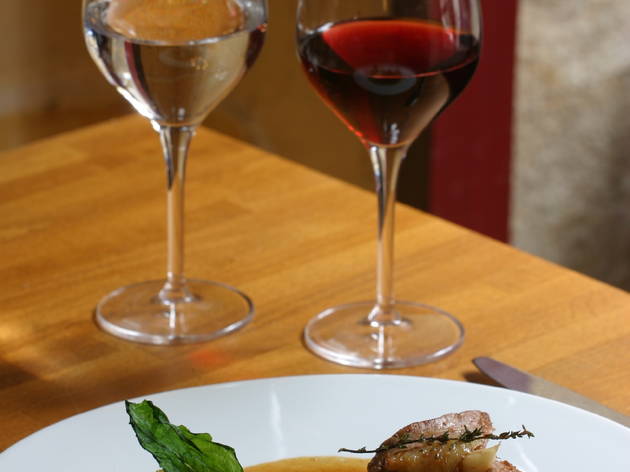 1/13
With a historic literary pedigree and a young and funky contemporary profile, Saint-Germain abounds in great restaurants. Click on the arrow above to start exploring some of our favourites. Think we've missed a great restaurant in Saint-Germain? Let us know in the comment box below.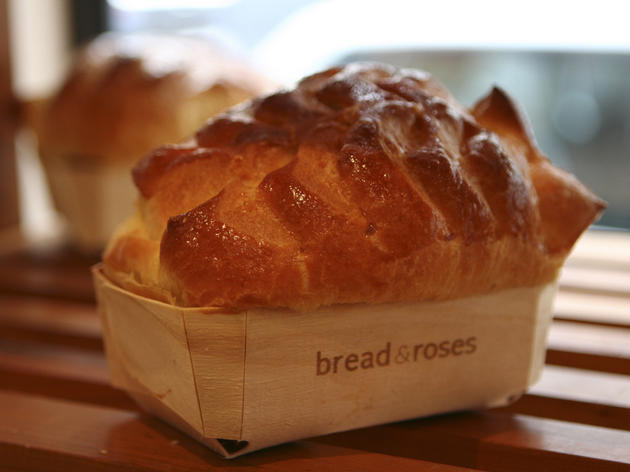 2/13
Come for a morning croissant and you might find yourself staying on for lunch, so tempting are the wares at this Anglo-influenced boulangerie/épicerie/café. Giant wedges of cheesecake sit alongside French pastries, and huge savoury puff-pastry tarts are perched on the counter. Attention to detail shows even in the authentically pale taramasalata, which is matched with buckwheat-and-seaweed bread. Prices reflect the quality of the often organic ingredients, but that doesn't seem to deter any of the moneyed locals, who order towering birthday cakes here for their snappily dressed offspring. For more info, please click here.
3/13
Bourgeois locals crowd the terrace tables at lunch, eating club sandwiches with knives and forks as anxious waiters frown at couples with pushchairs or single diners occupying tables for four. This historic café, former HQ of the Lost Generation intelligentsia, attracts tourists and, yes, celebrities from time to time. But a café crème is €4.60, and the omelettes and croque-monsieurs are best eschewed in favour of the better dishes on the menu (€15-€25). There are play readings on Mondays and philosophy debates on the first Wednesday of the month, at 8pm, in English. For more info, please click here.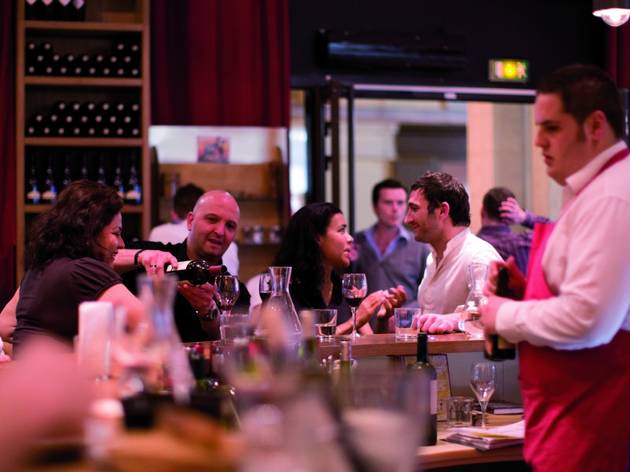 4/13
As its name suggests, J'Go (pronounced gigot) is all about lamb – well, meat of various kinds, actually: a buzzing Toulouse-style wine bar in the Marché St-Germain by day, it becomes a rôtisserie at meal times, serving its speciality spit-roasted lamb from Quercy, black pig from Bigorre, and whole roasted chickens. The €36 set menu is well worth the splurge, offering a whole jar of pâté, a giant bowl of salad, and lamb with creamy stewed haricots blancs. If you'd rather stick to wine and tapas, sidle up to one of the great wooden barrels, choose your poison (blindly if necessary – at €4 a glass all wines are good) and share a plate of charcuterie or foie gras tartines (€10). For more info, please click here.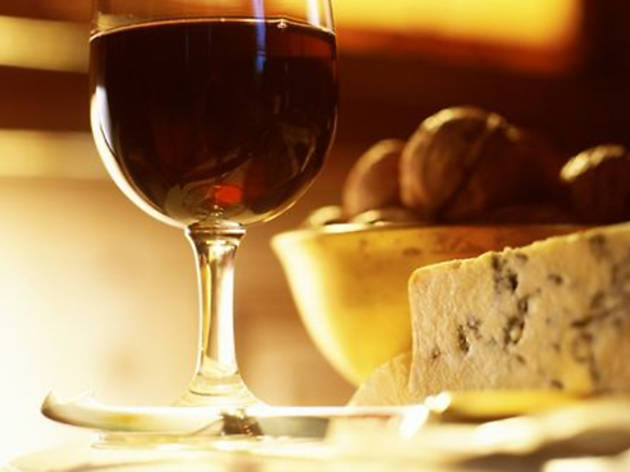 5/13
The market in question is the Cours des Halles, the bar a convivial corner café opening on to the pleasing bustle of St-Germain-des-Prés. Simple dishes like a ham omelette or a plate of herrings are in the €7 range, and Brouilly or muscadet is €4-€5 a glass - all proffered by waiters dressed in matching dungarees. It couldn't be anywhere else in the world. Locals easily outnumber tourists, confirming Rod Stewart's unusually astute observation that Paris gives the impression that no one is ever working. For more info, please click here.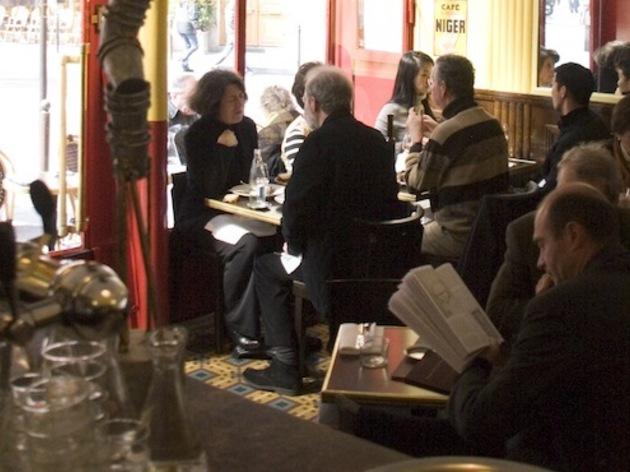 6/13
Yves Camdeborde runs the bijou 17th-century Hôtel Le Relais Saint-Germain, whose art deco dining room, modestly dubbed Le Comptoir, serves brasserie fare from noon to 6pm and on weekend nights, and a five-course prix fixe feast on weekday evenings. The single dinner sitting lets the chef take real pleasure in his work. On the daily menu, you might find dishes like rolled saddle of lamb with vegetable-stuffed 'Basque ravioli'. The catch? The prix fixe dinner is booked up as much as six months in advance. For more info, please click here.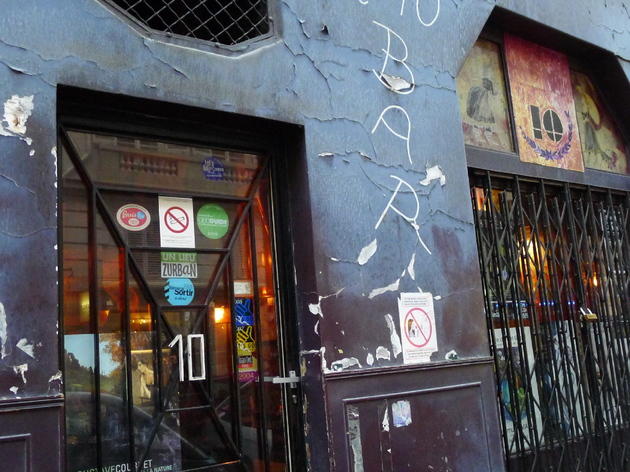 7/13
This local dive has been miraculously preserved (in sangria) since 1955. You'd be hard put to find something more 'real' than this tiny venue – more of a musty-smelling cave covered with posters and a patina of nicotine. Its clients occupy their time slipping Euros into the slot of the collector's jukebox, awakening it to play tunes from the era of Goldman, Brassens and Ferré. The moustachioed barmen are frequently gruff but always charming, mostly there to rein in clients whose carousing threatens to compete with the music, and to mop up spillages of the house sangria as the evening wears on. The menu is much as you'd expect: apart from a few bottled beers and chorizo and cheese sandwiches, you'll mostly be ordering sangria or sangria. But it's good and fruity and cheap, and we all keep coming back for more. For more info, click here.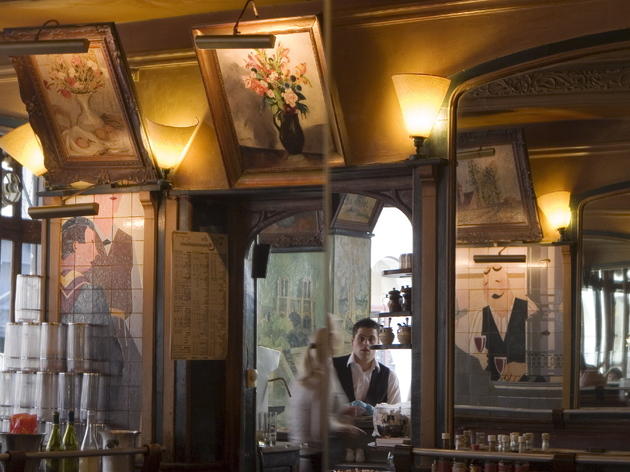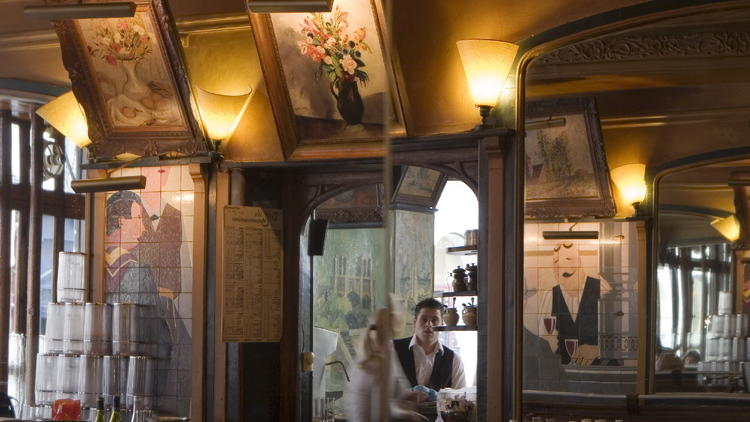 8/13
La Palette is the café-bar of choice for the beau-est of the Beaux-Arts students who study at the venerable institution around the corner. Don't be surprised if you stumble across young couples stealing kisses in the wonderfully preserved art deco back room, perhaps overcome by the art on the walls and the sprit of decadence. And perhaps trying to distract themselves from the prices: a glass of Chablis here sets you back €6, a demi €4.50. But you're paying for the vintage of the place as much as the drinks; these premises were once frequented by Jim Morrison, Picasso and Ernest Hemingway. Grab a spot on the leafy terrace if you can – there's formidable competition for seats. For more info, please click here.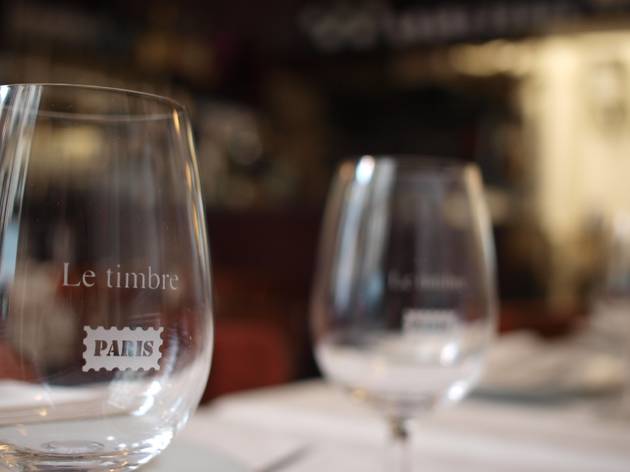 9/13
Chris Wright's restaurant, open kitchen included, might be the size of the average student garret, but this Mancunian aims high. Typical of his cooking is a plate of fresh green asparagus elegantly cut in half lengthwise and served with dabs of anise-spiked sauce and balsamic vinegar, and a little crumbled parmesan. Main courses are also pure in presentation and flavour – a thick slab of pork, pan-fried but not the least bit dry, comes with petals of red onion that retain a light crunch. For more info, please click here.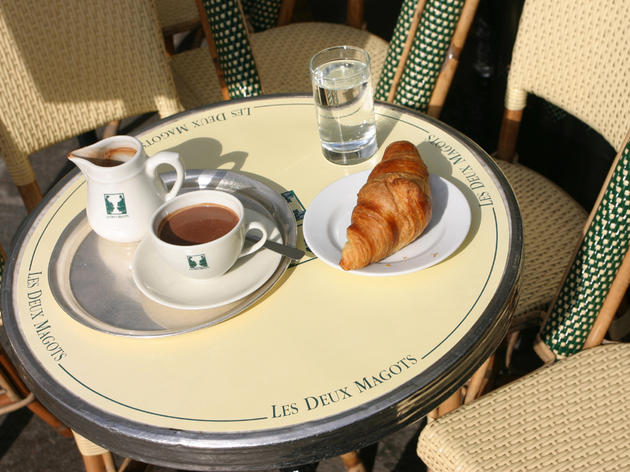 10/13
If you stand outside Les Deux Magots, you have to be prepared to photograph tourists wanting proof of their encounter with French philosophy. The former haunt of Sartre and de Beauvoir now draws a less pensive crowd that can be all too m'as-tu vu, particularly at weekends. The hot chocolate is still good, though, and served in generous portions. Visit on a weekday afternoon when the editors return, manuscripts in hand, to the inside tables, leaving enough elbow room to engage in some serious discussion. For more info, please click here.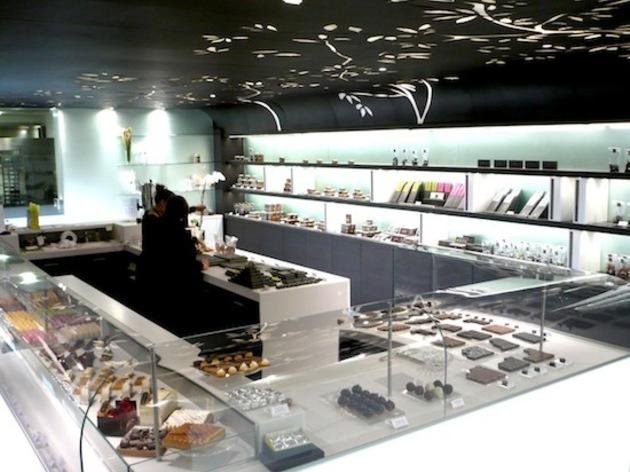 11/13
Chocoholics will be in paradise in this concept store dedicated to cocoa, where an upscale brunch is served on Sundays. Here only premium products are on offer: Poilane bread, Bordier butter and slices of Iberian loin. As part of the €55 menu, you also get a foie gras with pear and crème de cassis (in autumn) and a glass of Champagne instead of juice. There are no muffins, but rather a madeleine, a mini-éclair and a slice of cake – all of which go perfectly with one of the best hot chocolates in Paris, made with real melted chocolate, milk, a little cream and a touch of cinnamon and vanilla. Naturally, this is not cheap (the basic menu will set you back €35), but the level of refinement justifies the price. And you can always dial up the decadence to the maximum while you're there, with a cheeky visit to the chocolate shop next door. For more info, click here.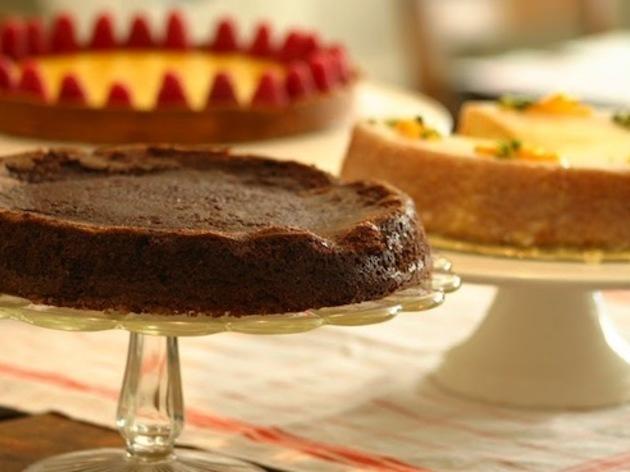 12/13
(c) Hervé Duplessis
Created by a Japanese patissier trained at Dalloyau in Tokyo, this small tea room is reminiscent of a (French) grandmother's kitchen with its chequered tablecloths, enamelled cast iron stove and resolutely simple, traditional cakes placed on the counter top. The old-fashioned hot chocolate is served in a large earthenware bowl, and you can help yourself to whipped cream. The boss also has a bric-a-brac shop and a grocery in the same street, both inspired by his nostalgia for his childhood.For more info, click here.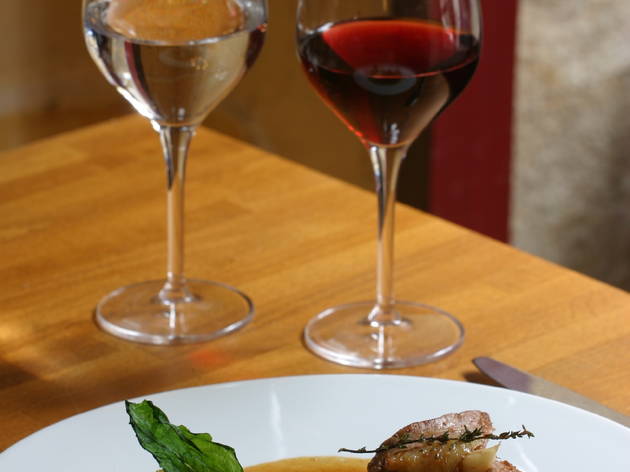 13/13
This bistro has quickly established a faithful following. In the modern bistro tradition, the young, northern French chef serves solid, classic food with a twist. A platter of excellent ham, sausage and terrine arrives as you study the blackboard menu,and the bread is crisp-crusted, thickly sliced sourdough. Two specialities are the potato stuffed with escargots in a camembert sauce, and a wonderfully flavoured, slightly rosé slice of veal. Desserts might include intense chocolate with rum-soaked bananas and a layered glass of mango and meringue. Wines start at €14. For more info, please click here.
Restaurants near Saint-Germain-des-Prés
Our recommendations for the best restaurants near Saint-Germain
Related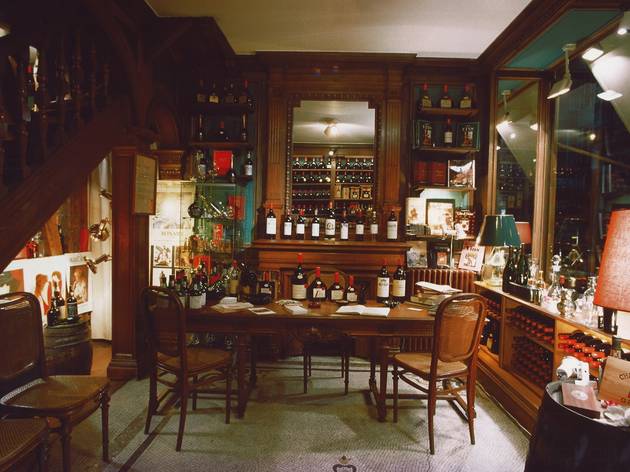 Red, white or rosé? Shaken, stirred or just plain on the rocks? Whatever your favourite tipple, Paris will be able to provide the best, and surprise you with a few new concoctions along the way... Lavinia Lavinia stocks a broad selection of French alongside many non-French wines; its glassed-in cave has everything from a 1945 Mouton-Rothschild at €22,000 to trendy and 'fragile' wines for under €10.Have fun tasting wine with the dégustation machines on the ground floor, which allow customers to taste a sip of up to ten different wines each week for €10. Les Caves Augé If you want history served with your wine head to Les Caves Augé, which (open since 1850) was where Proust used to go to stock up his cellar. The décor, awash in mouldings and panelling, has little changed since then. Chose between thousands of bottles; the savvy cavistes (wine sellers) will give you titbits about any grape variety or château you see, and there's an ever-increasing accent on 'natural' wines. If you fancy a degustation, Les Caves Augé offer a tasting day one Saturday each month. Le Vin en Tête Great wines, fine wines, organic wines, whiskies and champagnes – thus goes the list of what you'll find at Le Vin en Tête. If you're not sure what to buy, tell the 'cavistes' what you'll be eating and your price range, and they'll suggest a bottle or two. You can also sign up for wine-tasting lessons. Or if you want to try before you buy, head to the Vin en Tête's own wine bar, Le Garde-Robe Batignolles (2 rue Lamandé, 17e, 01 44 90 05 04), where you can test the varieties by the glass while tucking into hearty cheese and charcuterie platters. LMDW Three whole floors of this sleek and modern booze shop are filled with wine, whisky, rum, cognac, calvados, Armagnac, tequila, vodka, gin, fruit liqueurs, grappa, vermouths, saké and almost anything else that takes on a liquid form, including teas and coffees. LMDW (La Maison de la Whisky) started life in 1968 as a whisky specialist, but has since branched out into other alcoholic drinks with over 1500 varieties of spirits and wines to choose between. It's worth visiting the boutique even if you don't plan to buy as some of the bottles (and their packaging) are veritable works of art. Ryst Dupeyron The Dupeyrons have been selling armagnac for five generations, and still have bottles from the 19th-century. Treasures here include 200 fine Bordeaux wines and an extensive range of vintage port and eaux de vie. The shop itself is one of the most atmospheric in Paris with a beautiful wooden façade and shelves lined with shiny bottles - some of which (though thankfully not all) cost over €2000.